Brexit: Parliament will be sidelined by Government for 40 years if Theresa May's withdrawal bill is passed, says Keir Starmer
Sir Keir said Parliament needs to stand up for democracy and stop the executive becoming too powerful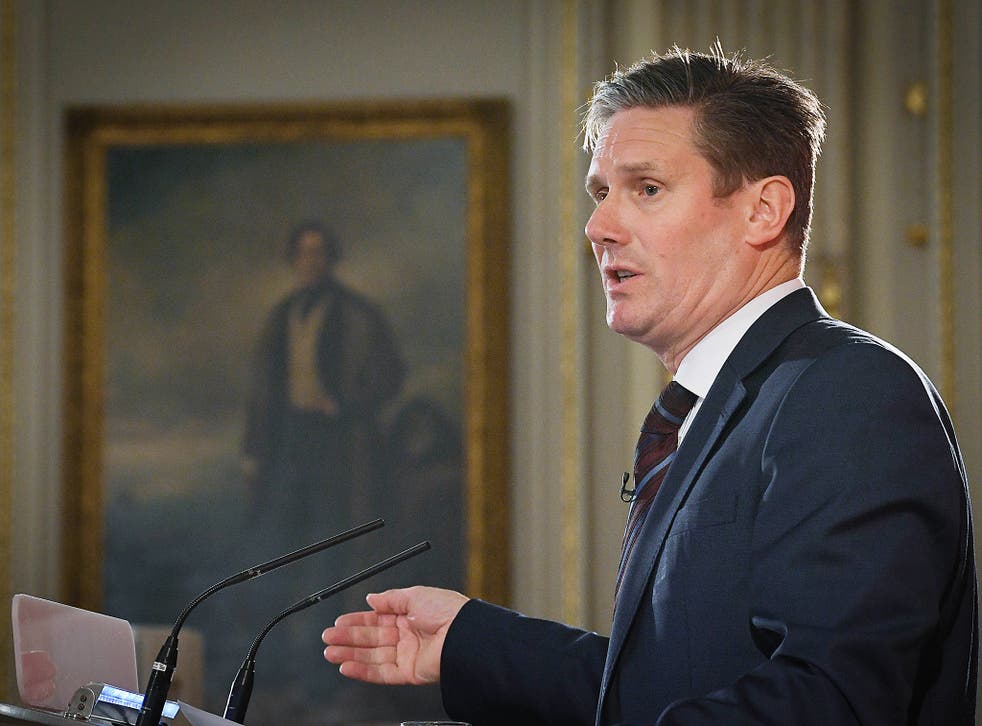 Sir Keir Starmer has warned that MPs risk becoming "spectators" to an all-powerful executive government for the next 40 years, if Theresa May's Brexit plans are approved unchanged.
The Shadow Brexit Secretary said Ms May's European Union (Withdrawal) Bill handed ministers sweeping powers to alter other pieces of legislation, from controls on the finance sector to protections for workers.
The Independent revealed on Thursday that Ms May will grant MPs more time to scrutinise the bill in a bid to avoid a rebellion, with Tory backbenchers also concerned about the powers being granted to ministers.
A Lords Committee also accused the Prime Minister and Brexit Secretary David Davis of "selectively" quoting their inquiry into the bill to claim it backed the new powers, when in fact it raised fundamental concerns.
Sir Keir said: "If this is passed in its current form MPs are effectively relegating themselves to spectators as the baton is passed to the Government to do as it likes with Brexit."
The Labour politician said that while he appreciated some form of withdrawal legislation was needed, he had been calling on Mr Davis for months to reach a consensus that would give Parliament a fair say.
Speaking to BBC Radio 4's Today programme, he went on: "We have had nothing back from the Government, we've had the same old blinkered approach which is 'we're going to do it our way and we're not interested in Parliament being involved'.
Brexit: the deciders

Show all 8
"There comes a point at which Parliament has to assert itself and say we are not just going to spectate as you negotiate and take us forward for something that could be a deal that lasts for 40 years."
The EU (Withdrawal) Bill, formerly called the Repeal Bill, will see all EU law currently affecting the UK brought on to the British statute book on the day of Brexit, with ministers then granted "Henry VIII powers" to alter regulations – with a lesser degree of parliamentary scrutiny than usual.
The Government claims the powers, named because they allowed the Tudor monarch to govern by proclamation, are needed to tweak regulation so it can be seamlessly transferred into British law.
But Labour critics, joined by others on Ms May's own benches, fear they will be used to scrap critical pieces of regulation that the Conservatives do not like.
First Secretary of State Damian Green said on Thursday that ministers were ready to listen to "reasonable" concerns about the bill and insisted Parliament would be given enough time to debate the legislation "appropriately".
In a bid to avert a rebellion over the matter, Ms May will allow more time for MPs to scrutinise the bill – rather than the three days given for debate of the small print of the legislation to trigger Article 50 at the "committee stage", MPs discussing the withdrawal bill will have six to 10 days.
Peers on the cross-party Lords Constitution Committee attacked Ms May and Mr Davis for "selectively" quoting from their inquiry report into the withdrawal bill.
Vince Cable: 'I'm beginning to think Brexit may never happen'
They said the Prime Minister has suggested the report was an endorsement of her plan to introduce the Henry VIII powers.
But Baroness Taylor of Bolton, chair of the committee, said the bill would create "very real difficulties" and contained ambiguity.
A statement put out by the committee went further and said its report had "been selectively quoted" by ministers in relation to the powers proposed in the bill.
Register for free to continue reading
Registration is a free and easy way to support our truly independent journalism
By registering, you will also enjoy limited access to Premium articles, exclusive newsletters, commenting, and virtual events with our leading journalists
Already have an account? sign in
Join our new commenting forum
Join thought-provoking conversations, follow other Independent readers and see their replies