As it happened
ended
1476805743
Brexit legal challenge: MPs 'very likely' to be able to vote to ratify Brexit, admits UK Government lawyer lawyer
The outcome will decide whether Britain can leave the EU without it going through Parliament first
Siobhan Fenton
,
Caroline Mortimer
Tuesday 18 October 2016 09:44 Comments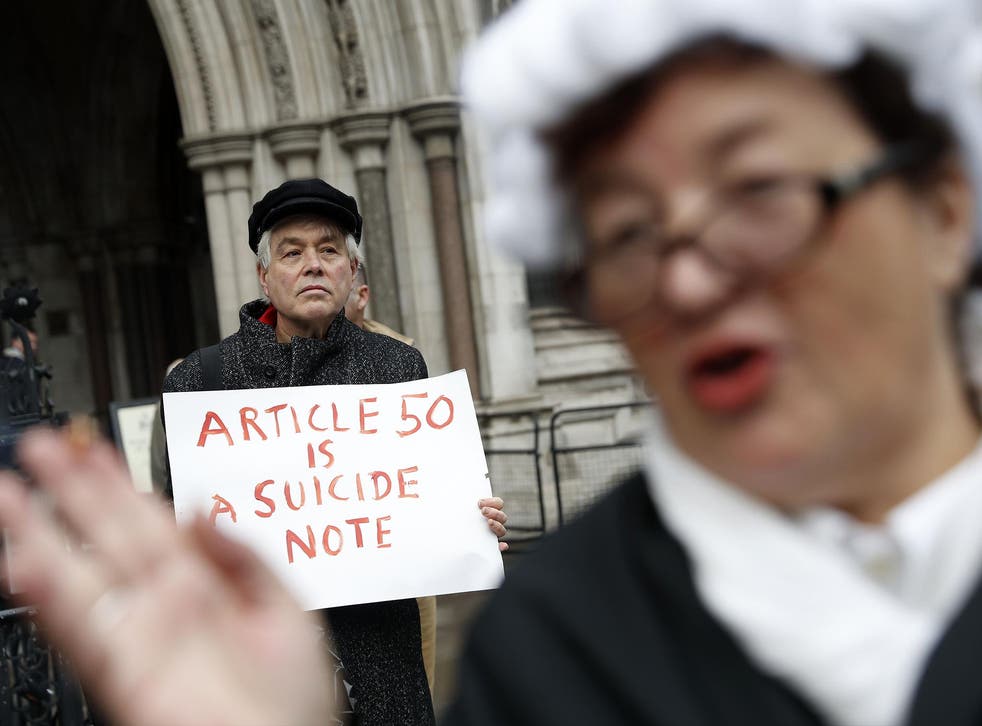 A lawyer representing the UK Government has said it is "very likely" MPs will be able to vote on the final Brexit agreement between the UK and the European Union.
James Eadie QC was speaking in the High Court as part of the final day of the hearing to decide whether Prime Minister Theresa May can trigger Article 50 without parliamentary approval.
Downing Street has since confirmed that he was representing the Government's position.
The judges have said they will rule on the historic legal challenge "as quickly as possible".
Lord Chief Justice Lord Thomas, Master of the Rolls Sir Terence Etherton and Lord Justice Sales reserved their decision on Tuesday at the end of a three-day hearing.
After hearing closing submissions from lawyers at the High Court in London, Lord Thomas announced: "We shall take time to consider the matter and give our judgment as quickly as possible."
What experts have said about Brexit

Show all 11
A number of applicants have challenged Theresa May's strategy for Brexit in what has been described as one of the most important constitutional cases in generations.
They argue that the prime minister has no legal power to trigger Article 50 of the Lisbon Treaty to leave the European Union without the prior authorisation of Parliament.
Mrs May announced at the Conservative Party conference that she intends doing so by the end of March 2017.
The judges have heard submissions that the Government lacks legal power to use the royal prerogative to notify Article 50 and begin the process of removing statutory rights granted to UK citizens under the European Communities Act 1972, which made EU law part of UK law.
Government lawyers say that if the challenge succeeds, the Government "could not give effect to the will and decision of the people, as clearly expressed in the referendum, to withdraw from the EU without further primary legislation".
Because of the urgency and constitutional importance of the case, any appeal is expected to be heard by the Supreme Court, the highest court in the land, before the end of the year.
Here is how the court case unfolded:
What is the difference between hard and soft Bexit?
After repeatedly stating that "Brexit means Brexit", Theresa May has confirmed she will trigger Britain's exit from the European Union by the end of March 2017, beginning two years of formal negotiations.
But despite this timescale, speculation remains over what kind of relationship the UK will develop with our partners after we leave the bloc.
There are a myriad of possible post-EU arrangements being discussed and, although there are no definitive definitions, they can be loosely categorised as "hard" or "soft" Brexit options.

In her opening speech to the Conservative conference, the Prime Minister unveiled a tougher stance on EU withdrawal than she has previously taken, by seemingly backing a hard Brexit with controls on immigration at its core.
"Let me be clear," said Ms May. "We are not leaving the European Union only to give up control of immigration again. And we are not leaving only to return to the jurisdiction of the European Court of Justice," adding those wanting to do everything possible to preserve access to the single market were looking at Brexit the "wrong way".
So, what is Hard Brexit?
Favoured by ardent Brexiteers, a hard Brexit arrangement would likely see the UK give up full access to the single market and full access of the customs union along with the EU.
The arrangement would prioritise giving Britain full control over its borders, making new trade deals and applying laws within its own territory.
Initially, this would mean the UK would likely fall back on World Trade Organisation (WTO) rules for trade with its former EU partners.
What are the pros and cons?
The International Trade Secretary, Liam Fox, has said a hard approach would benefit the UK by making it a global trading nation. He said that "the UK is a full and founding member of the WTO", during a speech in Geneva last Tuesday,
German business leaders have expressed a similar view. Markus Kerber of the German BDI group told BBC Radio 4's Today programme: "It's better to have a hard Brexit that works than to have a fudge in the middle that has to be renegotiated or doesn't politically work and you have uncertainty lingering on."
A hard Brexit, however, could see British goods and services subject to tariffs, adding 10 per cent, for example, to the cost of exported cars. While sectors such as agriculture could lose protections against cheap imports from abroad.
Leaving the customs union would mean a significant increase in bureaucratic checks on goods passing through ports and airports. And nations such as the US and Australia have said that reaching a new trade agreements with the EU would take priority.
And what is soft Brexit?
This approach would leave the UK's relationship with the EU as close as possible to the existing arrangements, and is preferred by many Remainers.
The UK would no longer be a member of the EU and would not have a seat on the European Council. It would lose its MEPs and its European Commissioner. But, it would keep unfettered access to the European single market.
Goods and services would be traded with the remaining EU states on a tariff-free basis and financial firms would keep their "passporting" rights to sell services and operate branches in the EU. Britain would remain within the EU's customs union, meaning that exports would not be subject to border checks.
National models for this sort of deal include Norway, Iceland and Liechtenstein, which are not members of the EU but have access to the single market by being part of the European Economic Area.
In return, these countries must make payments into EU budgets and accept the "four freedoms" of movement of goods, services, capital and people. They are subject to EU law through the Luxembourg-based EFTA Court. Switzerland has a similar arrangement through a series of regularly updated treaties.
It is likely that a "soft Brexit" deal would insist on Britain observing the "four freedoms", meaning continued free access for European nationals to work and settle in the UK.
What are the pros and cons?
Pro-EU MPs argue that maintaining "proper connections" with the EU's trading arrangements is a matter of national interest.
Senior Conservative MP Neil Carmichael has said a "harsh Brexit" must be avoided at all costs suggesting it could "damage our economy, damage our capacity as a nation to perform capably in the future and actually damage Europe."
May says those trying to delay Brexit are insulting British intelligence
Kathleen Brooks, director of research at City Index, said a 'hard Brexit', is likely to come "at the cost" of a period of economic disruption, which is "likely to be negative for the pound".
Experts warn that London's position as a financial hub will be dealt a severe blow if the UK left the single market. However, that access is contingent on countries agreeing to let European Union citizens live and work anywhere in the bloc.
Theresa May claimed people who talk about a "trade-off" between controlling immigration and trading with Europe are looking at things the "wrong way", arguing that soft Brexit is "subverting" democracy and attempting to "kill" the process by "delaying it".
1476787671
James Coppel QC addressing court to defend Govt. Says challengers' claims children with EU parents/ carers will be left vulnerable after...
Siobhan Fenton
18 October 2016 11:47
1476787740
... Brexit are "fanciful". Says claims (made in court yday) simply untrue as law will not change on that point regardless of EU membership
Siobhan Fenton
18 October 2016 11:49
1476787854
Lord Chief Justice asks Coppel- how will British citizens exercise right to free movement after Brexit?
Siobhan Fenton
18 October 2016 11:50
1476788012
"Those rights were not conferred by domestic law in first place...but depending on outcome of negotiations may be enshrined in domestic law"
Siobhan Fenton
18 October 2016 11:53
1476788556
Lord Pannick, acting for lead claimant against triggering Article 50, now addresses court to refute government's arguments
Siobhan Fenton
18 October 2016 12:02
1476788603
Rights of British citizens will be "necessarily and inevitably destroyed" by Brexit, he says
Siobhan Fenton
18 October 2016 12:03
1476788679
Brexit will destroy the "important constitutional right to access" justice in EU courts
Siobhan Fenton
18 October 2016 12:04
1476789688
Lord Pannick asks court- what happens if we trigger Article 50 and then have two years of negotiations which result in no agreement?
Siobhan Fenton
18 October 2016 12:21
1476789714
... and then the EU states decide not to give a time extension, which they are allowed to refuse?
Siobhan Fenton
18 October 2016 12:21
Register for free to continue reading
Registration is a free and easy way to support our truly independent journalism
By registering, you will also enjoy limited access to Premium articles, exclusive newsletters, commenting, and virtual events with our leading journalists
Already have an account? sign in
Join our new commenting forum
Join thought-provoking conversations, follow other Independent readers and see their replies