What happens if there's a no-deal Brexit and what will it mean?
Jon Sharman
,
Adam Forrest
Wednesday 23 December 2020 12:31 Comments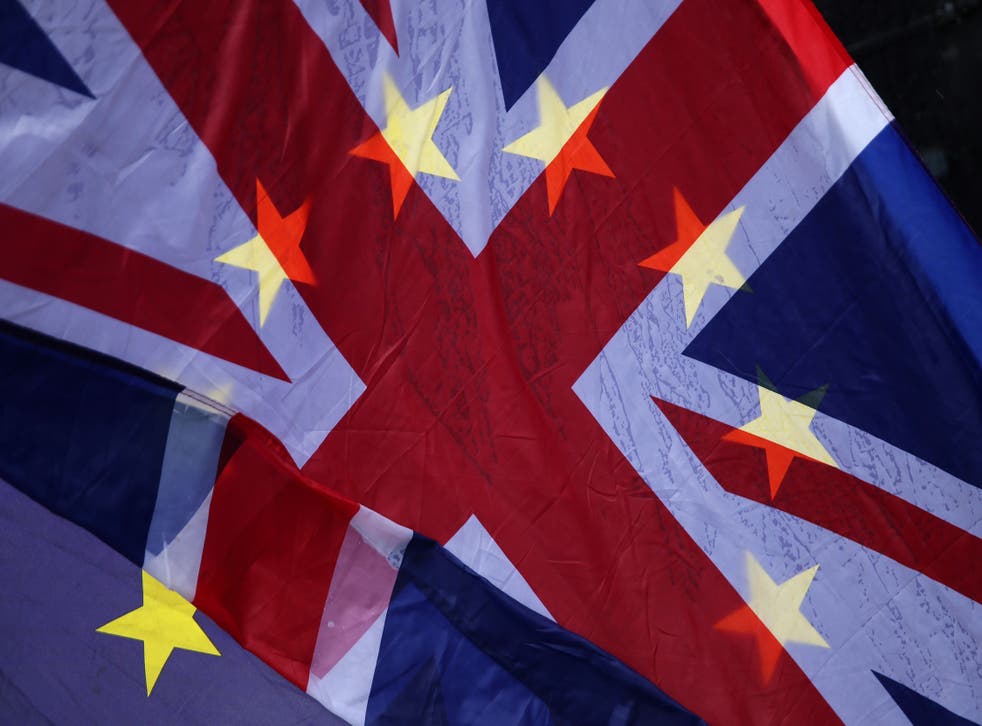 No-deal Brexit will hurt both sides, EU figures have warned
(AFP via Getty)
The threat of no-deal Brexit looms over the UK once again, after Boris Johnson returned from a Brussels meeting with European Commission president Ursula von der Leyen having failed to secure any concessions on a potential free trade agreement.
The two sides remain far apart, and the EU has now published its own emergency plans for a no-deal exit. Mr Johnson has claimed that leaving the bloc without a trade deal should hold "no fear" for Britain. But is he right? What would be the effects of a no-deal outcome from 1 January?
Massive disruption to freight at the border

In September, Michael Gove set out what the government considered the "reasonable worst-case scenario" even if a deal is struck by year's end.

Whitehall concluded that up to 70 per cent of lorries travelling to the EU may not be ready for new, third-country border controls imposed by Europe.

Freight flow could fall to less than two-thirds of normal, creating 7,000-vehicle queues in Kent lasting for two days due to lack of holding capacity. Many businesses, including the vast majority of smaller ones, will not be ready for the end of the transition period on 31 December, planners concluded.

The Road Haulage Association's chief executive Richard Burnett said in early December that there is likely to be "significant disruption" for six to 12 months.

Experts think such a worst-case scenario is more likely to materialise if there is no deal, especially if French border authorities see no reason to co-operate with the British.

Scramble to maintain medicine supply

Senior health figures are still raising concerns about the potential interruptions to medicine supply with just weeks until the transition period ends – particularly given the pressure heaped on the NHS by coronavirus.

The supply of medicines "could initially reduce to 60 per cent and 80 per cent" in the first three months of 2021, according to more details from the government's own "worst-case scenario" planning leaked in early December.

Layla McCay, international director of the NHS Confederation, told The Independent: "Covid-19 has already put the health and care workforce, the pharmaceutical industry and patient groups under immense strain … the exacerbating effect of failing to agree a free trade agreement could see it snap."

The Nuffield Trust, a leading health think-tank, has also warned that medical supplies needed to fight the second wave of coronavirus may also be hit by no-deal Brexit. The trust added that medical equipment imports from the EU had reached an all-time high this year.

The head of the UK's medicines regulator Dr June Raine said officials were "fully prepared for any possible outcome" after fears were raised that no-deal disruption could hit the supply of the Covid vaccine. Military aircraft have reportedly been readied so make sure tens of millions of doses manufactured in Belgium.

Brexit briefing: How long until the end of the transition period?

You'll pay more for food

A new tariff regime will come in overnight on 1 January as the UK begins trading with the EU on World Trade Organisation terms.

Although the government has agreed a series of "rollover" deals with trading partners such as Japan and Canada, essentially replicating the arrangements the UK used to have in the EU. But last year the EU accounted for 43 per cent of all UK exports and 51 per cent of imports – so the lack of any deal with Brussels would be extremely damaging to the UK economy.

Environment secretary George Eustice has claimed food prices may only increase by 2 per cent if there was a failure to reach a deal.

However, the British Retail Consortium has warned that no-deal Brexit would cost consumers £3.1bn from tariffs on food and drink. The body warned that a no-deal Brexit would have "a massive impact" on the finances of people on low pay.

A huge dent in Britain's GDP

A government economic analysis published in November 2018 suggested that no-deal Brexit could cause GDP to fall by as much as 9 per cent over the next 15 years relative to where it would otherwise have been.

More recently, in September 2020, the think-tank UK in a Changing Europe warned that the economic impact of a no-deal would the two to three times worse than the pandemic – slashing GDP worth 8 per cent over a decade compared with remaining in the EU.

Last month the Organisation for Economic Co-operation and Development (OECD) warned that failing to clinch a trade agreement would have a "strongly negative effect on trade, productivity and jobs in the longer term", while the governor of the Bank of England Andrew Bailey said the long-term economic effects of a no-deal Brexit would be more damaging than the pandemic.

British exports would take a huge hit from a no-deal outcome. The National Farmers' Union (NFU) has said it would see 85 per cent tariffs imposed on British beef, 62 per cent on lamb and 51 per cent on malt and barley.

In November the Society of Motor Manufacturers and Traders warned that tariffs could cost UK car industry £55bn, and could mean British production falling "consistently below" one million vehicles a year.

Setback to international crime-fighting

Police, spies and even government ministers have been warning for years that no-deal Brexit will cut off the UK from many key tools used to fight international crime. Likewise, European investigators' partnerships with their British colleagues will be damaged.

Britain needs to negotiate a new security treaty with the EU to maintain access to bodies such as Europol, powers including the European Arrest Warrant and vital policing and intelligence databases.

Senior police officers have warned that the loss of EU tools could create a public safety risk by allowing suspects to abscond and making it harder to extradite foreign nationals. Officers forced to use outdated conventions would spend hours in stations negotiating red tape, and the change will cost forces at least £20m extra a year.

In November 2018, then-security minister (now defence secretary) Ben Wallace warned: "A no-deal situation would have a real impact on our ability to work with our European partners to protect the public."

And in October last year, the former head of MI5 said he could not see "any security upside from Brexit", even with a deal. "It's hard to imagine that we will be in quite such a good place after Brexit but we need to do our best to compensate for any deficit," Lord Evans said.

Northern Ireland stuck in the middle

The withdrawal agreement that Boris Johnson's government negotiated with the EU included a "protocol" designed to protect peace in Northern Ireland, as enshrined in the Good Friday Agreement.

In order to maintain peace along the border with the Republic of Ireland and, in particular, avoid a so-called "hard border" with infrastructure, the two sides agreed that necessary paperwork would be carried out on goods arriving in Northern Ireland from England, Wales or Scotland, rather than at the Irish land border.

The plan would allow Brussels to trust that goods entering NI which might later cross the porous frontier into the Republic met its standards.

However, if Westminster fails to secure a Brexit deal, that regulatory border in the Irish Sea would become one across which tariffs would have to be paid, cleaving the UK's internal market in two.

Into this fraught situation Mr Johnson has introduced his internal market bill, which seeks to allow goods to be traded on even terms between all four UK nations. However, the controversial measure would allow ministers to rewrite the rules previously enshrined in the withdrawal agreement, including on the movement of goods in Northern Ireland.

Brandon Lewis, the Northern Ireland secretary, admitted the bill would breach international law in a "specific and limited way", and it has drawn widespread criticism.

It could mean that the EU feels it necessary to implement checks on the Irish land border – the very scenario the protocol was designed to prevent. UK MPs have warned MI5 that a hard border would increase the terror threat.

Social unrest

The government's own worst-case scenario document warns of the risk of serious social unrest because of all other impacts of a no-deal outcome.

"Protests and counter-protests will take place across the UK and may absorb significant amounts of police resources," it states. "There may also be a rise in public disorder and community tensions."

Simon Byrne, chief constable of the police service of Northern Ireland (PSNI) said in November that parts of the loyalist community could see any new checks on goods as a "threat" to the union and descend on ports.

Jesper Cullen, an analyst at the Risk Advisory Group, warned last year of a rise in general tension across the UK in the event of a no-deal exit. "Things we're likely to see are hate crimes, people shouting on the streets, physical altercations," he said.

Others have warned of that potentially big cuts to local services could increase tensions. Official documents from 63 councils uncovered by the People's Vote campaign last year revealed local authority leaders fear that basic services could suffer and others could be cut altogether if the UK crashes out of the EU.

Unknown unknowns

Without going so far as to invoke Murphy's Law – "whatever can go wrong, will go wrong" – it is important to note the possibility that unintended consequences may arise from a no-deal Brexit.

Will the Northern Ireland situation jeopardise a trade deal with the US? (Both the Trump administration and Joe Biden have expressed concerns over the internal market bill.)

Will Scottish independence rear its head again? (A poll found a majority in favour of secession this week.) Still more unknown possibilities surely abound.
Register for free to continue reading
Registration is a free and easy way to support our truly independent journalism
By registering, you will also enjoy limited access to Premium articles, exclusive newsletters, commenting, and virtual events with our leading journalists
Already have an account? sign in
Join our new commenting forum
Join thought-provoking conversations, follow other Independent readers and see their replies