'Cash for access' scandal: Jack Straw may take job with firm he helped win £75m contract
He and Sir Malcolm Rifkind were filmed meeting with a fake Chinese company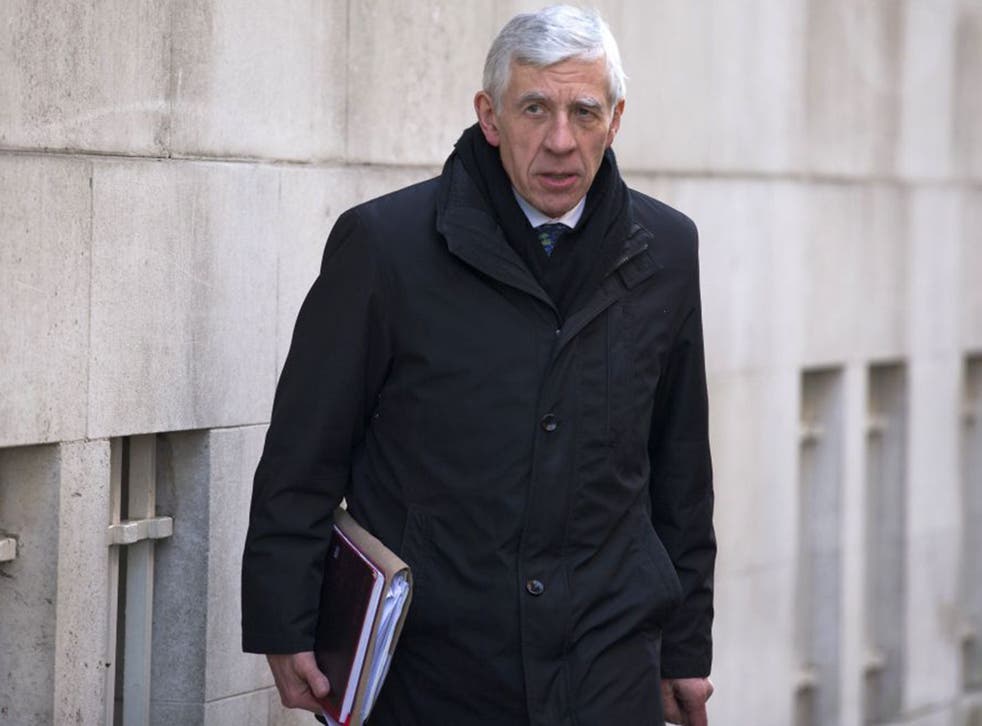 Jack Straw may take a job with a firm he helped win a government contract worth up to £75 million after the general election, it has been claimed.
The former Labour Foreign Secretary suspended himself from the party and is being investigated by the Parliamentary Standards Commissioner after becoming embroiled in a "cash for access" scandal.
He and Tory grandee Sir Malcolm Rifkind were filmed by undercover reporters from the Telegraph and Channel 4's Dispatches offering to use their contacts and experience to benefit a fake Chinese company in exchange for thousands of pounds.
Both MPs have denied any wrongdoing. Mr Straw said he observed all rules and the hypothetical discussions only related to employment after the general election when he had already planned to stand down, and not while he was still the MP for Blackburn.
He was secretly filmed boasting of operating "under the radar" to use his influence to change European Union rules on behalf of commodity firm ED&F Man, which paid him £60,000 a year.
According to the Telegraph, Mr Straw also talked about privately lobbying Cabinet Office minister Francis Maude on behalf of Senator International, saying he had helped the office furniture company "get on the ladder".
Mr Straw suggested he would "almost certainly take" an executive position with the firm after May, saying: "I happen to have helped them over the last four years anyway. I mean, without taking a penny from that.
In pictures: Embarrassing political exits

Show all 9
"But as a result of getting the name out ... they've said would I be interested ultimately in going on the board?"
A statement from Mr Straw said: "I have acted in accordance with the parliamentary rules at all times in respect of Senator International, as in all other respects. All of these matters will be scrutinised by the Parliamentary Commissioner."
He told the Telegraph he had not been paid by Senator but discussed joining its board when he stands down as an MP.
Colin Mustoe, Senator's chairman, told the newspaper that Mr Straw had not assisted his company to secure contracts and had only acted on its concerns about the contract application process in his capacity as a constituency MP, adding: "As far as I'm concerned, he just acted well as a local MP, working with one of the biggest employers in his constituency."
Mr Straw has complained of the journalists' "skilful trap" clouding what should have been his pleasantly "valedictory" last few weeks in the Commons but Sir Malcolm is under more intense pressure as he clings on to his position at the head of the influential Intelligence and Security Committee.
The Tory whip has been withdrawn temporarily while the party investigates and he is under growing pressure to step down from his committee post after being filmed suggesting he could arrange "useful access" to every British ambassador in the world because of his status.
Sir Malcolm, who first entered Parliament in 1974 as MP for Kensington and served for more than a decade in the cabinets of Margaret Thatcher and John Major, dismissed allegations of wrongdoing as "unfounded" and vowed to fight them "with all my strength".
The latest "cash for access" scandal has seen Ed Miliband push his pre-existing plan to ban MPs from taking directorships and consultancies.
The Labour leader is also consulting on legislation to put the ban into law and impose a cap on outside income similar to that in place for members of Congress in the US, who may earn no more than the equivalent of 15 per cent of a minister of state's salary on top of their salary as politicians.
David Cameron said the rules already in place were sufficient but should be properly enforced.
Additional reporting by PA
Join our new commenting forum
Join thought-provoking conversations, follow other Independent readers and see their replies