Brexit: Remain supporters plan to join Conservative Party to stop Boris Johnson being Prime Minister
'I am seriously considering joining the Tory party, just so I can stop Gove or Boris becoming PM in October'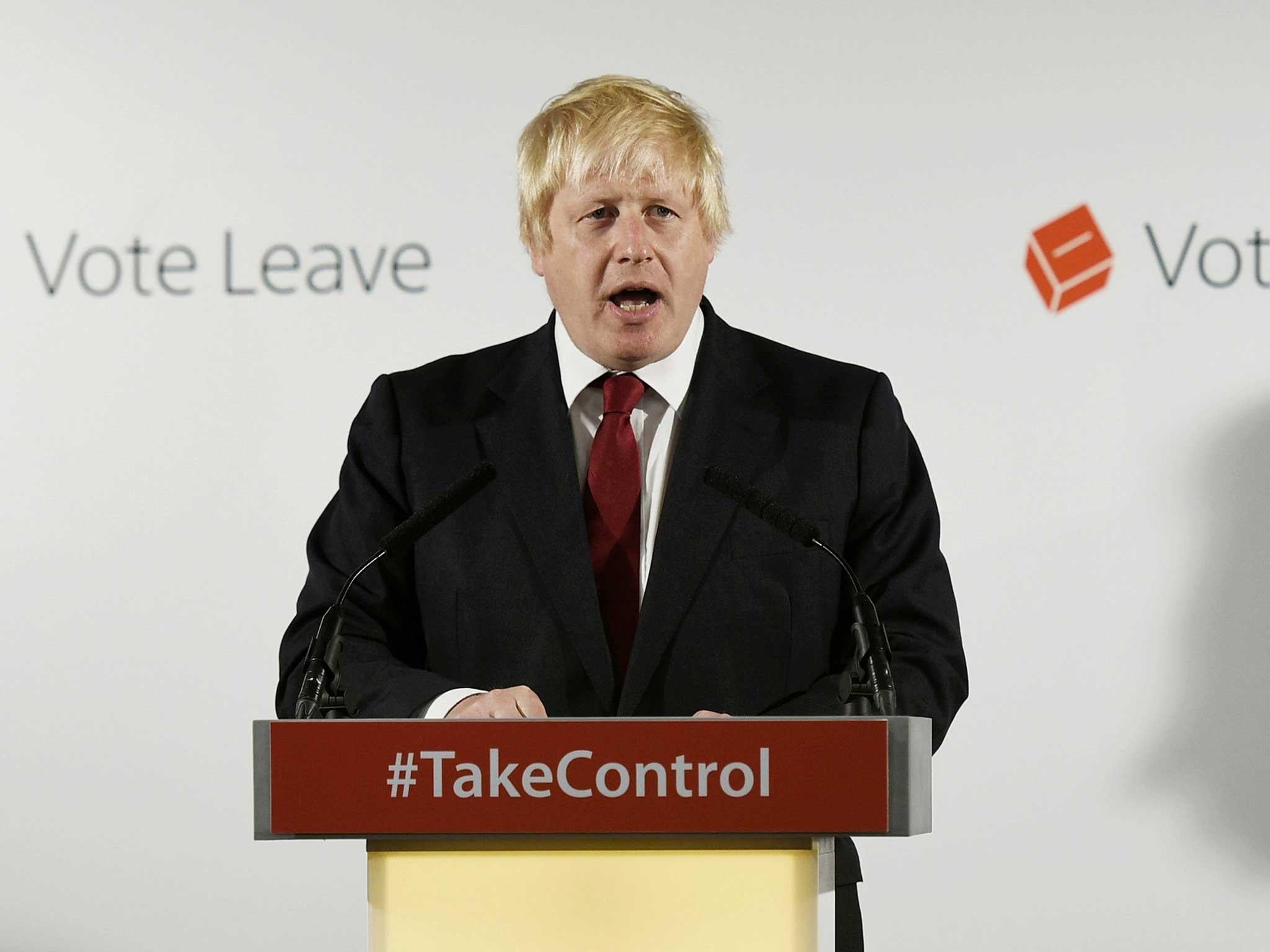 Supporters of the Remain campaign are considering joining the Conservative Party in a bid to stop Boris Johnson becoming party leader after David Cameron's resignation.
The Prime Minister said he would resign following the results of the EU referendum, in which 51.9 per cent of votes were cast to leave the European Union.
And social media users say they may become Conservative Party members so they get a vote in the forthcoming leadership election.
"I am seriously considering joining the Tory party, just so I can stop Gove or Boris becoming PM in October," wrote Twitter user and Remain supporter under the name of Kiteman.
Kiteman told The Independent: "I'm serious. I hate the way they've acted in the Leave campaign, and I already didn't trust Gove (I'm a teacher).
"Boris was so full of fluff and arm-waving empty promises, I don't think he has a genuine plan for anything."
Other Twitter users echoed this sentiment, with Richard Bayley saying: "Want to stop Boris the inconstant? Join the Tory Party (£25) and, after three months, you can vote in their election".
"I think I may have to join the Tory party now. We've got to stop Boris being PM. We need a clean sweep, bring in some new characters," wrote a user called Griff.
Standard membership of the Conservative Party, which allows members to vote in party elections, costs £25 for one year, and £5 for those under 23.
Who will replace David Cameron?
Young people are much more likely to have voted to Remain in the EU in Thursday's referendum, with some 75 per cent of 18 to 24-year-olds voting remain, compared to around 40 per cent of over 65s.
Mr Johnson is tipped to replace Mr Cameron as Prime Minister after his successful stint at the helm of the Leave campaign.
The Uxbridge and South Ruislip MP said in a speech the Brexit vote "does not mean that the United Kingdom will be in any way less united" or "less European".
Journalist Philip Collins also urged his thousands of Twitter followers to "all join the Tory party and stop Boris."
During last year's Labour leadership election, political commentator and Conservative supporter Toby Young encouraged Conservatives to join Labour and vote for Jeremy Corbyn to "silence [the party's] loony left".
Brexit: David Cameron resigns
"Make Corbyn leader, secure Boris's victory in 2020 and, in the process, help transform Labour into a grown up political party," wrote Mr Young in a column for the Telegraph.
Brexit reactions – in pictures
Show all 10
A swell of grassroots support and new Labour supporters propelled Mr Corbyn to the top of the Labour Party in September 2015 – perhaps more powerfully than the so-called #ToriesforCorbyn movement, which was criticised by Labour supporters at the time.
David Cameron said the country needed "fresh leadership" in an emotional speech, adding it would be wrong for him "to be the captain that steers our country to its next destination".
Mr Cameron announced that he would stay on in a caretaker capacity but expected a new leader to be in place by the time of the Conservative Party conference in October.
Join our commenting forum
Join thought-provoking conversations, follow other Independent readers and see their replies