David Cameron admits he could have handled the Panama Papers affair better
Prime Minister admits he could have done better in handling the controversy over his father's offshore fund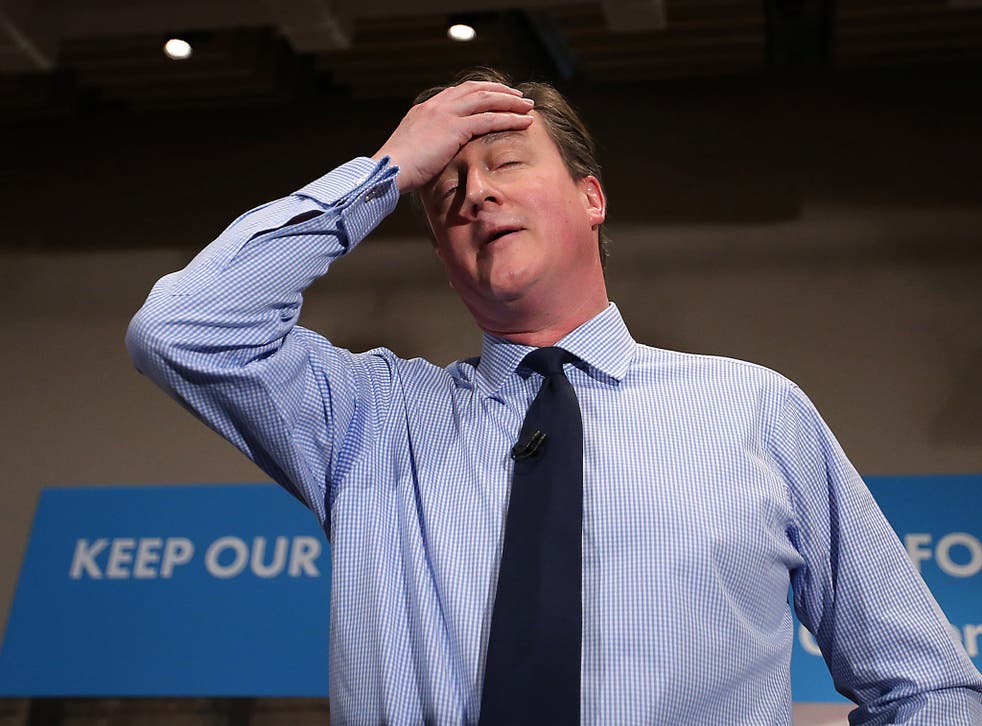 David Cameron has admitted he botched the handling of the row over his financial affairs, telling Tory activists it had "not been a great week".
The Prime Minister told Conservative activists he accepted the blame for the response to the controversy over his connection to his late father Ian's offshore business interests.
Speaking at the Conservative Party's spring forum in central London, Mr Cameron said: "It has not been a great week. I know that I should have handled this better, I could have handled this better.
"I know there are lessons to learn and I will learn them. Don't blame Number 10 Downing Street or nameless advisers, blame me."
His admission came after it took Downing Street and Mr Cameron five statements before the Prime Minister said he had benefited from the offshore fund created by his father.
It was only on Thursday – four days after the story of the Panama Papers leak first emerged – that Mr Cameron told ITV News that in 2010 he and his wife had made a £19,003 profit from shares in Blairmore Holdings, the fund created by Ian Cameron.
The Labour leader Jeremy Corbyn has demanded that Mr Cameron make a statement to Parliament on Monday to give a "full account of all his private financial dealings", claiming the revelations raised questions about "personal integrity".
The Labour MP John Mann, who has called for the Prime Minister to resign, has also said he would ask the parliamentary standards commissioner to examine whether Mr Cameron should have declared his profits from the sale of his trust shares in the Commons register of interests.
A Downing Street spokesman, however, has said: "The Prime Minister's interests have always been recorded in line with the rules as they stood at the time."
Mr Cameron also told ITV News it was a "fundamental misconception" that Blairmore Holdings was established to avoid tax. The fund was created – entirely legally – in 1982.
Explaining his handling of the controversy, Mr Cameron told activists at the spring forum: "I was obviously very angry about what people were saying about my dad. I loved my dad, I miss him every day.
"He was a wonderful father and I'm very proud of everything he did.
"But I mustn't let that cloud the picture. The facts are these: I bought shares in a unit trust, shares that are like any other sorts of shares and I paid taxes on them in exactly the same way.
"I sold those shares. In fact, I sold all the shares that I owned, on becoming Prime Minister."
Insisting that he was keen to be "completely open," Mr Cameron added: "Later on I will be publishing the information that goes into my tax return, not just for this year but the years gone past because I want to be completely open and transparent about these things.
"I will be the first Prime Minister, the first leader of a major political party, to do that and I think it is the right thing to do."
There has been widespread criticism of Downing Street and Mr Cameron's responses since news of the Panama Papers leak emerged on Sunday evening.
Initially, when reporters asked on Monday morning whether the Cameron family still had money in Blairmore, a Downing Street spokesman insisted it was "a private matter."
On Tuesday afternoon, Mr Cameron was directly asked to "clarify for the record that you and your family have not derived any benefit in the past and will not in the future from the offshore Blairmore Holdings fund."
In his reply, he made no mention of his family. Nor did he address the issue of whether he might have benefited from Blairmore in the past – something that two days later he admitted had indeed happened.
Instead Mr Cameron restricted himself to his individual affairs and to the present, saying: "In terms of my own financial affairs. I have no shares, no offshore trusts, no offshore funds, nothing like that."
About three hours later, a Downing Street spokesman said: "To be clear, the Prime Minister, his wife and their children do not benefit from any offshore funds."
On Wednesday morning a Downing Street spokesman said: "There are no offshore funds which the Prime Minister, Mrs Cameron or their children will benefit from in the future."
It was only on Thursday evening that Mr Cameron said he and his wife had benefited from Blairmore in the past.
Speaking to Sky News on Saturday about Mr Cameron's tax revelations Mr Corbyn said: "He's made a series of statements over the week, which are somewhat confusing.
"We've finally reached a position where he is going to publish his tax returns apparently, so tell us how much money was made from this offshore trust, what tax he paid and what tax was made by the trust."
The Labour leader added: "This isn't about an individual this is about us looking at the whole question of tax evasion and tax avoidance on a bigger scale.
"I think we need to get real about this. We all want a national health service, we all want decent adult social care, we all want good quality public services... and they have to be paid for, and are they only going to be paid for by ordinary people though PAYE or are they also going to be paid for by the very rich?
"There's nothing clever about avoiding tax."
Join our new commenting forum
Join thought-provoking conversations, follow other Independent readers and see their replies