Poll: Majority of British public believe Donald Trump makes the world a more dangerous place
Exclusive ComRes survey for The Independent also showed that most British people think Mr Trump will be a bad president and that his victory has set a dangerous precedent for future votes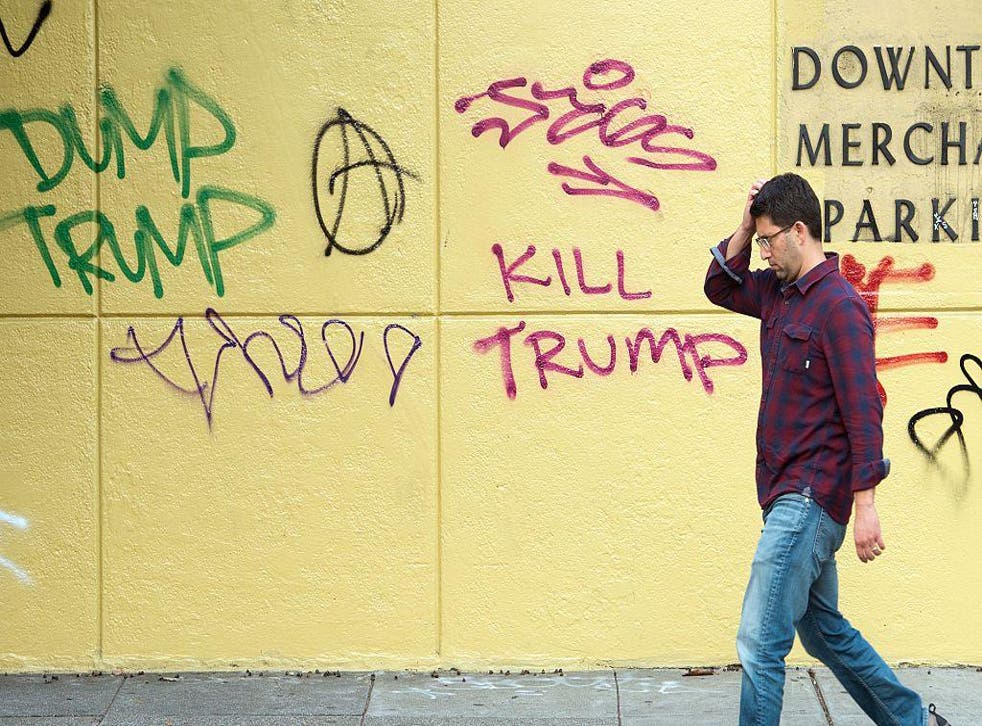 An overwhelming majority of British people think Donald Trump's arrival in the White House makes the world a more dangerous place, according to a poll for The Independent.
The survey by ComRes showed that a majority of the public also thought Mr Trump would be a bad president and that his victory has set a "dangerous precedent" for future votes.
People were more equivocal about what they thought his election victory would mean for trans-Atlantic relations and the chances of the UK securing a trade deal with the US.
Anti-Donald Trump protests erupt across US as cities declare billionaire 'Not My President'
It follows news that Mr Trump was rowing back on some key campaign pledges and may abandon the existing US strategy in Syria and team up with Russia and the Assad regime to defeat the so-called Islamic State, while domestically protesters gathered in cities to demonstrate against the President-elect.
Of those surveyed by ComRes 66 per cent agreed with the statement that "Donald Trump as president makes the world a more dangerous place", while just 10 per cent thought it made the world "a safer place".
Meanwhile, 53 per cent thought Mr Trump would be a "bad president", as opposed to 15 per cent who thought he would be "good".
Some 58 per cent of people thought "Donald Trump's victory sets a dangerous precedent for future elections", while just 26 per cent thought it "a welcome disruption to 'politics as usual'".
It comes after Mr Trump signalled a potentially major policy shift in the Middle East, suggesting that he would assist the Syrian government and Vladimir Putin in fighting the so-called Islamic State.
In the US rowdy protests have already led to dozens of arrests. Demonstrators across the country have been preparing for a weekend of action, with more than 10,000 people signing up to attend a march in New York, while other activists planned to disrupt his inauguration.
While 40 per cent of people surveyed by ComRes thought Mr Trump would be "bad" for US/UK relations, and 29 per cent "good", a small margin believed the new president would be better for trade.
Some 36 per cent agreed with the statement, "Donald Trump as president will make it easier for the UK to get a favourable trade deal with the US", while 32 per cent thought it would be "harder".
President Donald Trump life in pictures

Show all 16
ComRes interviewed 2,038 GB adults online on 9 and 10 November 2016. Data were weighted to be demographically representative of all GB adults. ComRes is a member of the British Polling Council and abides by its rules. Full tables on the ComRes website.
Join our new commenting forum
Join thought-provoking conversations, follow other Independent readers and see their replies