EU referendum: Polls suggest Brexit chances are split 50-50, says expert
Professor John Curtice tells The Independent: 'You can't call this referendum – it's too close'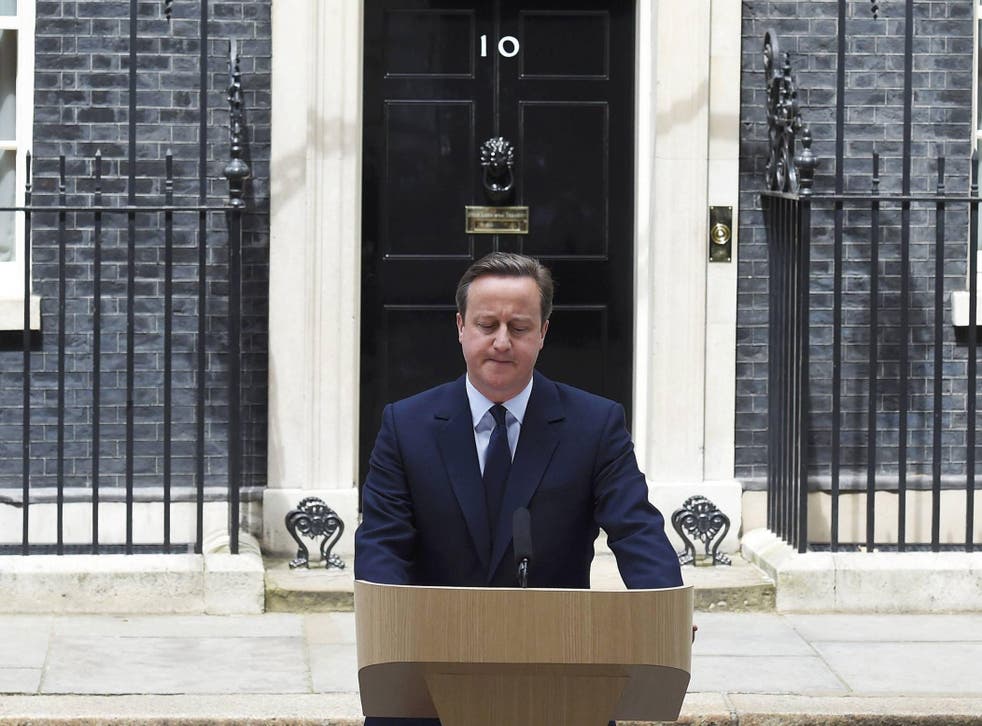 David Cameron made a last-ditch, direct appeal to voters to reject Brexit on a frenetic day of campaigning ahead of Thursday's historic vote, as polling experts said the outcome was too close to call.
In an impromptu speech outside 10 Downing Street, the Prime Minister, who knows that a vote for Brexit could spell the end of his leadership, said that it was young people, children and "those yet to be born" who would be hit hardest by the economic fallout of a vote to Leave.
Two polls showed the rival campaigns neck and neck. YouGov had Leave ahead by 51 per cent to 49, while a Survation poll had Remain ahead by just one percentage point.
John Curtice, professor of politics at Stratchclyde University and one of the country's foremost polling experts, told The Independent: "It's around 50-50. To cut a long story short, undoubtedly last week Leave made progress – the first significant progress of the campaign. You actually had the phone polls calling it 50-50 and you had the internet polls having Leave ahead. It's very, very tight. You can't call this referendum – it's too close."
As the rival campaigns entered the final straight, independent economists from three of Britain's leading institutions issued a final warning that a vote for Brexit would hit wages and lead to higher retail prices and borrowing costs.
In a joint statement, the directors of Institute for Fiscal Studies (IFS), the National Institute of Economic and Social Research (NIESR) and the Centre for Economic Performance (CEP) said there had never "in our lifetimes" been such agreement among economists on a major policy issue.
All you need to know about the EU referendum
With the outcome of the vote hanging in the balance, Mr Cameron appealed to older voters to think of the next generation when alone in the polling booths on Thursday.
"I want to speak very directly to those of my generation and older," Mr Cameron said. "I know Europe isn't perfect. Believe me. I understand and I see those frustrations. I feel them myself. That is why we renegotiated and enhanced our special status, out of the Euro, keeping our borders, not involved in ever-closer union. We have the best of both worlds.
"So as you take this decision, whether to Remain or Leave, do think about the hopes and dreams of your children and your grandchildren. They know their chances to work, to travel, to build the kind of open and successful society they want to live in rests on this outcome.
Which celebrities support Brexit and which support Remain?

Show all 30
"Remember, they can't undo the decision we take. If we vote out, that's it. it is irreversible. We will leave Europe for good, and the next generation will have to live with the consequences far longer than the rest of us."
Meanwhile, Vote Leave figurehead Boris Johnson pledged to publicly apologise if Britain went into recession in the wake of a vote for Brexit, as the IFS, the NIESR and the CEP issued a joint statement warning that Britain would "almost certainly" be worse off outside the EU.
Challenging Leave campaign claims that Britain's economy would not suffer from Brexit, they said that "almost all of those who have looked seriously at this issue" were predicting lower real wages in event of Brexit, higher prices for goods and services, higher borrowing costs and higher unemployment.
"In our lifetimes we have never seen such a degree of unanimity among economists on a major policy issue," the directors of the three institutions said in a joint statement. "The precise effect, in terms of numerical percentage, is of course uncertain. But that we would be financially worse off outside the EU than in is almost certainly true."
Addressing some of the claims of the rival campaigns, they said that the Leave campaign's pledge of a £10bn Brexit dividend for public services and tax cuts was "almost certainly untrue". The claim that the UK would, after Brexit, be able to trade with other EU nations on equally good terms to those we currently have was also deemed almost certainly untrue.
Remain campaign assertions that households could be £4,300 a year worse off by 2030 were deemed to be "uncertain", while warnings that immediate tax rises would be needed in the event of Brexit were branded "unlikely", with the economists predicting that the Government would instead allow borrowing to rise to cover the economic costs of leaving the EU in the short-term.
Labour will attempt to rally support on the final day of campaigning on Wednesday, with leader Jeremy Corbyn and London Mayor Sadiq Khan planning to make a rare joint appearance at a London rally. Alan Johnson, leader of Labour's Remain campaign, said that a vote for leave would "plunge our country into turmoil and uncertainty".
Meanwhile, Michael Gove, the Justice Secretary and Vote Leave chairman, said he would "reflect" upon his position in the Cabinet depending on the outcome of Thursday's vote.
Mr Gove faced a minor embarrassment as the campaign took a bizarre turn, with the rival camps citing the footballers who back their side. After David Beckham confirmed he was backing Remain, Mr Gove claimed that former England internationals David James and John Barnes were backing Brexit – only to be contradicted by Barnes, who said he had been misinterpreted, and in fact backed Remain.
The EU referendum debate has so far been characterised by bias, distortion and exaggeration. So until 23 June we we're running a series of question and answer features that explain the most important issues in a detailed, dispassionate way to help inform your decision.
What is Brexit and why are we having an EU referendum?
Does the UK need to take more control of its sovereignty?
Could the UK media swing the EU referendum one way or another?
Will the UK benefit from being released from EU laws?
Will we gain or lose rights by leaving the European Union?
Will Brexit mean that Europeans have to leave the UK?
Will leaving the EU lead to the break-up of the UK?
What will happen to immigration if there's Brexit?
Will Brexit make the UK more or less safe?
Will the UK benefit from being released from EU laws?
Will leaving the EU save taxpayers money and mean more money for the NHS?
What will Brexit mean for British tourists booking holidays in the EU?
Will Brexit help or damage the environment?
Will Brexit mean that Europeans have to leave the UK?
Register for free to continue reading
Registration is a free and easy way to support our truly independent journalism
By registering, you will also enjoy limited access to Premium articles, exclusive newsletters, commenting, and virtual events with our leading journalists
Already have an account? sign in
Register for free to continue reading
Registration is a free and easy way to support our truly independent journalism
By registering, you will also enjoy limited access to Premium articles, exclusive newsletters, commenting, and virtual events with our leading journalists
Already have an account? sign in
Join our new commenting forum
Join thought-provoking conversations, follow other Independent readers and see their replies