EU referendum: Government still failing to meet migrant worker target
Out campaigners seize on latest statistics revealing net migration to UK of 323,000 a year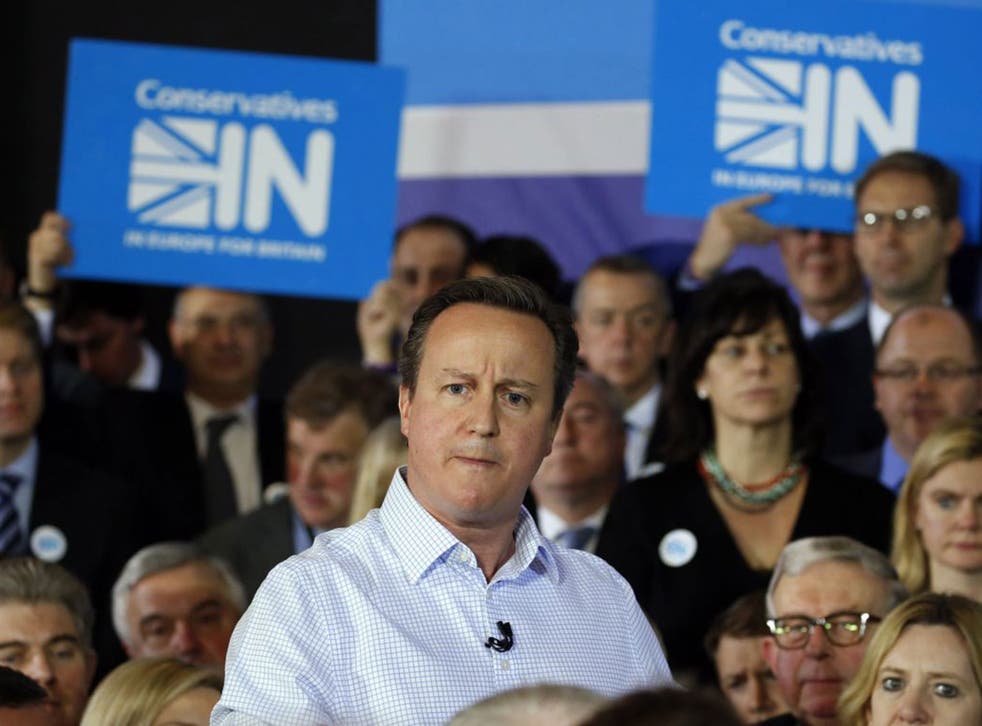 Out campaigners have seized on new migration figures showing that the Government is still failing to make headway cutting the number of EU migrant workers coming to live in Britain.
Statistics from the Office for National Statistics revealed that net migration to the UK is running at 323,000 a year – three times above the Government's self-imposed limit of 100,000.
David Cameron claimed that the target could still be met if action was taken "right across the board", and insisted that the agreement to limit in-work benefits would contribute to cutting numbers.
But in a sign of the new reality of the Government stripped of collective responsibility, his employment minister, Priti Patel, criticised the failure to tackle EU migration.
"Once again, net migration has gone up – putting pressure on our jobs, housing, and our public services," she said. "More than half … have come from the European Union – showing that we cannot control our borders while we remain members of the EU.
"[Mr Cameron's] proposed deal will do nothing to reduce the level of immigration from the EU, and will leave unelected politicians in Brussels and judges from the EU Court in control of our borders. The only way to take back control is to vote Leave."
EU referendum timeline - What happens if Britain gets the deal
The figures also showed:
Net migration from the EU was 172,000 in the year to September, down from 180,000 for the year ending in June 2015, but higher than the 158,000 in the 12 months to September 2014.
An estimated 165,000 EU citizens came to Britain for work-related reasons. Of those, 58 per cent had a job and 42 per cent came looking for work.
There was a "statistically significant" rise in immigration from Bulgaria and Romania against the year before, up by 15,000 to 55,000. These migrants account for 21 per cent of EU immigration.
What has the EU ever done for us?

Show all 7
But Jonathan Portes, of the National Institute of Economic and Social Research, said that while the statistics showed gross EU immigration was 260,000, in the same period there were 650,000 national insurance numbers issued to EU citizens, casting doubt over the official estimates' accuracy. This was highlighted by the Ukip leader, Nigel Farage. He accused ministers of "pulling the wool over our eyes", adding that the ONS figures "use the International Passenger Survey [for] their figures, a survey regarded as deeply flawed by most responsible statisticians … If as they claim only 260,000 EU nationals arrived, then how is it possible 650,000 [NI] numbers have been given to foreign nationals?"
Mr Portes himself said both measures were flawed and called on the Government to publish the data that could reconcile the figures.
Speaking to staff at BAE Systems in Lancashire, Mr Cameron conceded that the immigration numbers were still "too high".
"First of all we have got to take more action on migration from outside the EU, so that means making sure there are fewer bogus students coming, making sure there are tough rules to encourage businesses to train people here rather than bring them from abroad," he said. "Inside Europe we need to fix this issue of welfare but of course we have now got this agreement that people cannot get £10,000 … the minute they arrive in the UK and work."
He added: "We are also going to tighten up on the free movement rules. We now have got the ability to tighten up on criminals, sham marriages, fraudsters ... all those things."
Join our new commenting forum
Join thought-provoking conversations, follow other Independent readers and see their replies