Nigel Farage's suggestion of a privatised NHS flares tensions within Ukip
Internal rows suggest the party is struggling with pressure in run-up to the general election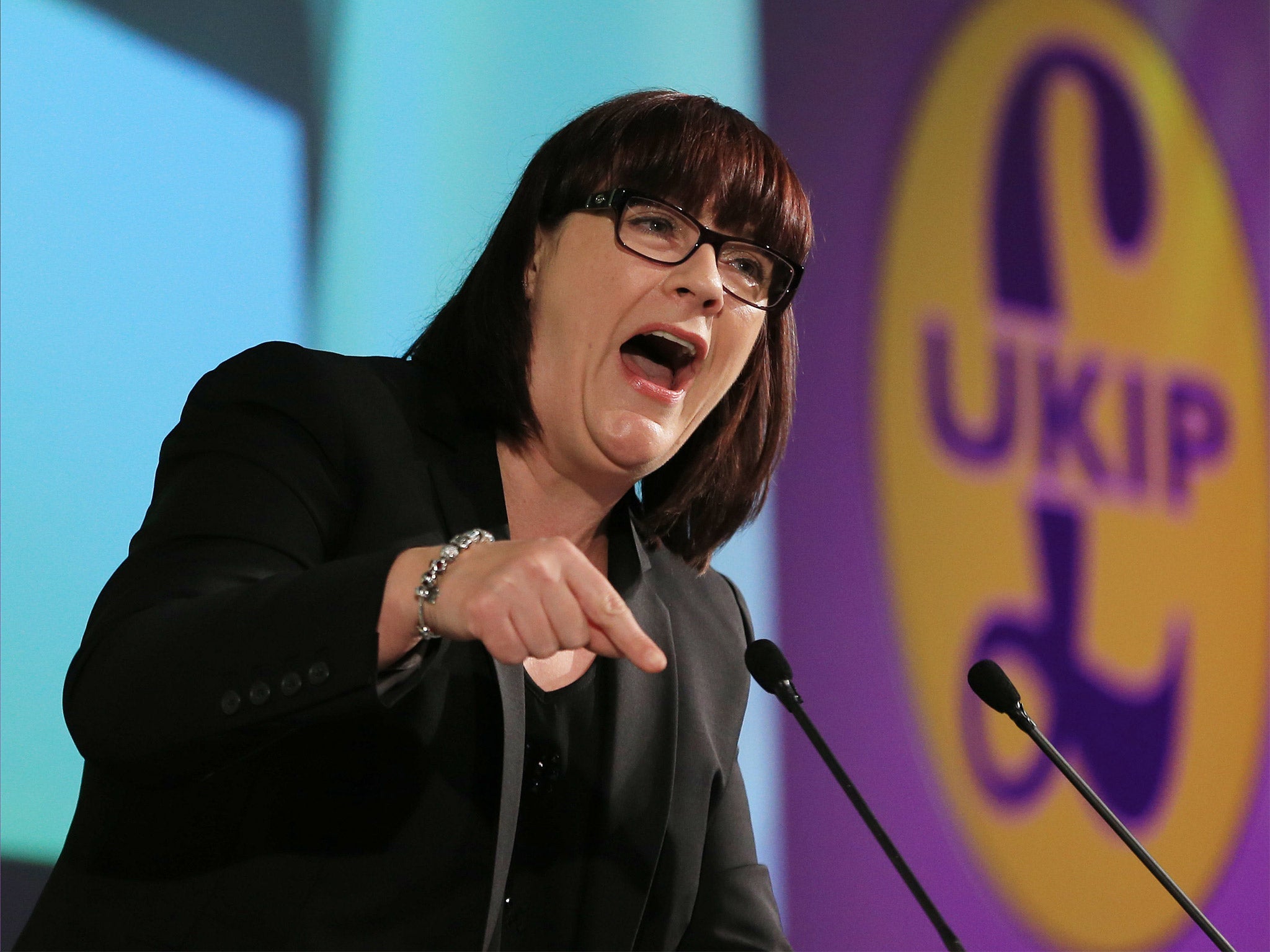 Ukip is facing pre-election turmoil after policy differences and personality clashes burst into the open, with the party's health spokeswoman slapping down Nigel Farage's suggestion the NHS could eventually be privatised.
Amid signs of in-fighting and internal rivalry, a senior source admitted last night that the mood in Ukip's higher echelons had become "scratchy and irritable" ahead of the 7 May ballots.
There is also dismay in parts of the party over the slow progress in compiling its manifesto, with the MEP responsible for drafting the document revealed to have recently relinquished responsibility for the task.
A fresh spotlight was shone on Ukip's growing pains yesterday in a BBC interview when the party leader raised the prospect of ultimately replacing the state-funded NHS with an insurance-based healthcare system.
While stressing his party remained committed to healthcare free at the point of delivery, Mr Farage indicated it was "a debate that we are all going to have to return to" because of Britain's rapidly ageing population.
Ukip's health spokeswoman Louise Bours swiftly contradicted her leader as she insisted the vast majority of party members "will always favour a state-funded NHS".
Ms Bours said: "Nigel is entitled to his opinion and others are entitled to theirs, we don't whip people into all thinking the same thing, like the establishment parties.
"As he has said before, he raised the idea for discussion a while ago, the party discussed it and rejected it. I am certain that if the party discuss it again, we will reject it again."
The clash followed the disclosure that Suzanne Evans, Ukip's deputy chairwoman, had taken over the writing of the party's manifesto from the Euro-MP Tim Aker.
He was reported to have fallen behind with completing the final draft, leading to protests from candidates that they were struggling to answer voters' questions on the doorstep.
The party dismissed claims he had been sacked as "complete tosh" and said he had asked about 10 days ago to be relieved of the duty, although sources acknowledged Mr Aker had been behind schedule as he attempted to juggle his other jobs as an MEP, councillor and parliamentary candidate.
Work on the manifesto was also affected by the furore surrounding the party's general secretary, Roger Bird, who was cleared internally of a sexual harassment allegation but stood down from his post by mutual consent.
Meanwhile, the party has been hit by a farcical series of events over its choice of a candidate in the Essex seat of South Basildon and East Thurrock. Kerry Smith – who was selected after the former MP Neil Hamilton pulled out amid controversy over his expenses – was forced to quit over offensive remarks he made in a telephone call.
Evidence is also emerging of rival camps gathering around Mr Farage and Ukip's first elected MP, Douglas Carswell. The MP for Clacton upset some party traditionalists with a call for it to be "inclusive" and is understood to be at odds with senior figures over health and defence policies.
Ukip's confusing policies
Show all 7
Equally worrying for the party are signs that disaffected Ukip activists are willing to settle scores by making private briefings, fuelling the in-fighting which could hamper its election preparations.
A senior source told The Independent: "Things are a bit scratchy at the moment – a large number of people seem in an irritable mood. People are still tired after the efforts of last year. Winning two by-elections took a lot out of them."
But he added: "Considering we've less than four months to go to the election, we are right in it. The idea that Ukip would fade away is gone. The work in our target seats is pretty effective."
The party's final gathering before the election campaign launches will be at its spring conference in Margate next month. It will set out the themes of its policy platform, with the full manifesto launched at the start of the campaign.
Join our commenting forum
Join thought-provoking conversations, follow other Independent readers and see their replies