Election results: DUP vow to help Tories if 'natural wastage' erodes the Conservative majority during the parliament
The expectation in Belfast is that Mr Cameron, facing what is bound to be a highly fractious term, is bound to lose MPs to 'by-elections, illness and death'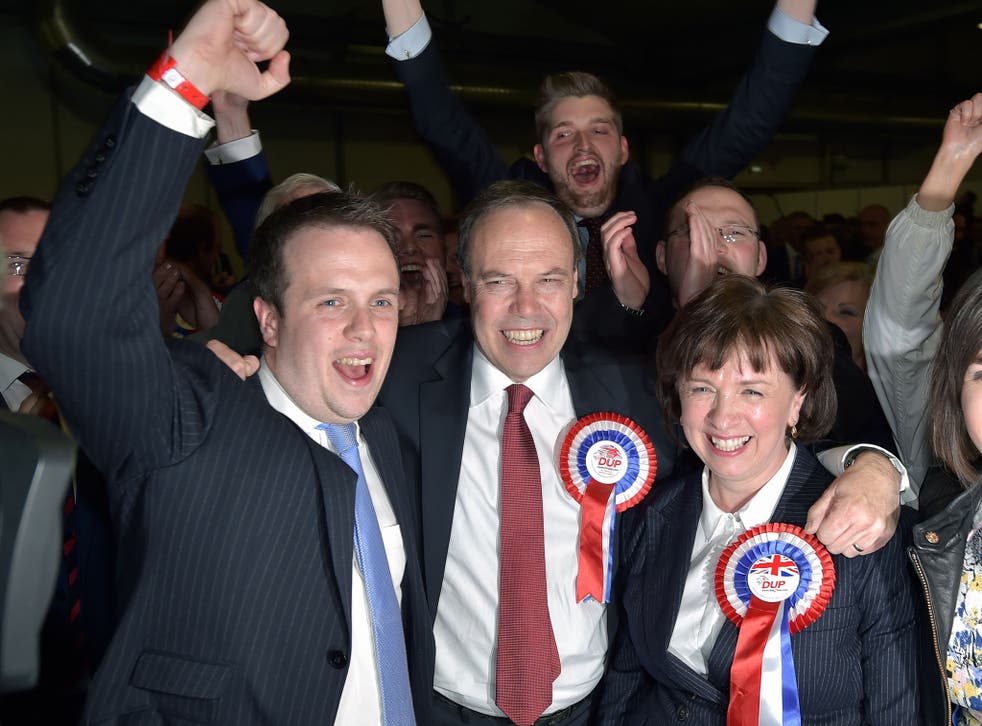 The Democratic Unionist Party made it clear it remained hopeful of wielding influence over David Cameron's new administration in spite of missing its goal of holding the balance of power in the new government.
Unionist leaders are disappointed that Mr Cameron will not immediately be seeking their support, but believe that the Conservatives' current slender majority will eventually dwindle through what DUP sources privately described as "natural wastage."
The expectation in Belfast is that Mr Cameron, facing what is bound to be a highly fractious term, is bound to lose MPs to "by-elections, illness and death", in the words of DUP MP Gregory Campbell.
The general belief among both unionists and nationalists is that Mr Cameron will want to establish cordial relations with the DUP, since the party has made it very clear it will be eager to provide support if and when he runs into problems with his own potentially troublesome backbenchers.
Best General Election 2015 quotes

Show all 10
While the DUP will return to Westminster with eight seats, one surprise is that they will be joined in the Commons by two Ulster Unionist Party (UUP) MPs whose election was largely unexpected.
The DUP and UUP occasionally cooperate, and indeed both won seats by operating a limited electoral pact which helped defeat two non-unionist incumbents. But for the most part the two are intense rivals, both seeking votes from the Protestant community, which means it cannot be taken for granted that they will act as a united team of 10.
In return for its cooperation, the DUP has made it clear it would seek financial concessions for Northern Ireland, warning proposed welfare cuts would be unacceptable. The party has also laid out dozens of areas in which it will be seeking preferential treatment, while indicating that it would not expect movement on all of them.
Unionists have twice before been in a position to offer help to prime ministers who were short of Commons votes. James Callaghan and John Major both sought to do business with Unionist MPs when faced with crucial divisions, though no formal agreements were made and no major concessions were given.
One of the new UUP MPs, Tom Elliott, said the Conservatives could not take his vote for granted, while DUP leader Peter Robinson said he would act responsibly in the best interests of Northern Ireland and the UK. Mr Robinson had been more direct in his eve of poll message, urging unionists: "Remember – more votes equals more seats, equals more for Northern Ireland."
The DUP succeeded in winning back the Belfast East seat which saw the most intense contest of the 18 Northern Ireland seats, its candidate defeating Naomi Long of the moderate Alliance Party. In 2010, Ms Long caused an upset by ousting Mr Robinson, who had held the seat for more than three decades.
One of the UUP's victories came in South Antrim, an area not covered by the pact, where it captured a DUP seat. Sinn Fein lost one of its five MPs as the DUP-UUP pact in Fermanagh-South Tyrone defeated Michelle Gildernew, who had a majority of four votes in 2010.
Join our new commenting forum
Join thought-provoking conversations, follow other Independent readers and see their replies