Election results: Labour hastily search for new leader as Ed Miliband steps down
The frontrunners are expected to be Yvette Cooper, Chuka Umunna and Andy Burnham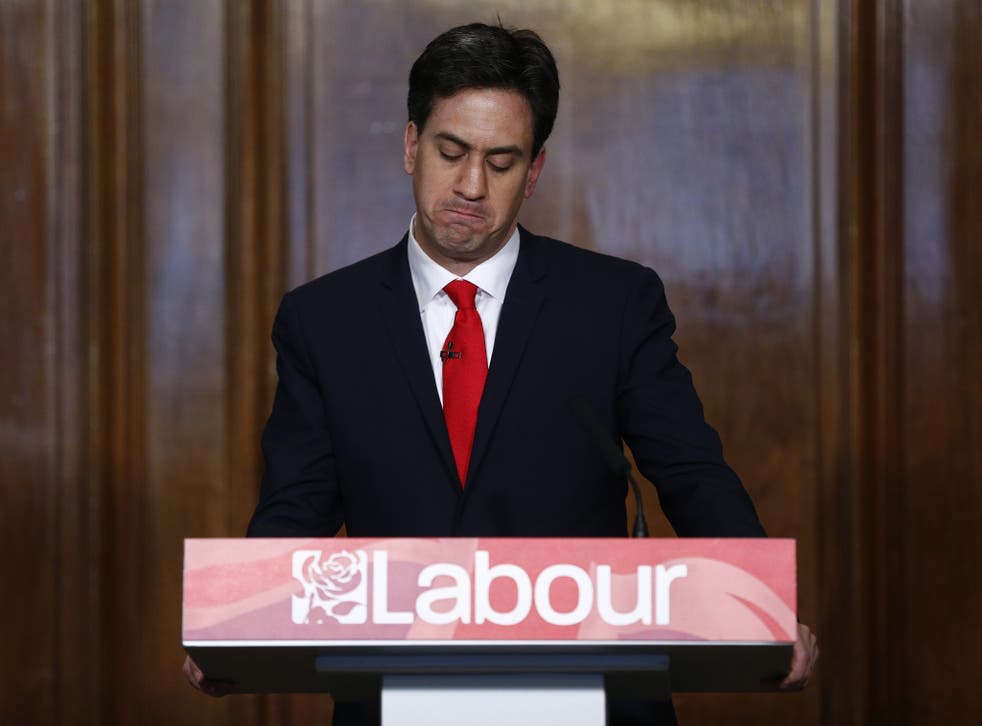 Labour faces a three-month battle for the soul of the party after Ed Miliband resigned in the wake of its worst electoral performance since the 1980s.
The massive defeat, which saw several of the party's biggest names lose their parliamentary seats, threatens to reopen the wounds which bedevilled the Blair and Brown governments.
Labour chiefs want the new leader to be in place by August to minimise the time spent on a potentially damaging contest – and no later than the party's conference in September.
The frontrunners are expected to be Yvette Cooper, the shadow Home Secretary, Chuka Umunna, the shadow Business Secretary, and Andy Burnham, the shadow Health Secretary.
Who will be the next Labour leader?

Show all 7
Announcing his immediate resignation, Mr Miliband told activists that he took "absolute and complete responsibility" for the dismal performance and insisted: "We have come back before and this party will come back again."
Mr Miliband had considered staying on for six months to steady the Labour ship while the party chose his successor – as Michael Howard did after the Tories lost the 2005 election – but decided it was best to stand down immediately. He faced an immediate backlash last night as Blairites protested that his attempt to move "beyond New Labour" had failed to win over centre-ground voters.
David Miliband, who was narrowly defeated by his younger brother for the leadership in 2010, tweeted: "Deep and honest thinking required to rebuild progressive politics."
One Blairite said: "We started going wrong when Ed Miliband defined himself as not New Labour and we have been going downhill ever since.
"A different face at the top is not the answer. We need a re-modernisation of the party to make it fit for purpose at the next election."
The Blairite MP Pat McFadden told the BBC that the party needed a "more far-reaching examination of where we went wrong – we have got to ask the difficult questions".
Labour chiefs were astonished by the party's electoral performance, privately predicting on polling day that they would be 10 to 20 seats behind the Tories. Instead, there was a 99-seat gap between the parties as Labour performed far below its worst expectations.
Initially, the party dismissed an exit poll on Thursday night pointing to a clear Conservative lead, but as results came in they realised it was heading for one of the blackest nights in its history. Party staffers shed "a lot of tears" at Labour HQ as they received news of a succession of setbacks in marginal English seats and all but one of the party's 41 seats in Scotland were swept away by the SNP.
"We had no idea it would be this bad," one official admitted. "It was very, very grim. We have a long, long way to come back after such as very bad result."
David Alexrod, the Obama aide hired to advise Mr Miliband, signalled his bemusement at the election outcome. He tweeted: "In all my years as journalist & strategist, I've never seen as stark a failure of polling as in UK. Huge project ahead to unravel that."
The lowest point came when the shadow Chancellor, Ed Balls, was unexpectedly ousted by the Tories from his West Yorkshire constituency of Morley and Outwood. It followed the defeats by the SNP of Jim Murphy, Labour's leader in Scotland, Douglas Alexander, the shadow Foreign Secretary, and Margaret Curran, the shadow Scottish Secretary.
Labour strategists said they believed many voters were "shy Tories", suggesting that the Tories have a "brand problem" as the "nasty party" – but found Labour an even scarier prospect after the Tories played the SNP card.
"The SNP killed us in Scotland and then allowed the Tories to kill us in England by talking up a deal at every opportunity," said one Labour official. "It drowned out our message on other issues and made us look a risk."
The shadow Education Secretary, Tristam Hunt, said the party had failed to offer a "compelling vision of the future which married a social democratic future to the personal aspirations of voters in Britain".
Following Mr Miliband's resignation, his deputy Harriet Harman will for the second time step in as acting leader.
Candidates will have to secure the backing of 15 per cent of the Labour Parliamentary Party – equivalent to 34 MPs – before facing a one-member, one-vote election.
Ms Harman said she would step down as deputy leader following the contest. She said: "With a new leadership team in place, after what has undoubtedly been a serious defeat, the Labour Party will be best placed to be the strong opposition this country needs – defending our NHS and our public services, and fighting for fairness, equality and social justice."
Tom Watson, the party's former deputy chairman, declared he would consider standing for deputy leader to replace Ms Harman. He said: "I have always thought the deputy leader role is a campaigning role, it's one that requires party focus and organisation."
Labour backbencher John Mann said Barnsley Central MP and former Army officer, Dan Jarvis, was the obvious candidate for leader. "We need somebody who is not a political insider who has always been locked in Westminster," he told BBC Radio 4.
Real life awaits: What next for Ed?
At 45, Ed Miliband faces a hard choice about what to do for the rest of his working life. Having failed to reach Number 10 Downing Street, he has little prospect of attracting the massive fees that Tony Blair and Gordon Brown are paid on the lecture circuit. Some middle-aged MPs have second jobs, or old professions they can return to when their political careers come unstuck, but Miliband's profession has been full time politics almost since he left university.
He did a short spell as a researcher for television before he became a political adviser to Harriet Harman, at 23, but that is too lowly a job for him to go back to now. He also did a short spell teaching economics at Harvard University – although being a lecturer might be an unexciting life for someone who has experienced the thrill of front-line politics.
Probably the best opening would be to trade on his experience as Secretary of State for Energy and Climate Change, finding a job in the energy industry as a political consultant. His wife, Justine, a leading environmental lawyer, could help with introductions.
Andy McSmith
Fresh start: Who could lead Labour?
Yvette Cooper
The shadow Home Secretary would win wide support across the party. She did not run in 2010 when her husband Ed Balls, the former shadow Chancellor – who unexpectedly lost his seat on Thursday – stood against Mr Miliband.  At times, she has wavered about whether to stand for the leadership but allies believe she will run this time. Some Labour insiders believe David Cameron might struggle against a female Leader of the Opposition.
Chuka Umunna
The 36-year-old shadow  Business Secretary is one of Labour's rising stars and is likely to win the support of many of the generation of MPs who entered the Commons with him at the 2010 election.
Before becoming an MP he was seen as on the left of the party but he has since forged links with Blairities that remain. However, some doubt his commitment to the New Labour cause.
Andy Burnham
The 45-year-old shadow Health Secretary ran for the party leadership in 2010 but he only came fourth in a five-horse race.
Allies believe the former Health Secretary would attract more backers this time – including from trade unionists, who have been impressed with his campaign accusing the Conservatives of planning to privatise the NHS. Has travelled leftwards from New Labour.
Liz Kendall
The 43-year-old former special adviser to Harriet Harman has impressed fellow Labour MPs since entering the Commons in 2010.
The shadow Minister for Care and Older People will come under pressure to run from Blairites who want to see a change of direction, saying that Ed Miliband's attempt to move "beyond New Labour" meant vacating the political centre ground to the Conservatives.
Dan Jarvis
The 42-year-old former Army officer, who served in Iraq after the 2003 invasion, would be seen as a dark horse but could enter the race. He would offer Labour a new start as it tried to rebuild.
The shadow Justice Minister has been on a fast track to promotion since becoming MP for Barnsley Central in a 2011 by-election.
Andrew Grice
Join our new commenting forum
Join thought-provoking conversations, follow other Independent readers and see their replies