Iain Duncan Smith to remain in charge of welfare reforms as Conservatives look to make further £12bn cuts
Former party leader is one of a number of senior figures keeping their jobs
Joe Churcher Comments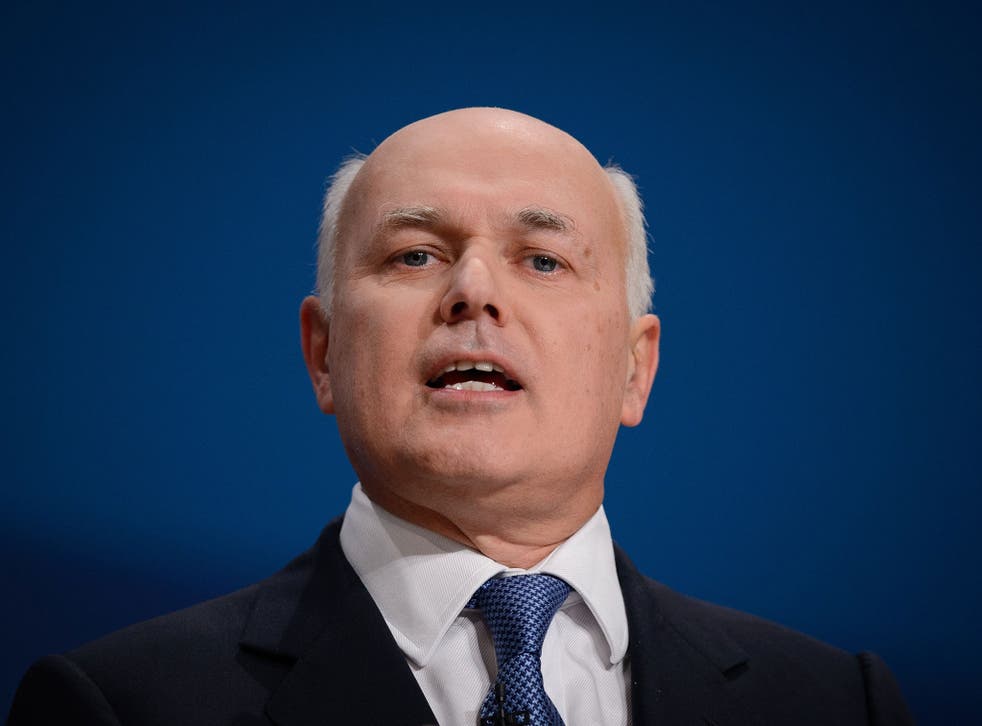 Iain Duncan Smith is to remain in charge of the Government's controversial welfare reforms as Work and Pensions Secretary, David Cameron announced, as he prepared to reveal the make-up of the rest of his top government team.
The former party leader is one of a number of senior figures keeping their jobs, including Chancellor George Osborne, Home Secretary Theresa May, Foreign Secretary Philip Hammond, Education Secretary Nicky Morgan and Defence Secretary Michael Fallon.
It is a signal of faith in Mr Duncan Smith - whose first five years in the job were marked by deep issues with the roll-out of the flagship Universal Credit system and anger over cuts to disability payments - as the Conservatives seek to make another £12 billion mostly-as-yet-unspecified reductions to the welfare budget.
A number of women MPs - including Priti Patel, Anna Soubry and Andrea Leadsom and Amber Rudd - are tipped for promotion as Mr Cameron seeks to meet his stated ambition of having women fill at least a third of seats at Cabinet.
The PM will also move to end a serious embarrassment caused by his last reshuffle by making Lords Leader Baroness Stowell a full member of the Cabinet, restoring her pay to the level enjoyed by her male predecessor.
He faced a storm of protest after effectively downgrading the job to allow William Hague to remain a full member of the Cabinet after being switched from Foreign Secretary to Commons leader- with the peer then declining his offer to make up the pay difference from party funds.
Mr Cameron will address the influential Tory backbench 1922 Committee this morning as he seeks to get his second term off to a positive start.
The major political figures who lost out in the General Election

Show all 16
He will tell members that after five years of "repair and recovery" in coalition with the Liberal Democrats, a majority Conservative administration would be "all about renewal" and restoring "a sense of fairness" to society.
A botched attempt to curtail the powers of the '22 after the 2010 election soured relations between the PM and his MPs throughout most of the parliament and he was quick to make sure its chairman Graham Brady was among the first he met after last week's general election victory.
With a slim Commons majority of just 12 and fraught issues such as Europe high on the agenda, the PM will be keen to capitalise on any goodwill from having defied the expectation of many by leading the party back to power.
"After the great Labour recession, so much of the last five years was about repair and recovery," he will tell the meeting.
"It fell to us to put the economy on the right track and to get Britain back to work. Today I can tell you that the next five years will be all about renewal.
"And we will renew our Union - showing respect to all four parts of our country, while recognising we are stronger together as the United Kingdom. All of this goes back to what I said on the steps of Downing Street. We are the party of one nation - and that is the way we will govern."
It has already been announced that Michael Gove is returning to the top of government - moving from chief whip to Lord Chancellor and Justice Secretary at the expense of Chris Grayling, who becomes Leader of the House of Commons.
Mark Harper, who quit as immigration minister over the work status of his cleaner, takes over from Mr Gove as chief whip.
The Prime Minister has a greater scope for patronage among Conservative MPs now that he no longer has to make space in his Cabinet for five Liberal Democrat MPs as well as a dozen or more in the lower ministerial ranks.
Mr Cameron was censured by the House of Lords over the effective downgrading over the Lords Leader role.
Lady Stowell was appointed on the lower minister of state's pay to avoid breaching the limit on numbers of full members around the famous table at 10 Downing Street after it was decided to keep Mr Hague in the Cabinet.
In an unprecedented move, Mr Cameron announced that the Conservative Party would make up the difference between Lady Stowell's £78,891 annual salary and the £101,038 earned by her predecessor Lord Hill of Oareford, who has been nominated as the UK's European Commissioner.
But she turned it down over fears it could appear a conflict of interest and the PM said he would restore the full Cabinet status immediately if re-elected.
Mr Brady said an effort needed to be made to improve communications between the leadership and backbenchers if normal disagreements were not to become seen as public "rows".
"There is no desire to create trouble, I think, from anybody; what we need to try to make sure is that the mechanisms are there which allow people to feel their voice, their legitimate standpoint can be expressed and can be taken seriously and that proper account can be taken of it," he told BBC Radio 4's Westminster Hour.
He said there had been "a little bit of friction, a little bit of discontent among Conservative colleagues" in the last parliament, in part because of the larger influence that appeared to be exercised by the Liberal Democrats.
PA
Register for free to continue reading
Registration is a free and easy way to support our truly independent journalism
By registering, you will also enjoy limited access to Premium articles, exclusive newsletters, commenting, and virtual events with our leading journalists
Already have an account? sign in
Join our new commenting forum
Join thought-provoking conversations, follow other Independent readers and see their replies