Vince Cable interview: Charging fees for employment tribunals was 'a very bad move'
Exclusive: Cable admitted that the charges are deterring women from seeking compensation for unfair treatment in the workplace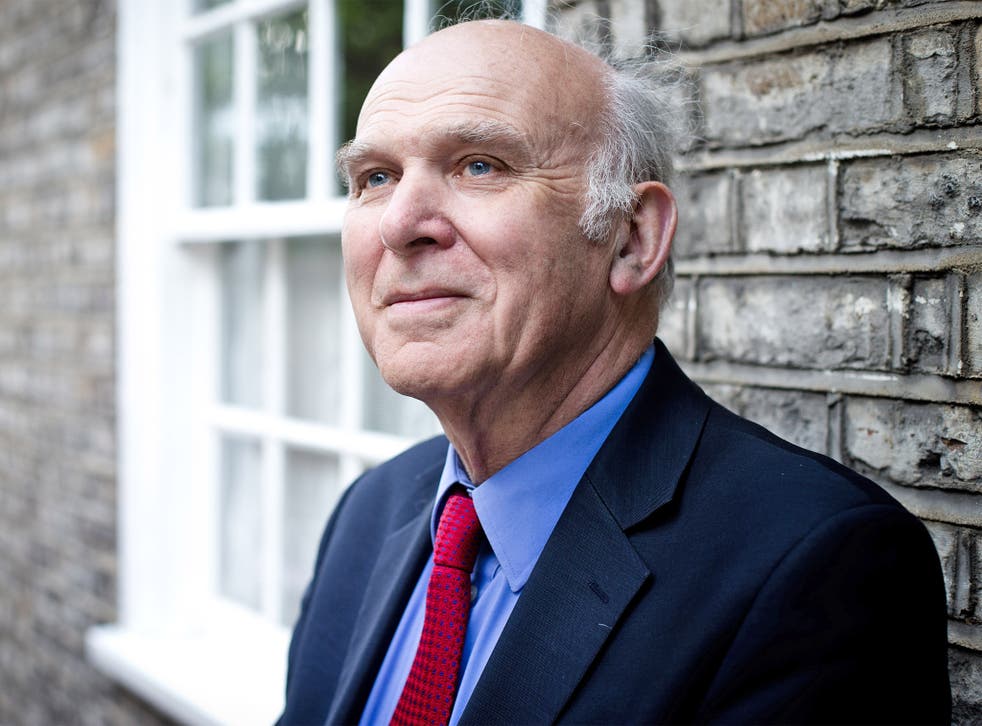 The number of workers taking cases to employment tribunals has dropped dramatically since the Government introduced fees of up to £1,200 two years ago.
Vince Cable, the Liberal Democrat Business Secretary, admitted the Coalition made a mistake and that the charges are deterring low paid women from seeking compensation for unfair treatment in the workplace. He said the Conservative-inspired move was an example of the Tories being the "nasty party" as they tried to "chisel away" at the rights of workers and trade unions.
In an interview with The Independent, Mr Cable disclosed that a review by his Business Department officials found that the total number of claims at employment tribunals fell by almost 70 per cent – down from 340,000 in the first three months of the 2013-14 financial year to just over 110,000 in the third quarter of 2014-15. He said sex discrimination claims were down 82 per cent from 21,000 to 3,500 over the same period, while the number of equal pay cases dropped by 72 per cent from almost 27,000 to 7,500.
---
Are you undecided about who to vote for on 7 May? Are you confused about what the parties stand for and what they are offering? Take this interactive quiz to help you decide who to vote for...
---
"There is enough evidence to suggest that this was a very bad move and should be reversed," he said. "It is highly suggestive that the fees are discouraging people – particularly low paid women—from pursuing their rights."
However, the Business Secretary said the drop might be due partly to new conciliation measures introduced by the Government. "Claim counts have fallen dramatically across the board. This could be a good news story but we need to be sure it doesn't hide a much darker picture. There is every possibility that our excellent early conciliation reforms have played a big part in reducing those numbers but the truth is we just don't know as we don't have the data, the evidence to prove what's happening on the ground. We urgently need a proper review to be sure no one is being denied access to justice."
Chris Grayling, the Conservative Justice Secretary, pushed for the fees after complaints from business groups about "frivolous" cases. Mr Cable approved the fees on condition that the Government assessed their impact after a year. But he accused Mr Grayling "an act of remarkable bad faith" by refusing to carry out the review. He ordered one by his own officials, which uncovered the new figures.
In the interview, Mr Cable said the fees were one of several examples where the Tories had pursued "an aggressively anti-worker, anti-union agenda" over the last five years.
As Business Secretary, he pushed a "responsible capitalism" agenda which David Cameron once espoused in opposition but which the Lib Dems claim he ditched as prime minister.
The Lib Dem minister has been labelled "the yellow b*****d" and the "Anti-Business Secretary" by Tories for blocking some of their proposals. The biggest row came over controversial plan drawn up for Downing Street by Adrian Beecroft, a Tory donor and venture capitalist, for bosses to fire workers "at will". Mr Cable said "no fault compensation" would have created "very serious insecurity" and delayed the economic recovery, because workers would have been reluctant to spend money.
He also blocked Tory plans to toughen anti-strike laws – by requiring strikes in essential services to have the support of 40 per cent ballot of those entitled to take part. He described that as "particularly perverse" when the number of strikes is at a record low.
Mr Cable warned that a right-wing government – perhaps a Tory-led one backed by Ukip—would revive proposals like "fire at will" within months. "They have an unfinished agenda," he said. "There is a very nasty streak [in the Conservative Party]. They are not all nasty as individuals. I have worked with them for five years. Some of them are perfectly decent, moderate people."
Mr Cable said Ed Miliband has exaggerated the importance of zero hours contracts, because they cover only 2 per cent of the workforce. But the Business Secretary, who outlawed "exclusivity clauses" saying that people on standby could work only for one employer, would like to offer further protection. He wants to give people working regular hours on them the right to request a full-time contract. Mr Cable regards the contracts as "the tip of an iceberg" , saying that legislation has failed to keep up with an increasingly casualised labour force. He ordered a review his successor as Business Secretary will inherit.
"The law is clearly an utter mess; it has not caught up with market reality," he said. In the recession, the priority was to keep people in work; now in the recovery, workers rightly look for security. "We are in danger of creating a labour market that is too flexible. If you have fear and insecurity that it not helpful. You have to get the balance right," he said.
Mr Cable said the Tories, if re-elected, would be unable to carry out the 18 per cent cut to the Business Department budget, which is "non-protected" under their plans. "As we grow our economy, we must protect and enhance adult skills training and our further education colleges," he said. He believed even the Tories are cooling on such big cuts to areas such as police, defence and social care. "It is very clear from the public and all the parties that there is not an appetite for austerity any more," he said.
In pictures: Experts' predictions for the General Election - 26/04/15

Show all 10
After pounding the pavements in his leafy Twickenham constituency in South West London, Mr Cable admitted that the £9,000-a-year university tuition fees he introduced in 2011 is still an issue. "I get it a lot on the doorstep," he said. "It has done serious political damage, for sure. There is no way of denying that. It is around loss of trust and the [2010 Lib Dem manifesto] pledge."
Although he admitted the Lib Dems "lost the political argument," he said many people now acknowledged the policy was right. His biggest regret from the five-year Coalition was not calling the fees hike a graduate tax, which in effect it is. "It would have made a big difference," he said. Parliamentary officials rejected the idea, as Britain could not "tax" students from EU countries under EU law, so they had to have loans that could be repaid.
Mr Cable, once an adviser to the former Labour leader John Smith, said it was still the case that his heart "beats on the left" but is equally open to a coalition with Labour or the Conservatives – but not a Scottish National Party determined to break up the UK.
In the event of another coalition with the Tories, he appears less keen than Nick Clegg to allow Mr Cameron to hold the in/out EU referendum he has promised in 2017. Mr Clegg has left the door open but Mr Cable said that, after easing the Tories' spending cuts, his second priority in coalition negotiations would be Europe.
The Business Secretary will be 72 two days after next week's election but looks much younger, crediting an hour of ballroom dancing every Friday – even during the campaign. He would love to carry on in the Cabinet but insisted he does not want to be Lib Dem leader, having served a two-month spell as acting leader in 2007.
A natural pessimist, Mr Cable is taking "nothing for granted" in his Twickenham constituency, even though he has a healthy 12,140 majority. The Tories are spending "vast amounts of money" to try to get him out, perhaps seeking revenge for those Cabinet battles over employment rights. "It is a badge of honour," he smiled.
Join our new commenting forum
Join thought-provoking conversations, follow other Independent readers and see their replies