Greville Janner: How MPs rallied to defence of Labour peer 'unfairly put through hell by a wicked slur'
Colleagues dismissed allegations when they first emerged but some of his staff saw a darker side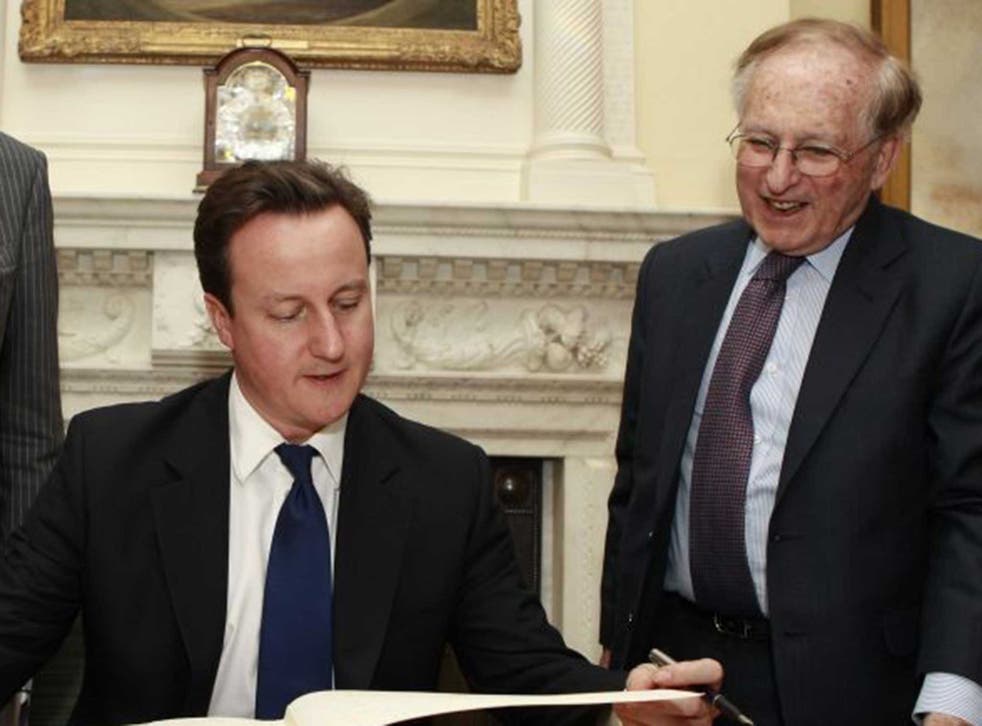 There was a peculiar mood in Parliament on the day they first discussed the allegation that Greville Janner, then the Labour MP for Leicester West, had abused a youth in a care home. It was a closing of the ranks.
His fellow MPs did not simply dismiss the accusations as improbable; they praised their accused colleague as a fine public servant who had endured a terrible experience with dignity. And they demanded a change in the law so that an innocent man could not be put through such an ordeal ever again.
The atmosphere at the parliamentary debate, on 3 December 1991, was summed up by the former Labour Home Secretary, Merlyn Rees. "What the media, whether television or the press, never pick up is an occasion such as this, when the House of Commons is at its best in the terms of the relationships between people in all parts of the House."
Greville Janner's name had come up two months earlier, during the trial of the sexual predator Frank Beck. The Director of Public Prosecutions, Alison Saunders, now thinks that the police and prosecutors should have taken the allegation levelled against him seriously, and charged him with sexual offences.
At the time, his fellow MPs were furious that he should have been named at all, and that contempt of court rules meant that he had to wait for a verdict in the Beck trial before he could reply in any detail.
This was not just a case of the Labour Party protecting one of its own. Though Labour's Keith Vaz, a fellow Leicester MP, rose to deplore the "cowardly and wicked" slur on a "distinguished" colleague; the majority of the MPs who spoke in Janner's defence were Conservatives.
The debate was initiated by David Ashby, Conservative MP for North West Leicestershire, who paid tribute to Janner as an "honoured colleague" who had been unfairly put through "living hell".
In pictures: White Flowers Campaign to support child abuse victims

Show all 10
Ashby would endure his own version of "living hell" two years later when his marriage broke up and it became known that he had shared a bed with a man. He claimed that only someone with a "dirty mind" could think that the relationship was homosexual. This was at a time when no MP – apart from the courageous Chris Smith – had ever voluntarily come out as gay, and many were closet homosexuals who did not just keep quiet about their sexuality, but lied about it, even to their wives.
A man who worked in Janner's office during 1991, soon after graduating from university, said: "It was a matter of office gossip that he liked boys, or young men in their mid-20s. He would have friendships with bright young men, and would go swimming with them in his club. He would go for a swim, then have breakfast, then work. Then after lunch he would lie out on the sofa in his constituency office."
His wife, Myra, appears to have known nothing about this side of her husband's life.
In national politics, Janner was best known as a friend of Israel and a campaigner for victims of Nazism. His grandparents fled from persecution in the Russian Empire in the 1890s and made a new life for themselves in Wales. His father was briefly a Liberal MP in the 1930s, and a Leicester MP from 1945. Greville took over his father's seat in 1970, and held it until he retired to the House of Lords in 1997.
He was still an active peer for several years after his Alzheimer's was first diagnosed in 2009. He made his last speech – fittingly on Israel and Palestine – in February 2013. The register shows that he was a regular attender in the Lords until the end of December 2013.
During the 1990s, there were very elderly men still at large who were suspected of being involved in Nazi atrocities, but whose age and mental condition raised questions about whether it was worth pursuing them. In January 1997, an Old Bailey jury decided that a man aged 86 – the age Lord Janner is now – was too ill to stand trial for atrocities that had taken place in 1941 and 1942.
Lord Janner's reaction, as chairman of the Holocaust Educational Trust, makes interesting reading in the light of yesterday's decision by the prosecution service.
He said: "I am sorry that he was not tried while he was fit enough to stand. War criminals have managed to evade prosecution under our system of justice for decades. There were absolutely no reasons why he should have escaped charges for ever."