Jeremy Corbyn faces new pressure to disown Stop the War Coalition amid claims group has 'lost its moral compass'
Exclusive: Peter Tatchell says group opposes Western military action while failing to protest against Assad's dictatorship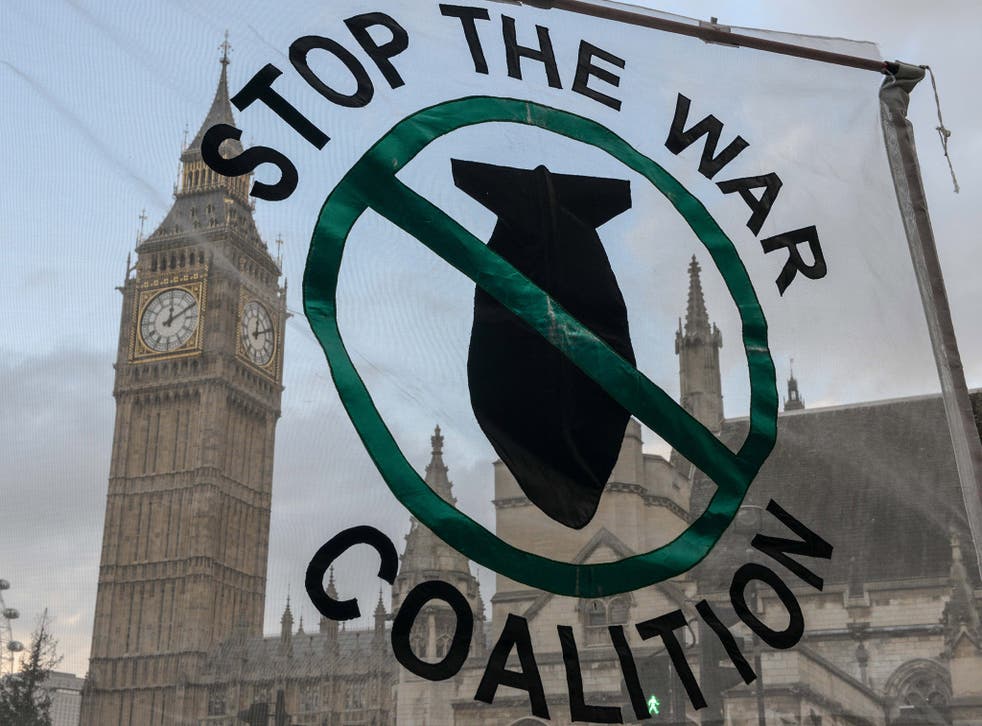 Jeremy Corbyn is under mounting pressure from within his own party to disown the Stop the War Coalition he used to chair, after one of its most prominent former supporters said the organisation had "lost its moral compass and authority".
Human rights campaigner Peter Tatchell said the group had opposed Western military action while failing to protest against the atrocities of the Assad dictatorship.
"Their politics is driven by their opposition to US imperialism. This sometimes mean they will ignore the horrendous crimes of despotic anti-American regimes like Russia and Iran," he told The Independent.
He added: "I'm a great supporter of Jeremy Corbyn but I think on some international issues he's fallen into the same trap as other Stop the War leading lights. Jeremy does not support the autocracies in Moscow or Tehran but he hasn't been sufficiently loud in speaking out against them."
Former frontbenchers Emma Reynolds and Caroline Flint have joined calls for Mr Corbyn to distance himself from the group by dropping plans to attend a fundraising dinner on Friday.
Ms Reynolds said the group's leadership had demonstrated "abhorrent views" in recent weeks while Ms Flint said they "are not Labour's friends".
Mr Tatchell's attack comes days after Caroline Lucas, the Green Party MP, confirmed she had stepped down as a patron of Stop the War, after clashing with the group over statements made in response to the Paris terror attacks. She had also raised concerns that Syrians were allegedly not given an opportunity to speak at a meeting organised by the group at Parliament last month.
The high profile criticisms of Stop the War have piled pressure on Mr Corbyn to cut ties with the group, which he chaired for four years before becoming Labour leader in September.
RAF planes launch second round of strikes on Isis oil field in Syria
He is due to formally hand over the chairmanship of the organisation at Friday's dinner. Tristram Hunt, the former Shadow Education Secretary, last week branded Stop the War a "really disreputable organisation" and urged Mr Corbyn not to attend the dinner.
The group faced criticism in the wake of the Paris attacks, in which 130 were killed by Isis terrorists, when an article was published on its website which said France had "reaped the whirlwind" of Western support for extremist violence in the Middle East.
The article was removed and has been disowned by the organisation's leaders, but Stop the War was criticised again last week for a separate article, which said that jihadists were driven by a "spirit of internationalism and solidarity" akin to the International Brigades that fought in the Spanish Civil War. The article was also removed and disowned.
Mr Corbyn's office said he still planned to attend Friday's fundraiser.
Last month, Mr Tatchell, who, despite supporting many of Stop the War's causes, has been a vocal and long-term critic of some of its stances, condemned it for allegedly failing to allow anti-Assad Syrians to speak at a meeting chaired by Labour's Shadow International Development Secretary Diane Abbott.
Ms Abbott has denied that Syrians were not given a chance to speak, but Ms Lucas, in confirming her resignation from Stop the War this week, also spoke of her concern about the meeting.
Emma Reynolds, a former shadow Communities Secretary, said: "Jeremy Corbyn should distant himself from the abhorrent views of Stop the War's leadership and pull out of the fundraiser. They have compared jihadis to the international brigades which fought fascism in 1930s Spain, stated that Paris reaped the whirlwind of western intervention and they have excused Russia for invading Ukraine and Georgia. They are anti-West rather than anti-war."
Caroline Flint, a former shadow Energy Secretary who stood for the Labour deputy leadership this year, said : "If I had Jeremy's ear, I would say 'don't go to this event. Stop the War are not Labour's friends.' "
Mr Tatchell told The Independent: "I was a previous strong supporter of the Stop the War Coalition and applaud its mobilisation against the disastrous UK and US attack on Iraq. Sadly, since then, on the issue of Syria, it has lost its moral compass and authority."
He added: "It has failed to organise or support protests against the Assad dictatorship and the regime's massacre of peaceful democracy protesters in 2011 - and since.
"Nor has it shown solidarity with the non-violent Syrian civil society movements for democracy and human rights and with the millions of innocent civilians killed, wounded and displaced by Assad's barrel bombs and torture chambers."
UK news in pictures

Show all 50
Stop the War has issued a staunch defence of its campaigning and said its membership and support for its protests was increasing.
"Stop the War is always accused of supporting those that our government opposes. This is far from the truth, we oppose both terrorism and dictatorship but believe foreign intervention does nothing to deal with them," the group said in a post on their website.
Join our new commenting forum
Join thought-provoking conversations, follow other Independent readers and see their replies