Jeremy Corbyn embarks on whirlwind tour of marginal seats as he makes Labour election-ready
Exclusive: Shadow cabinet members fan out across the country to promote party's message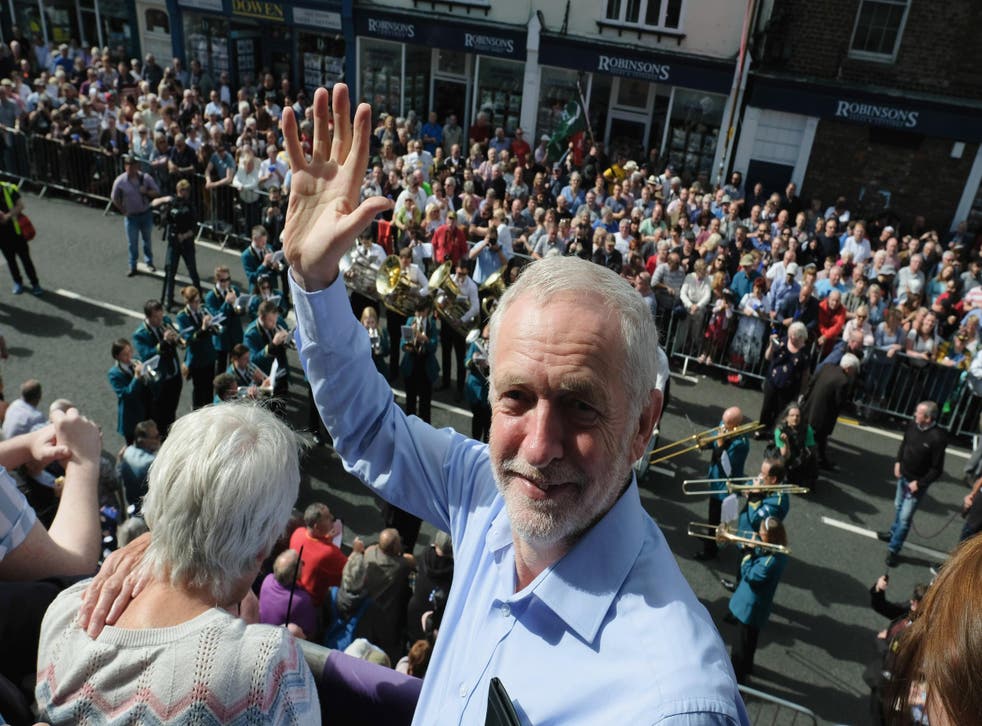 Jeremy Corbyn will embark on a whirlwind tour taking in half of Labour's target seats over the next few weeks, as he makes his party election-ready if Theresa May's administration collapses.
Shadow Cabinet members will also fan out across the country in a bid to convince voters in up to 70 seats that Mr Corbyn's time has come and that the Conservatives have run out of ideas.
The tour, which started with a rally in the London seat of ex-Tory leader Iain Duncan Smith, will be accompanied by a series of mini-campaigns, internal preparations and selections in critical target constituencies.
Labour's plan flies in the face of Ms May's call for Labour to bring forward ideas and cooperate with her weakened Government, as she looks to see how she can pass laws with a flimsy Commons majority propped up by the DUP. In a bid to relaunch herself after the Conservatives' disastrous election performance, Ms May said in a speech: "I say to the other parties in the House of Commons – come forward with your own views and ideas about how we can tackle these challenges as a country."
But it also comes as Mr Corbyn himself seeks to maintain his leadership's momentum in the wake of the election and cement his grip on the party in the run up to Labour's September conference.
A Shadow Cabinet member said: "It's going to be a busy summer. Jeremy is going to around 40 of the 70 target seats. The Shadow Cabinet is travelling as well, because no-one knows when an election is going to come.
"It's extraordinary that May has reached out to Labour for ideas. If I was a Tory MP I would be banging on her door saying, 'Why on earth are you speaking to them when you should be listening to us?'"
Should I vote Labour? Corbyn's biggest policies explained

Show all 9
Members of the Labour front bench will be sent out to key constituencies across England, Scotland and Wales to maximise the impact of the party's message.
A senior Labour official said: "Membership is continuing to grow, we're selecting candidates in seats for our offensive. It takes a little time, there has to be a democratic selection process but it's up and running and will be discussed by the [National Executive Committee] next week.
"We've also got campaign days confirmed over the summer. With May coming out and asking for other parties' help, the Government is in a really odd place, so we are going out engaging, showing we are listening.
"Jeremy has tapped into something out there, it's now about building on that."
The summer campaign days come in the wake of one already launched to promote the message that Ms May has "no mandate" after failing to win a Commons majority.
The most recent polls gave Labour an eight-point lead over the Conservatives, with Tory cabinet members and backbenches continuing to engage in clandestine plotting against Ms May.
Jeremy Corbyn: I'd take on Donald Trump over environment if I was PM at G20
The party now believes that if it can steal enough of their Tory target seats they could end up with a majority of 10 or 20 in the House of Commons.
Among the Labour targets are 13 seats that the Conservatives won in 2017 that have a majority of less than 1,000, with Southampton Itchen a prime target – Tory MP Royston Smith triumphed there by just 31 votes.
Mr Corbyn spoke to supporters in Chingford and Woodford Green at the weekend, where Labour's Bilal Mahmood came within 2,500 votes of toppling ex-Tory leader Iain Duncan Smith.
The leader continued preparation for government with a meeting with the EU's chief Brexit negotiator Michel Barnier this week, to press his party's priorities for the UK in withdrawal talks.
Mr Corbyn's frenetic activity is reflected in his increasingly strong position since the election, with rivals having either humbled themselves before him or opting to remain silent as he takes credit for Labour's gains.
Jeremy Corbyn speaks at rally in Hastings
Some in the party point out that a summer of campaigning for a potential election makes it harder for Mr Corbyn's critics to attack the the leader.
One MP told The Independent: "There is a feeling that Corbyn and his allies think that with one more big push they can win an election, but that doesn't take account of some of the underlying problems.
"There doesn't seem to be an analysis of why the Tories won more votes, and why in particular they won more working class votes. They need to show they understand why those things happened."
There also is a guerilla war taking place ahead of the autumn conference in Brighton where rival factions of the party will attempt changes to party rules to swing fortunes in their favour.
The Independent revealed how Labour's right wing has launched a plan to rein in Mr Corbyn's power, which would water down his influence on the party's NEC by drafting in extra members likely to be hostile to him.
Other proposals backed by the Campaign for Labour Party Democracy (CLPD), effectively an organ of the party's left, include a measure that would make it easier for a left-wing candidate to get on the ballot in any future leadership contest.
Join our new commenting forum
Join thought-provoking conversations, follow other Independent readers and see their replies