Jo Cox memorial fund: Tory councillor suspended over 'steam off p***' comments
Dominic Peacock apologises and tells The Independent he was 'tired and emotional'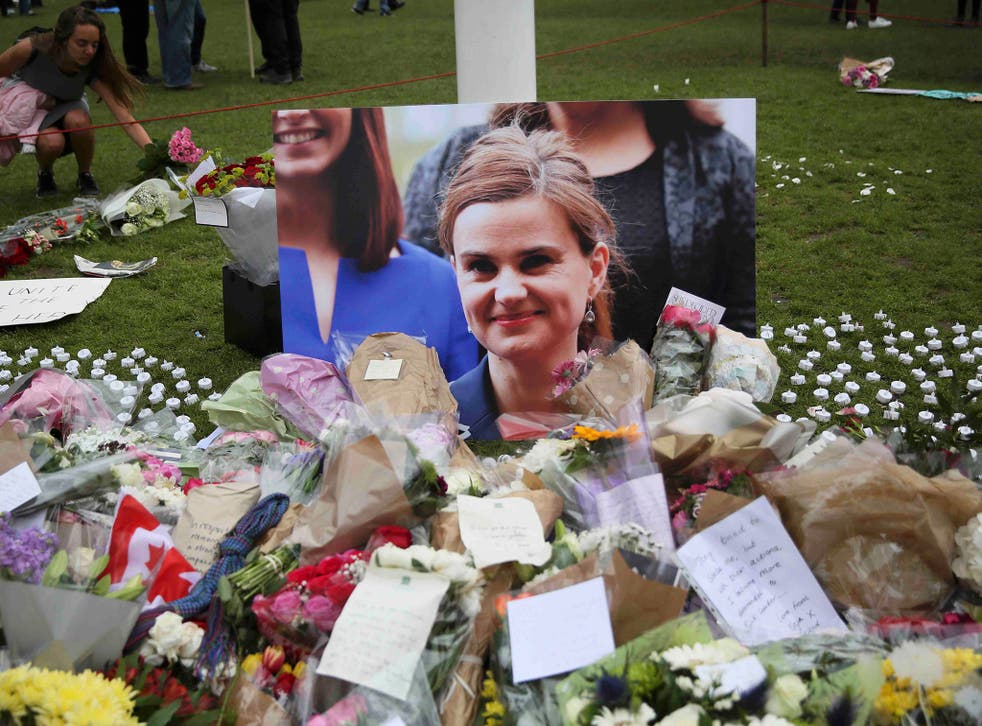 A Tory councillor has been suspended after responding to news of a memorial fund set up after Labour MP Jo Cox was killed by saying "I've just donated the steam off my p***".
Dominic Peacock, a Conservative Party councillor for East Riding who is campaigning for the UK to leave the EU, deleted the comment within moments of posting it on Facebook along with a news story about the fund.
He subsequently issued an "unreserved apology" and told The Independent he was "tired and emotional".
Stephen Parnaby, a leader of the East Riding of Yorkshire Council, said in a statement: "Following inappropriate and offensive comments made on social media relating to the sad and tragic death of Jo Cox MP, I have suspended Cllr Dominic Peacock from the East Riding of Yorkshire Council Conservative Group with immediate effect.
"I shall be reporting this to a meeting of the full Group and my recommendation will be that he be expelled.
"All people in public life, irrespective of politics should be united in condemning the fatal and dreadful attack on Jo Cox. This is not the time for inappropriate remarks, however intended, and I will not tolerate them in my Group, and residents should expect their elected representatives to act in an appropriate and compassionate way."
Responding to the comments, which were posted in a pro-Leave Facebook group, Chevan Ilangaratne, who describes himself as a Legal Fellow at the Mental Disability Advocacy Centre, called for Mr Peacock to resign.
Mr Ilangaratne wrote: "What an utterly odious and inappropriate comment to make following what was an absolute tragedy for mankind last week.
"The attack was a bitter attack on democracy - the very means by which you got elected a councillor. When I get a minute, I shall be writing to you formally to demand your immediate resignation.
"Anything short of stepping down will not even begin to satisfy the level of contrition needed for this truly disgraceful remark. You are not fit for public office in any capacity. Beverley deserves better, Britain deserves better."
Mr Peacock told The Independent he deleted the post as soon as he became aware of its potential for offence and that he offered an "unreserved apology".
"I shouldn't have used those words or that language," he said.
"What I should have explained was that there was no way I would donate to the White Helmets.
"Clearly, I shouldn't have put out a statement that was so sharp. I should have thought. I think the words are 'tired and emotional'.
Jo Cox tributes - in pictures

Show all 20
"I put it in a flippant way and I can see why people think it's appalling.
"I shouldn't have done it and I issue an unreserved apology to anyone who I have hurt or offended."
Jo Cox 'died for her political views', says husband Brendan Cox
Thomas Mair, aged 52, is accused of Ms Cox's killing in Birstall, West Yorkshire, on Thursday.
He appeared at the Old Bailey on Monday charged with murder, grievous bodily harm, possession of a firearm with intent to commit an indictable offence and possession of an offensive weapon.
The GoFundMe page set up by Mrs Cox's friends in "celebration and memory" of her work currently stands at over £1 million, after more than 32,500 people donated over three days.
It comes as a Survation poll showed the Remain and Leave campaigns were neck-and-neck, at 45 per cent and 44 per cent respectively.
Join our new commenting forum
Join thought-provoking conversations, follow other Independent readers and see their replies