John McDonnell accuses Labour HQ of 'rigged purge' against Jeremy Corbyn supporters
Accusation comes after it suspends Bakers' Union chief but takes no action against Labour donor who gave over £2m to the Lib Dems
Ashley Cowburn
Political Correspondent
Friday 26 August 2016 09:03 Comments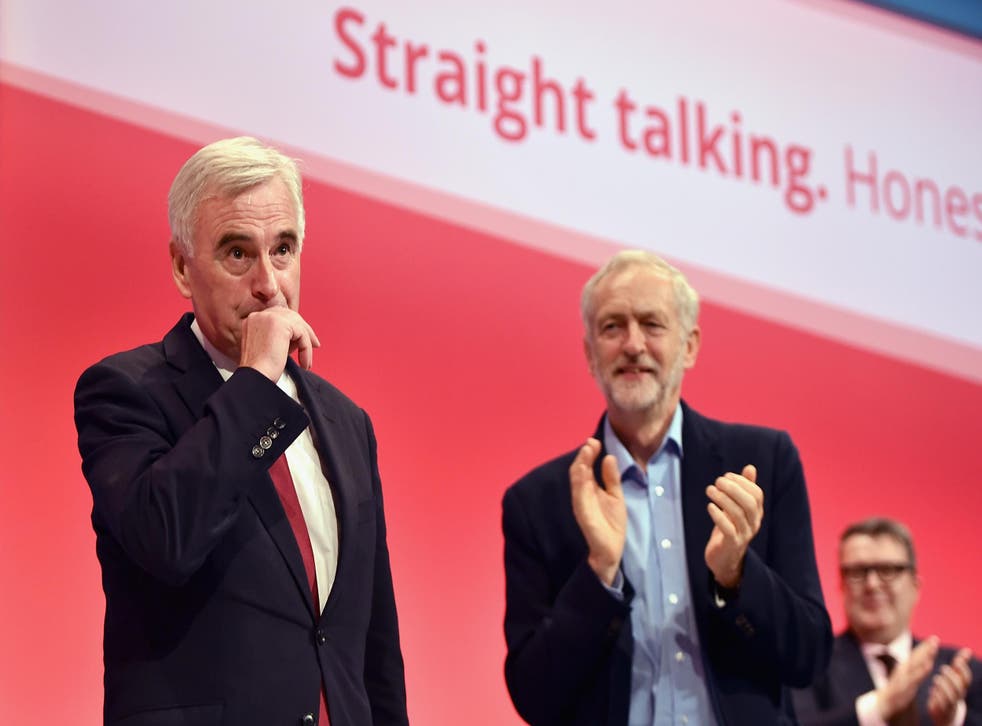 John McDonnell has accused Labour's HQ of a "rigged purge" against Jeremy Corbyn's supporters after it suspended the chief of the Bakers' Union but took no action against Lord David Sainsbury despite him donating over £2 million to the Liberal Democrats.
In an extraordinary intervention, the shadow Chancellor claimed thousands of members and registered supporters had been denied a vote without a proper explanation - and warned they would not accept "what appears to be a rigged purge of Jeremy Corbyn supporters".
Mr McDonnell, who is chairing Mr Corbyn's bid to be re-elected as Labour leader, said he was writing to the party's general secretary, Iain McNicol, about the incidents.
In a sign of the increasingly bitter divisions within Labour ranks, Mr McDonnell said: "The decision by Labour Party officials to suspend the bakers' union leader, Ronnie Draper, from the party and deny him a vote in Labour's leadership election over unidentified social media posts is shocking, and appears to be part of a clear pattern of double standards.
"While Ronnie, a supporter of Jeremy Corbyn, has been denied his say in Labour's election, no action is being taken over the Labour peer, Lord Sainsbury, who has given more than £2 million to support the Liberal Democrats.
"And no action has been taken against Michael Foster, the Labour party member who abused Jeremy Corbyn's supporters and staff as Nazi stormtroopers in the Daily Mail.
Owen Smith and Jeremy Corbyn clash at latest leadership debate
"Both will, as things stand, be able to vote in this election. Meanwhile, thousands of other members and registered supporters are reported to have been denied a vote without being given an explanation or opportunity to challenge the decision or process.
"Labour party members will not accept what appears to be a rigged purge of Jeremy Corbyn supporters. The conduct of this election must be fair and even-handed."
A minister during Tony Blair's premiership, the former supermarket chairman Lord Sainsbury gave £2.15 million to Labour and £2.125 million to the Liberal Democrats in the period immediately before the European Union referendum, according to new figures released by the Electoral Commission.
Labour's central office would not confirm whether Lord Sainsbury was a member of the party and was eligible to vote in the contest, adding: "We don't comment on individuals".
A statement from Lord Sainsbury, issued by the Labour Party, added: "During the last two years I have helped put together the Stronger In Europe Campaign, and have provided them with funds.
"I have also made donations to the Labour Party, the Liberal Democrats, and a number of other registered bodies.
"I did so because I believe strongly that coming out of Europe will be damaging to our economy and society, and dangerously so if we come out of the Common Market. I am proud of what the Stronger In Europe Campaign did in explaining honestly and clearly the benefits we get from being in Europe and the damage from coming out."
The supermarket tycoon, who was Labour's science and innovation minister in the Lords from 1998 until 2006 during Tony Blair's premiership, added: "I am sorry that we failed to convince the British people as I believe the dangers of Brexit are very real, and I hope that thoughtful and careful leadership by the new Prime Minister will mean that my worst fears are not realised."
A Liberal Democrat spokesperson said: "Lord Sainsbury has been a major figure in progressive politics over four decades.
Labour leadership contest: Jeremy Corbyn vs Owen Smith

Show all 8
"We are extremely grateful for his practical support, which recognises the phenomenal campaigning abilities of the Liberal Democrats, who in the referendum campaign held 1,000 street stalls and were calling up to 100,000 voters a day.
"His help was a recognition that we had the second largest party political campaign for Remain and was a testimony to the hard work of our members. It is largely because we got across such a uniquely positive case for Europe that, since the referendum, over 18,000 people have joined the Liberal Democrats. We have enormous respect for Lord Sainsbury and we see his help in the referendum campaign as a huge endorsement of this party's campaigning strength and our unequivocally pro-European ideals."
In total, Labour received £6,186,695, while the Conservatives recorded £4,321,937 in total donations to the party coffers. The Conservatives' biggest individual donor was businessman Gerado Lopez Fojaca, who gave the party £400,000, while Michael Davis handed them £262,500.
Labour's other major contributors were unions, with Unite donating £816,559, and Unison £604,411. The Liberal Democrats received £2,867,678 during the period in the run-up to the EU referendum vote, while Ukip took £1,252,891, the Women's Equality Party accepted donations of £154,570, and the SNP £20,612.
Electoral Commission spokesman Bob Posner said: "This data is hugely important in ensuring that our party finance system is as transparent as possible and it is therefore always disappointing when there is a failure to meet the statutory deadline.
"Where there is no reasonable explanation for such a failure, we will take a robust approach in dealing with this."
Register for free to continue reading
Registration is a free and easy way to support our truly independent journalism
By registering, you will also enjoy limited access to Premium articles, exclusive newsletters, commenting, and virtual events with our leading journalists
Already have an account? sign in
Join our new commenting forum
Join thought-provoking conversations, follow other Independent readers and see their replies