#LabourPurge: Long-time supporters of party claim they have been barred from voting
Labour even cancelled the membership of one of its own election candidates - who they mistook for a Ukip voter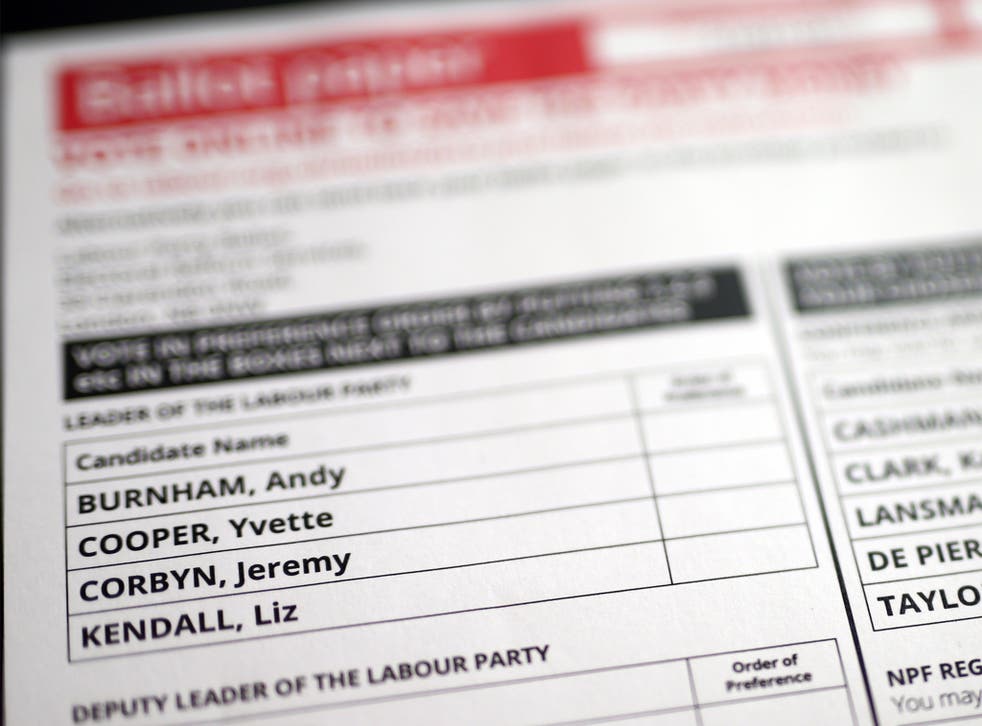 Labour has been accused of conducting a McCarthyite "purge" of new left-wing supporters in a last ditch attempt to prevent Jeremy Corbyn winning the leadership race.
Hundreds of people who signed up to take part in the vote received emails from party HQ informing them they would be barred from voting because they did not support the "aims and values" of the Labour party. This is on top of over 1,200 people who have already been disqualified.
But many claim they have never been a member of any other party, have supported Labour in the past and have come back in the hope of electing Mr Corbyn as leader.
Many have accused Labour of hypocrisy for willingly accepting Tory defections in the past, but barring new left-wing members on the grounds that they have posted comments on social media indicating that they voted Green at the last election.
Some suspect it is part of an orchestrated attempt by Labour staff members to "root out" supporters likely to back Jeremy Corbyn.
"They are clearly engineering the vote to ensure that Corbyn doesn't win," said Janet O'Shaughnessy, who signed up as a £3 registered supporter but was barred from voting. "I have always voted Labour, apart from in the last election. I feel like I have been accused of having ulterior motives for supporting a man whose political opinions are very similar to my own."
Within six hours over 250 people had appealed the decision to bar them following a campaign launched on Twitter by Matt Beresford, a former member of the party, who re-joined after Mr Corbyn announced his candidacy. He said that while a few of the disqualifications appeared to be legitimate – most were just people who had posted support for the Greens on their Facebook page before the last election.
"I thought the whole point of political parties was to persuade people to support them," he said. "In fact Labour used to celebrate when Tory MPs defected. But that doesn't seem to be the case anymore which is a bit odd.
"Just because someone voted Green doesn't mean they don't share the values of someone like Jeremy Corbyn who is promoting a very different kind of politics and a different vision for the Labour Party."
Jenny Morris, a former Labour councillor in Islington where Jeremy Corbyn is an MP, complained to the party after her daughter's application to join was rejected.
She said she had never joined any political party but is a lifelong Labour voter and that she wanted to support Jeremy Corbyn.
"My daughter hasn't joined any organisation. It is not the sort of thing that she would do – but she has voted Labour since she was 18 and wanted to vote in the leadership election.
"I just find it completely inexplicable," she told Channel Four news.
Labour is understood to be employing teams of workers based in Newcastle to trawl through applications – looking for evidence of support for other parties.
They have also appealed to student Labour groups to help. One student Labour activist claimed that anyone finding evidence of non-Labour affiliation using social media would be "stars".
A party spokeswoman said new members would be banned if they did not support the "aims and values" of the party. But she did not say whether having voted for another political party in the past was sufficient evidence for rejection.
A spokeswoman for Mr Corbyn's campaign declined to comment.
Case study: Rejected voters
Janet O'Shaughnessy was a life-long Labour supporter until the last election but paid her £3 to sign up as a "registered supporter", eager to vote for Jeremy Corbyn, whom she describes as the party's "last hope". "How can it be a good thing for a party to try and second guess who is welcome and who is not?"
Robert Sharpe, who has stood as a Labour candidate in local elections for the last two years, had his membership cancelled after being mistaken for a Ukip voter. "It's a farce – there's so much confusion."
Pat Richmond, 58, has been a union member all her adult life but received an email telling her she was ineligible to vote. "I wanted to vote to return Labour to its core values. What's wrong with that?"
Join our new commenting forum
Join thought-provoking conversations, follow other Independent readers and see their replies