Liz Truss MP: The new Environment Secretary, her clash with the 'Turnip Taliban' and a controversial rise through the Tory ranks
The MP for South West Norfolk has made a strong impression in just a few years at Westminster - but almost never made it there
Adam Withnall
Wednesday 16 July 2014 09:18 Comments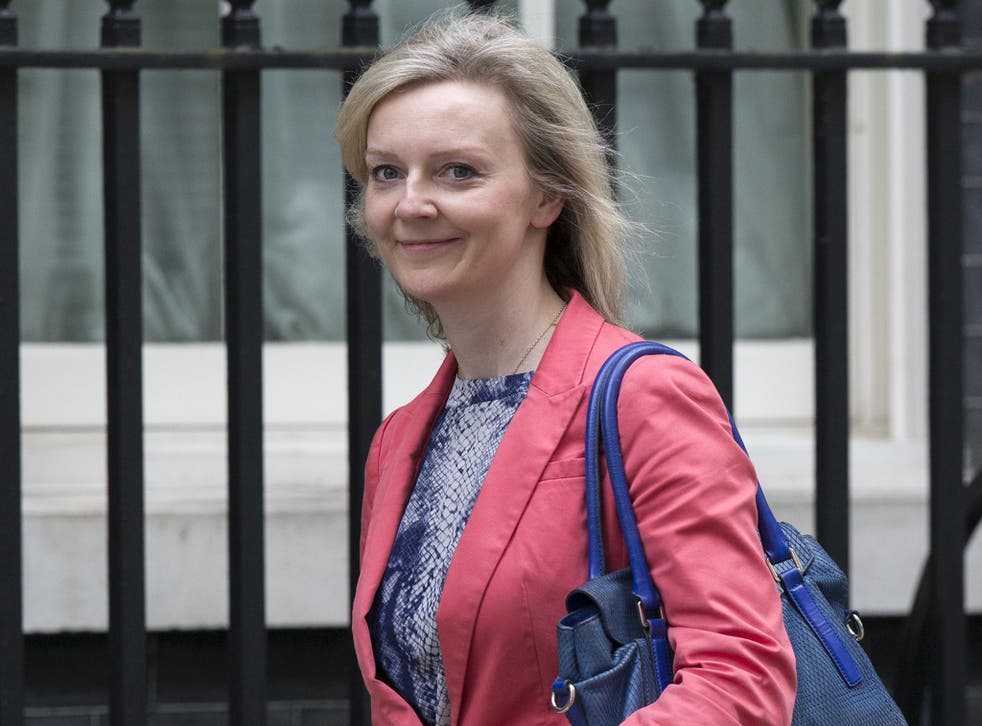 She is now one of the shining lights of David Cameron's "male, pale and stale" Cabinet overhaul – but the new Environment Secretary Liz Truss was almost prevented from running as an MP at all in the last elections just four years ago.
Appointed today as Secretary of State for Environment, Food and Rural Affairs, Ms Truss is at 38 the youngest ever female Cabinet member and the latest high-profile Tory to be described as "the next Margaret Thatcher".
She joined the Conservatives' "class of 2010" when she was elected to the seat of South West Norfolk, but her candidacy only narrowly survived an attempt by traditionalist in the constituency association – nicknamed the "Turnip Taliban" – to deselect her.
Senior local party activists expressed anger that they had not been informed Ms Truss had had an affair with fellow Tory Mark Field MP, when they were both married to other people.
Though details of the affair were known in Westminster at the time, news had not reached the South West Norfolk selection committee. Sir Jeremy Bagge, one of those who pushed for Ms Truss's deselection, said then: "I have absolutely nothing against her as an individual. I voted for her and what she got up to four years ago doesn't concern me. What concerns me is Conservative Central Office, the headquarters, failed to actually advise us that we could be subjected to embarrassment, which we have been subjected to."
Ms Truss's candidacy survived – as did her marriage, which she said became stronger – but it was not the only controversial moment in her political career.
She joined other new MPs in 2010 as co-author of a book entitled Britannia Unchained, which set out proposals to restore the UK's economic position by stripping back regulation and encouraging innovation.
But the book caused a backlash among British workers for one line in particular, which read: "The British are among the worst idlers in the world. We work among the lowest hours, we retire early and our productivity is poor. Whereas Indian children aspire to be doctors or businessmen, the British are more interested in football and pop music."
In 2012 she also clashed with Lib Dem leader Nick Clegg. As minister for education and childcare under Michael Gove, she had ambitious plans to reform pre-school care to allow nurseries to take on more children per member of staff – but they swiftly were blocked by the Deputy Prime Minister.
Ms Truss's promotion nonetheless marks not only the strong impression she has made in just a few years at Westminster but also David Cameron's determination to shake off the perception that he has surrounded himself with a coterie of middle-class, middle-aged white men from public school backgrounds in the home counties.
In Parliament, she has put herself at the head of a young group of low-tax free-market MPs, founding the Free Enterprise Group to restore the reputation of liberal economics in the wake of the financial crisis of 2008.
And she has been passionate in her advocacy of high academic standards in schools, backing Mr Gove's programme of academies and free schools and denouncing the progressive "child-centred"" educational theories that she believes have held pupils back since the 1960s.
Brought up in Leeds by left-leaning parents who took her on CND marches as a child, Ms Truss was educated at the comprehensive Roundhay School and became president of Oxford University Liberal Democrats before switching to the Conservatives.
A qualified management accountant, she worked at multinationals Shell and Cable & Wireless and served as a Tory councillor in Greenwich, south London, before entering Parliament.
In 2008, she was appointed deputy director of the Reform thinktank, which promoted the introduction of private sector expertise into the delivery of public services.
After two unsuccessful tilts at Labour safe seats in 2001 and 2005, she was placed on Mr Cameron's "A-list" and was eventually elected South West Norfolk by a comfortable majority of more than 13,000 votes.
Ms Truss married Hugh O'Leary, a finance director, in 2000 and has two daughters. She read philosophy, politics and economics at Merton College, Oxford.
Register for free to continue reading
Registration is a free and easy way to support our truly independent journalism
By registering, you will also enjoy limited access to Premium articles, exclusive newsletters, commenting, and virtual events with our leading journalists
Already have an account? sign in
Join our new commenting forum
Join thought-provoking conversations, follow other Independent readers and see their replies