Nigel Farage presents 'Ukip weather' forecast in wake of storm over councillor David Silvester's gay marriage comments
The party leader described the scandal over the Oxfordshire councillor's repeated media appearances as a 'storm in a teacup'
Adam Withnall
Sunday 26 January 2014 19:11 Comments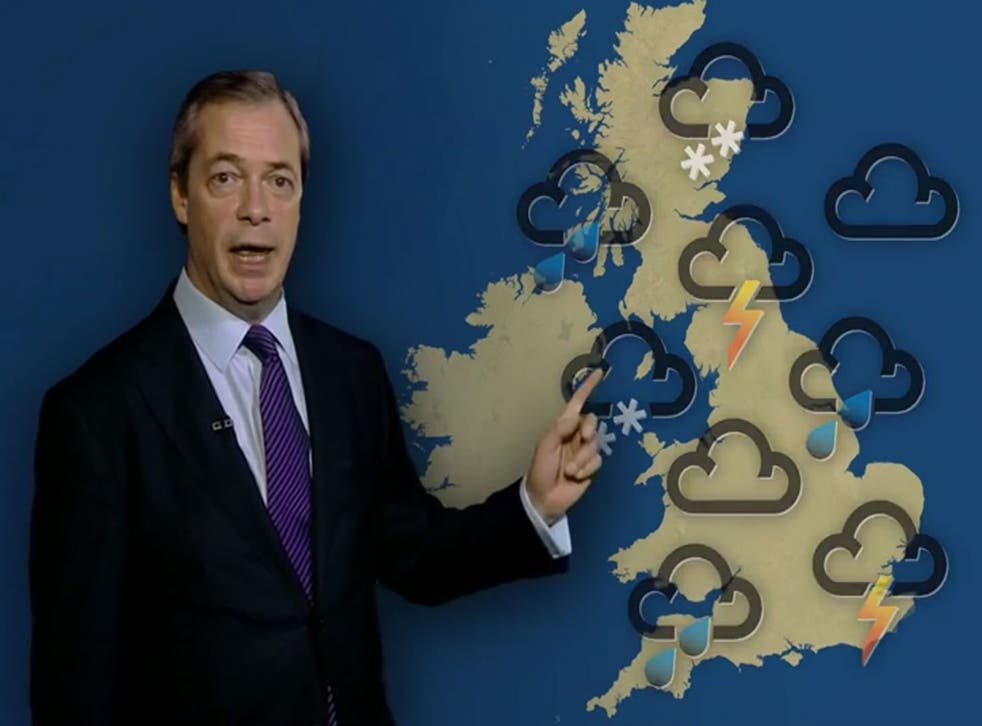 One week after a Ukip councillor caused outrage by blaming Britain's recent floods on the passage of the gay marriage bill, Nigel Farage has attempted to weather the storm by presenting his own TV forecast.
Describing the furore surrounding Henley-upon-Thames councillor David Silvester – who was later suspended by the party – as a "storm in a teacup", the MEP accused Labour, the Conservative Party and the Lib Dems of "attempting to cloud the big political issues of the day by focussing on the view of Ukip members like him".
Mr Silvester's comments came after those of Ukip MEP Stuart Agnew, who said women do not have the ambition to get all the way to the top because babies "get in the way", and the former Ukip MEP Godfrey Bloom, who was forced to resign after calling a roomful of women "sluts" and referring to British aid being sent to "bongo-bongo land".
Mr Farage claims has since launched a clear-out to remove from the party anyone with "extremist, nasty or barmy views", and he referred to this promise in his forecast, broadcast on the BBC's Sunday Politics programme, by saying there had been "outbreaks of sometimes barmy, occasionally extremist views from people of all political persuasions".
He added that "temperatures are rising ahead of the European elections in May", and in a nod to his own involvement in a plane crash in 2011, advised people to "avoid light aircraft" in the potentially stormy conditions.
Mr Farage's admittedly light-hearted attempt at turning his talents to weather presenting comes after BNP leader Nick Griffin tried his hand at being a TV chef.
It also comes just a day after the comedian and actor Rufus Hound revealed he would be making a move the other way – in May the media personality will be running to become an MEP for the National Health Action party.
It remains to be seen whether Mr Farage can appropriate the term "Ukip weather" for his own party's use – since the scandal over Mr Silvester's gay marriage comments, a satirical Twitter feed under that name has attracted more than 111,000 followers, and spawned a Facebook campaign to get the classic 80s track "It's raining men" into the charts.
Watch: Nigel Farage presents 'Ukip weather'
Register for free to continue reading
Registration is a free and easy way to support our truly independent journalism
By registering, you will also enjoy limited access to Premium articles, exclusive newsletters, commenting, and virtual events with our leading journalists
Already have an account? sign in
Join our new commenting forum
Join thought-provoking conversations, follow other Independent readers and see their replies