Nigel Farage's approval rating hits 'record low' as popularity suffers in wake of Ukip sex scandal
It has been a month to forget for the once popular leader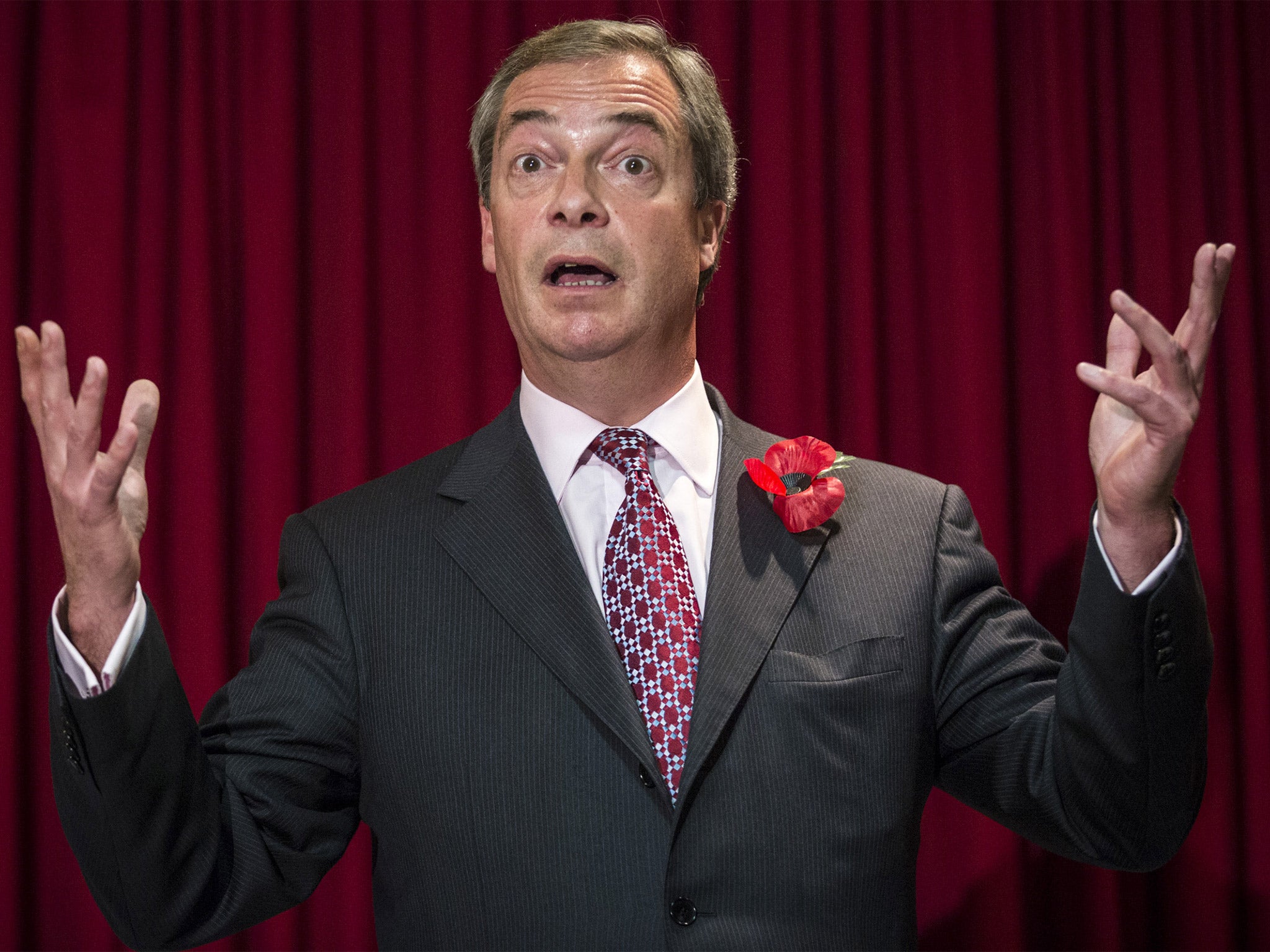 Nigel Farage's personal approval rating has plummeted to its lowest ever level, with a new poll suggesting the Ukip leader is now as unpopular as David Cameron.
Figures released by the polling group Ipsos Mori revealed that voter satisfaction with Mr Farage has dropped 14 percentage points in a single month.
The Ukip leader was described only yesterday by a senior Ukip spokesperson as being "like Teflon" because bad news for the party never seemed to stick to him.
But it seems that a sex scandal involving the party's now-suspended general secretary and rows over public breastfeeding, expenses and immigration blame-games have finally taken their toll.
Among Ukip's own supporters, Mr Farage remains highly popular – 92 per cent said they were satisfied with what he's doing.
Ukip gaffes and controversies
Show all 18
The figures also showed an overall increase in numbers of people saying they would vote Green – up two points to 9 per cent of those surveyed when the fieldwork was carried out at the weekend. Ipsos Mori's Gideon Skinner said the poll showed "the rise of the 'other parties' as a mirror to the weakness of the traditional three" – Labour, Conservative and Lib Dem.
Mr Farage dismissed the apparent drop in his popularity, telling the Evening Standard it was "a volatile market".
"Ukip has had a pretty remarkable year," he said. "If we are ending on a slightly softer note, it's perhaps not surprising."
The past month started well for Ukip when it won its second parliamentary seat through Tory defector Mark Reckless.
But November ended badly for Mr Farage when he appeared to support the idea of classing the children of immigrants born in the UK as immigrants themselves - a policy shift that would include his own children.
At the start of December the Ukip leader waded into a row over breastfeeding at Claridge's - suggesting mothers with babies could "perhaps sit in the corner". A couple of days later he provoked derision by blaming his lateness at a "Meet Nigel Farage" event on immigration.
Meanwhile, the Ukip sex scandal involving Roger Bird and prominent female activist Natasha Bolter rolled on, with seemingly no winners on either side.
Last week, Mr Farage faced up to the comedian Russell Brand on the BBC's Question Time. Though he generally came through it well, he was accused of being a "pound-shop Enoch Powell" by his fellow panellist.
At the weekend - as the Ipsos Mori poll was being carried out - Ukip's candidate in a top target seat Kerry Smith was forced to resign after it emerged he had made homophobic and racist remarks and joked about shooting poor people.
Neil Hamilton, the party's deputy chairman, was prevented from standing in Natasha Bolter's vacated seat by what he called a "dirty tricks" campaign involving an expenses dispute. He was later revealed to have advocated a return to "civilised rule" in South Africa.
Though outside the polling period, this week Ukip was also found to have secured £1.5 million by forming a new EU group - and was accused of hypocrisy as a result. And on Tuesday, it was revealed that Mr Farage was not entirely accurate when he claimed in a TV programme that his wife was not being paid by the public sector.
Join our commenting forum
Join thought-provoking conversations, follow other Independent readers and see their replies