Sajid Javid told Theresa May she was 'wrong' to block 3% police pay rise, leaked Home Office letter shows
Government funding for policing comes under fresh scrutiny following alleged terror attack in Westminster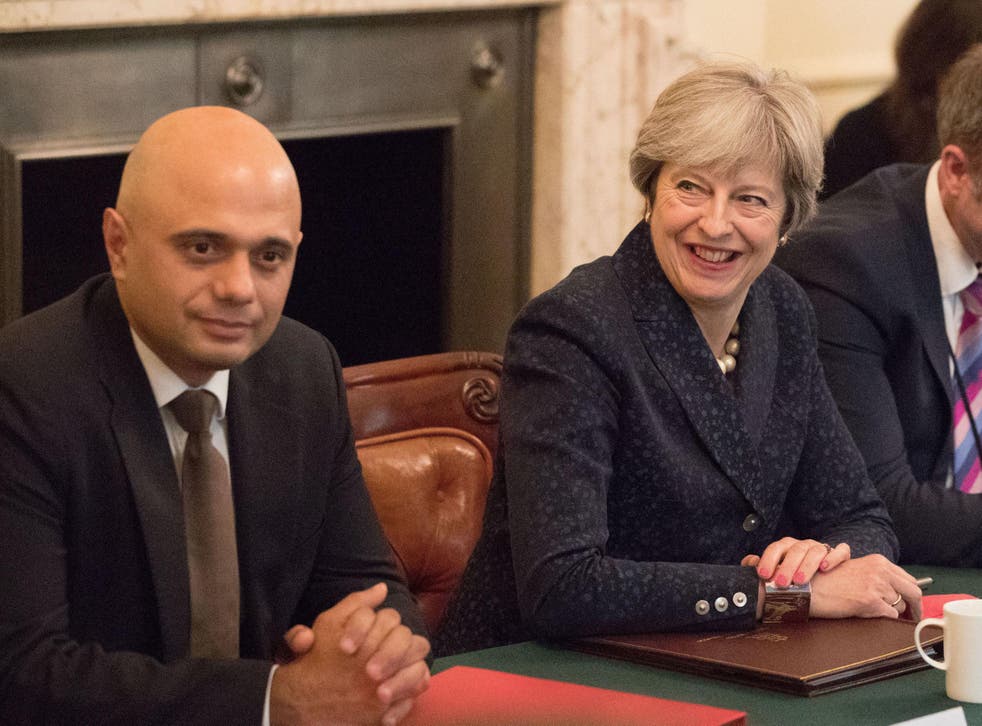 The home secretary told Theresa May she made the "wrong decision" by blocking a 3 per cent pay rise for police officers, it has emerged.
The prime minister was accused of treating policing with "contempt" after rejecting recommendations by the independent Police Remuneration Review Body amid plummeting officer numbers, rising crime and terrorism.
A Home Office letter sent to Downing Street said Sajid Javid was "strongly in favour" of the recommendation.
"As you will be aware, the Police Remuneration Review Body recommended the consolidation of the 1 per cent non-consolidated award for police officers from 2017/18 and, following that consolidation, a 2 per cent consolidated increase for officers at all ranks from 1 September 2018," said the document seen by The Telegraph.
"The home secretary was strongly in favour of this. However, the prime minister and chancellor have decided that officers should only be given a 2 per cent consolidated pay award, meaning only a small 1% pay rise in reality. He continues to be of the view that this is the wrong decision."
Mr Javid wanted officers to be given a one-off bonus of 1 per cent that would effectively give them 3 per cent rise but was overruled and later publicly backed the government's controversial settlement.
"Our police officers do an incredible job in the face of complex crime and rising demand, and I'm grateful for their continued dedication to keeping us safe," he said when the decision was announced last month.
"This award represents the highest consolidated pay award since 2010. I'll continue to fight on behalf of police to ensure they have the resources they need to do their jobs effectively."
Mr Javid, who is widely tipped as a future prime minister, won support from police by admitting they need more resources in his maiden public speech as home secretary in May.
Government funding for policing came under fresh scrutiny after politicians praised the rapid response by officers at the scene of a crash outside the Houses of Parliament, which is being treated as a terror incident.
Ms May heralded the "formidable courage" and professionalism of the emergency services who "ran towards" danger.
But Police Federation chair John Apter said her words provoked anger among thousands of rank-and-file officers, who are currently bearing the brunt of budget cuts.
"What angers me is that in times of crisis, such as what happened on the doorstep almost of Parliament, then the prime minister is the first to celebrate how brilliant police officers and policing are, but in the very next breath she's stabbing them in the back," he added.
"The hypocrisy that comes from the prime minister really does stink.
UK news in pictures

Show all 50
"She can't have her cake and eat it when it comes to a relationship with policing and with police officers."
The Police Federation's calculations say officers have only had a 0.85 per cent pay rise in real terms and a record number are being forced to take second jobs to supplement their income.
Ms May told the association, which represents 119,000 officers, that it was "crying wolf" over the impact of cuts she was making as home secretary in 2015.
The number of police officers in England and Wales has plummeted to a record low as violent crime continues to rise, and some forces say they will have to stop responding to some less serious crimes because of stretched resources.
Almost half of all criminal investigations have been closed with no suspect identified, and the proportion ending with someone being charged or summonsed to court fell to just 9 per cent in the year to March.
The Home Office said that a 2 per cent pay rise was the "maximum affordable award" and would make the average pay for a police constable more than £38,600.
"In deciding the award, the government has strived to strike a balance between overall affordability to forces and fairness to the taxpayer, recognising the importance of continuing to reduce debt as a share of the economy whilst investing in vital public services," a spokesperson added.
Last year the government ordered police and crime commissioners to increase the amount of money taken from council tax to make up the bulk of a £460m increase in police funding.
Additional reporting by PA