Police get powers to restrict protests causing 'more than minor delay' after bid to block law fails
Liberty threatens legal action against Suella Braverman for 'legislation she had no power to create'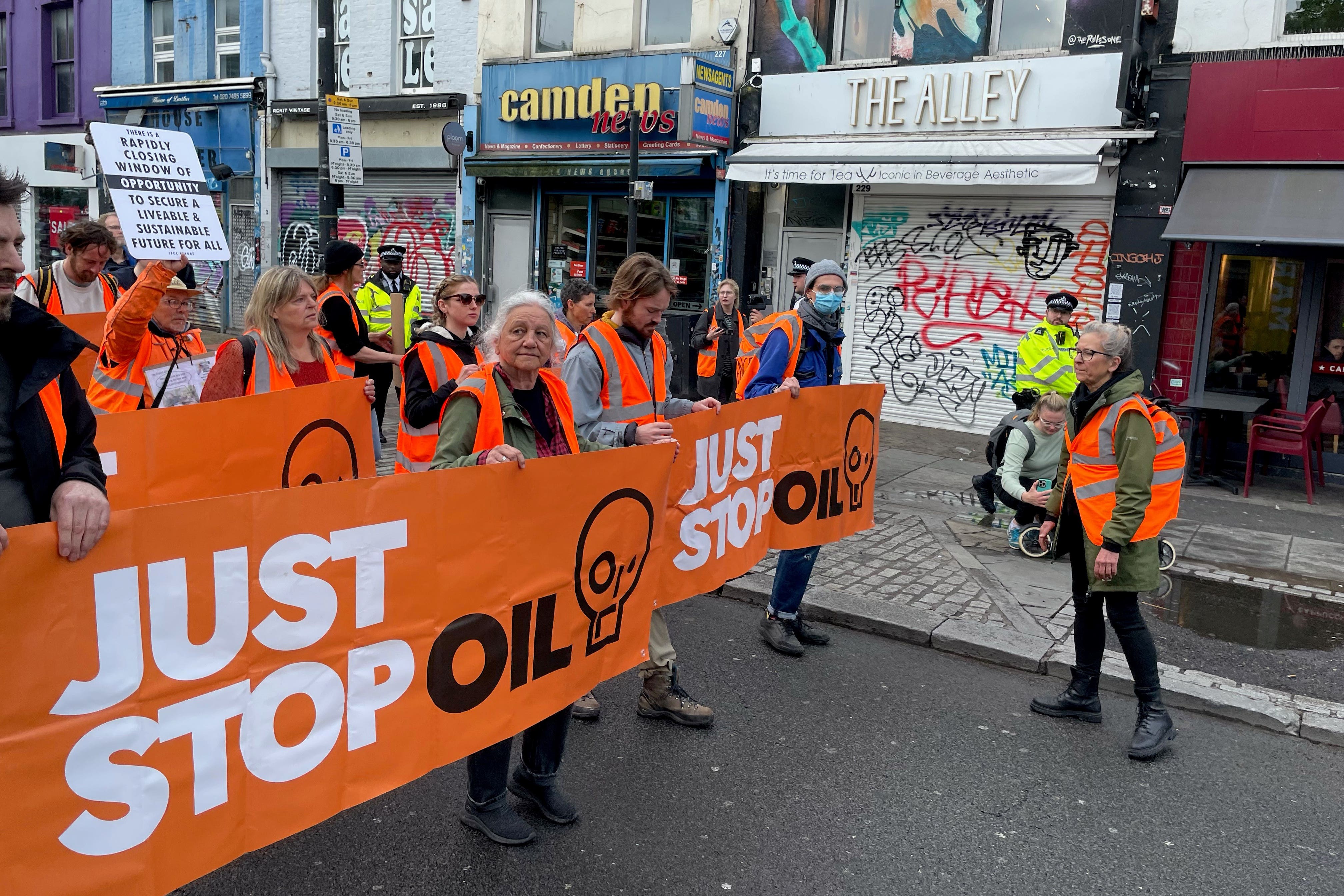 Police will be able to restrict any protest that could cause a "more than minor hindrance or delay" after a bid to block the law failed.
The government bypassed normal parliamentary scrutiny to change the legal meaning of "serious disruption", dramatically lowering the threshold for police to impose conditions on demonstrations and arrest anyone breaching them.
Ministers first attempted to introduce the change in the controversial Public Order Act, which targeted slow-walking protests by environmental groups such as Just Stop Oil, but it was thrown out by the House of Lords in February.
Suella Braverman then took the unprecedented step of bringing the change back as "secondary legislation" that does not go through full scrutiny, sparking accusations of a "twin attack on our right to protest and on parliamentary democracy".
The home secretary argued it was needed to stop slow marches, but the Metropolitan Police said it had regularly been imposing conditions on Just Stop Oil protesters using the tactics in recent weeks and arrested 86 people.
Green Party peer Baroness Jones tabled a rare "fatal motion" that could have killed the law for a second time in the House of Lords on Tuesday night, but it was defeated by 154 votes to 64.
She told peers the vote was a "make-or-break moment for democracy", adding: "This move sets a precedent that the government can use secondary legislation to overrule parliament's will as expressed in votes on primary legislation.
"This means that any future minister, at any time, could decide to change any law in any way. This to me is deeply disturbing."
Peers backed a motion to formally "regret" the law, which allowed it to pass but signalled the House of Lords' unhappiness, by 177 votes to 144.
It was brought by Labour's Lord Coaker, who argued that blocking the law would have breached convention by stopping changes backed by elected MPs.
"The police have the powers to deal with these protests," he said. "All protests could be affected across the country, with no opportunity for anyone in parliament to say that these changes go too far … this is all done without proper consultation."
Moment Just Stop Oil protester thrown to ground during slow march
Government minister Lord Sharpe told the House of Lords the changes were necessary to "respond quickly to evolving protest tactics".
"Given the scale and impact of the disruption caused by slow walks and sit-ins on roads, it is in the public interest to clarify these police powers as a matter of urgency," he added.
The Public Order Act 1986 (Serious Disruption to the Life of the Community) Regulations 2023 legally redefine "serious disruption", which has been the trigger for police protest powers for almost 40 years.
They will lower the threshold for imposing conditions on protests in England and Wales, allowing police to take action where there could hypothetically be a "more than minor hindrance" or "delay", to people's lives.
The Liberty human rights group said it had written to the home secretary threatening legal action "for signing off on legislation she had no power to create".
A pre-action letter said imposing restrictions on protests that cause "more than minor" would be unlawful and violated constitutional principles because they had already been rejected.
Katy Watts, a lawyer for Liberty, said: "The Home Secretary has sidelined parliament to sneak in new legislation via the back door, despite not having the powers to do so.
"This is yet another power grab from the government, as well as the latest in a long line of attacks on our right to protest, making it harder for the public to stand up for what they believe in."
Police powers have already been expanded to allow officers to stop and search peaceful demonstrators, ban protests by a single person, arrest people for accidentally breaking conditions they "ought to have known" about and impose "serious disruption prevention orders" enforceable by a year in prison.
Addressing the House of Commons on Monday, Ms Braverman said police leaders had requested "extra clarity" on the law, following years of pressure to deal with disruptive tactics employed by environmental groups.
In December, the National Police Chiefs' Council said it had asked the government for a clearer legal definition of serious disruption in order to "enable officers to take action and make arrests more effectively".
But The Independent understands that senior officers did not request the wording of the law, and official consultation did not cover any significant change to the meaning of "serious disruption".
Opposition MPs said the new law will make policing harder by placing the burden on officers to judge what "more than minor" disruption looks like, what an affected "community" is, and to add up an entirely new concept of "cumulative disruption".
Labour's shadow home secretary Yvette Cooper said: "The government bring this statutory instrument claiming that it is to clarify the law, but instead it makes it even more confusing.
"They failed to bring it in through the normal parliamentary legislative processes so that it could be scrutinised and amended."
Join our commenting forum
Join thought-provoking conversations, follow other Independent readers and see their replies