Anger after asylum seekers given just 80p a week extra in Home Office ruling
Asylum seekers will be given just £37.75 per week each to live on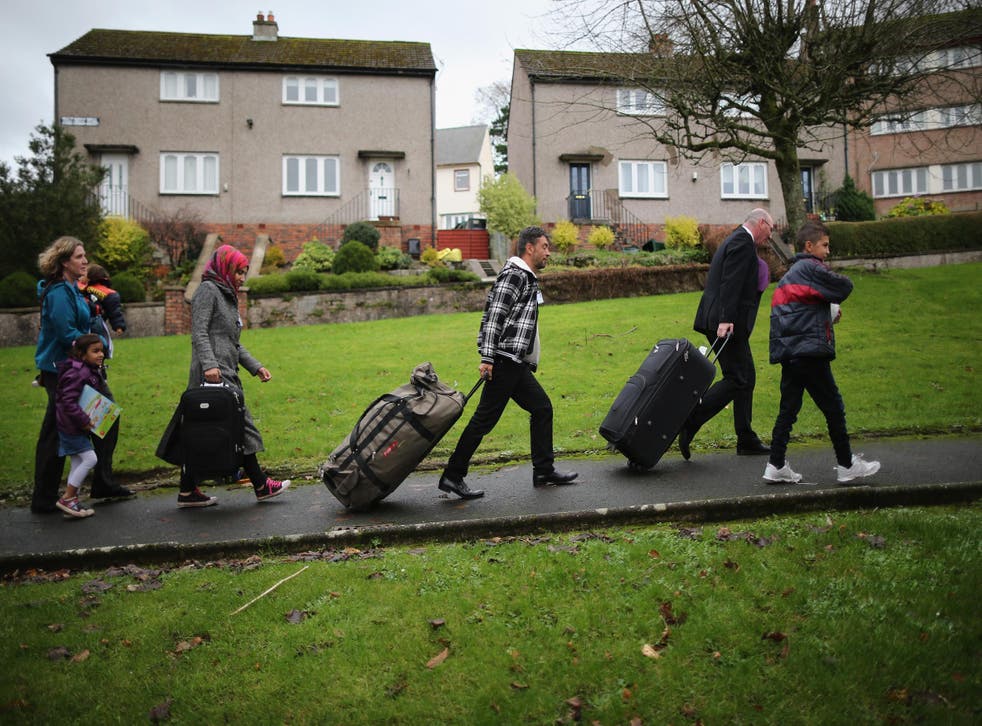 Campaigners have condemned a "paltry" rise in the monthly cash allowance given to asylum seekers.
The Home Office has announced a rise of 80p per week, or 11p per day, in the weekly cash allowance given to people claiming asylum in the UK – a below inflation rise which follows a three year freeze.
It announced the sum will increase from £36.95 to £37.75 per week. This is a rise of 2.1 per cent when the Bank of England is expected to announce price inflation in the 12 months to December is at 3 per cent tomorrow.
This is the first time the amount has been increased since 2015.
Officials estimate the typical weekly expenses an adult asylum seeker will incur in meeting essential needs include £23.75 for food and non-alcoholic drinks, £1 for toiletries, £2.80 for clothing and £4.30 for travel.
But Sara Nathan, the trustee and co-founder of Refugees at Home, said she does not know how a person can live on roughly £5 a day.
Speaking to The Independent, she said: "Job Seekers Allowance is £74 a week, this is half that. I don't know anybody who can live on £5 a day.
"£5 a day for all food, all communications, all non-prescription medicines, all toiletries.
"I volunteer at an asylum seeker drop in central London where people get things like a bag of toiletries and toilet paper because people cannot live on £5. Yet they are forbidden from working however long the case takes."
She said people underestimate how long asylum seekers are forced to subsist on such a small amount of money saying she recently spoke to a Syrian doctor who had to wait two years to be granted refugee status.
Giles Duley – capturing moments of hope in the refugee crisis

Show all 13
Ms Nathan, a former BBC journalist who co-founded the charity which organises home stays for refugees in 2015, said the "paltry" sum asylum seekers are given does not make sense as they are forbidden from working – so the cash allowance is not a disincentive to get a job.
She said: "They can't work, and if they do and they are caught they are deported. It's not as if the Government is worried that is going to disincentive people to work before the decision is made".
Indeed she said the poverty they are forced into as a result could have a knock on effect on their mental health – costing the UK taxpayer more in the long run.
She explained: "To assume that you need no travel or communication costs [is wrong]. We have found at Refugees at Home that complete destitution is incredibly bad for your mental health.
"Being able to communicate by phone or by text or being able to get on a bus and you are not allowed to work [is really important].
"It is really bad for your mental health and that in of itself is a predictable cost for the country which is unnecessary."
Heartwarming friendship between schoolboy and Syrian refugee
"They have occasionally done studies when an MP or someone has tried to live on the dole and not managed it. But this is half of that. It hasn't gone up [since 2015] and it is going up by an incredibly paltry amount".
Ms Nathan says they see up to 90 families a month at the asylum drop-in centre she volunteers at in the West London Synagogue in Marylebone and they have had to ask people to come to the centre only every two months because there is so much demand there is no more space in the facility.
She said they are given £10 for travel costs, a £22 Tesco shopping voucher as well as hot meals, a bag of toiletries and clothes which is all funded by the synagogue and the local community.
Ms Nathan explained: "The charity sector is having to do a lot because there is a huge gap.
"[For instance] they know how much sanitary towels cost. They say £1 a week will cover all toiletries well not if you are a woman it doesn't".
She said it does not even necessarily get better once a person is granted refugee status. They face eviction from the special accommodation provided to asylum seekers within 28 days but it takes 21 days to receive a National Insurance number which allows them to work or claim benefits.
The 61-year-old said: "According to the Refugee Council 80 per cent of recent refugees are destitute.
"So as a nation we have said: 'We believe you have a well founded fear of destitution and then we are going to turf you into the street'."
Refugee Council director of advocacy Dr Lisa Doyle said: "The long delays currently experienced by many in the asylum system means that families are forced to live on this paltry amount for months, sometimes years on end.
"Surely a country like ours can do better by people who have survived untold horrors and are trying to rebuild their lives."
In its report, the Home Office said: "Like all people, asylum seekers need to budget appropriately and plan their expenditure according to the income available to them.
"It is unlikely that they will always spend the same amount of money on the same things each week.
"The amounts we have assessed as necessary to meet each of the needs we consider to be essential are therefore no more than a general guide to the amount of money they will on average need to spend each week."
The report added: "We are satisfied that £37.75 is sufficient to cover the ordinary needs of an average asylum seeker."
Housing and subsistence support is provided to asylum seekers under Section 95 of the Immigration and Asylum Act 1999 which says the Government must not allow people to become destitute while they are waiting for their claims to be decided.
The latest available figures show that at the end of September just under 40,000 people were receiving Section 95 support.
Additional reporting by PA
Join our new commenting forum
Join thought-provoking conversations, follow other Independent readers and see their replies