Ukraine: Russia imposes sanctions on 287 MPs in retaliation for UK measures
Boris Johnson says MPs should regard sanctions as 'badge of honour'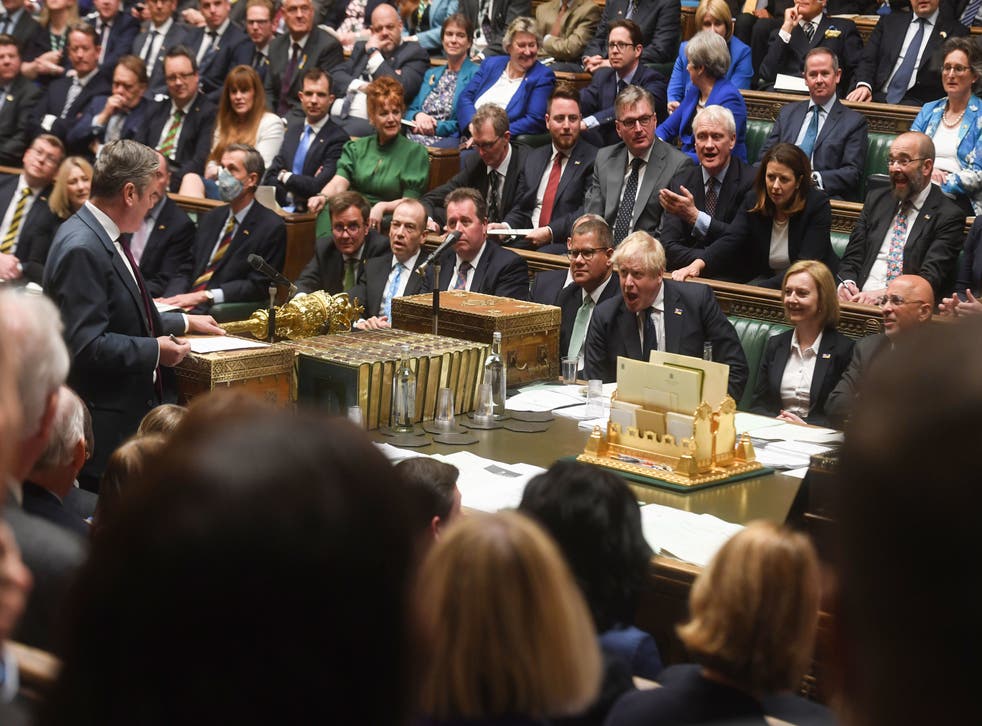 Russia's foreign ministry has imposed sanctions on 287 members of the House of Commons in retaliation for UK measures over the Ukraine invasion.
Two months into the Kremlin's illegal invasion, the country's ministry said that "personal restrictions", including travel bans, would be placed on the MPs, accusing them of fuelling "unwarranted Russophobic hysteria".
Speaking in the Commons chamber during prime minister's questions, Boris Johnson said the sanctions, however, should be regarded as a "badge of honour" by MPs.
Earlier this month Moscow blacklisted senior members of the government from travelling to Russia, including Mr Johnson, foreign secretary Liz Truss, and defence secretary Ben Wallace, alongside former prime minister Theresa May.
Among those on the new list of 287 MPs – unveiled on Wednesday – are Commons speaker Sir Lindsay Hoyle as well as cabinet members including minister for Brexit opportunties Jacob Rees-Mogg and environment secretary George Eustice.
Others include the former Conservative minister David Davis, who responded to the news of the sanction: "How will I ever cope…"
Former Tory chief whip Mark Harper added: "Proud to be on this list with many of my colleagues in the House of Commons.
"Russia really hates being called out for their illegal invasion of Ukraine and disgraceful war crimes. The United Kingdom stands with Ukraine."
While the majority are Conservative MPs, 74 Labour MPs also appear on the list circulated by the foreign ministry, including former frontbenchers Margaret Beckett, Diane Abbott and Ian Lavery.
However, others who appear on the list, including former attorney general Dominic Grieve and former education secretary Justine Greening, are no longer MPs, having stood down at the 2019 general election.
Weeks into the invasion, on 11 March, the UK imposed sanctions on 386 members of the Russian Parliament who voted in favour of Vladimir Putin's actions in the Lukhansk and Donetsk regions of eastern Ukraine.
A translation of a statement reported by state-owned Russian news agency RIA Novosti said the sanctions were being applied "on the basis of reciprocity".
"These persons, who are now banned from entering the Russian Federation, took the most active part in the establishment of anti-Russian sanctions instruments in London (and) contribute to the groundless whipping up of Russophobic hysteria in the UK," it read.
"The hostile rhetoric and far-fetched accusations coming from the lips of British parliamentarians not only condone the hostile course of London, aimed at demonising our country and its international isolation, but are also used by opponents of a mutually respectful dialogue with Russia to undermine the foundation of bilateral co-operation."
Register for free to continue reading
Registration is a free and easy way to support our truly independent journalism
By registering, you will also enjoy limited access to Premium articles, exclusive newsletters, commenting, and virtual events with our leading journalists
Already have an account? sign in
Register for free to continue reading
Registration is a free and easy way to support our truly independent journalism
By registering, you will also enjoy limited access to Premium articles, exclusive newsletters, commenting, and virtual events with our leading journalists
Already have an account? sign in
Join our new commenting forum
Join thought-provoking conversations, follow other Independent readers and see their replies