Supreme Court Brexit ruling may affect legal action against Tony Blair and other 'state officials' over Iraq War
Bereaved families of soldiers who died in Iraq think January's Article 50 judgement may affect their attempts to bring a legal case over the 2003 invasion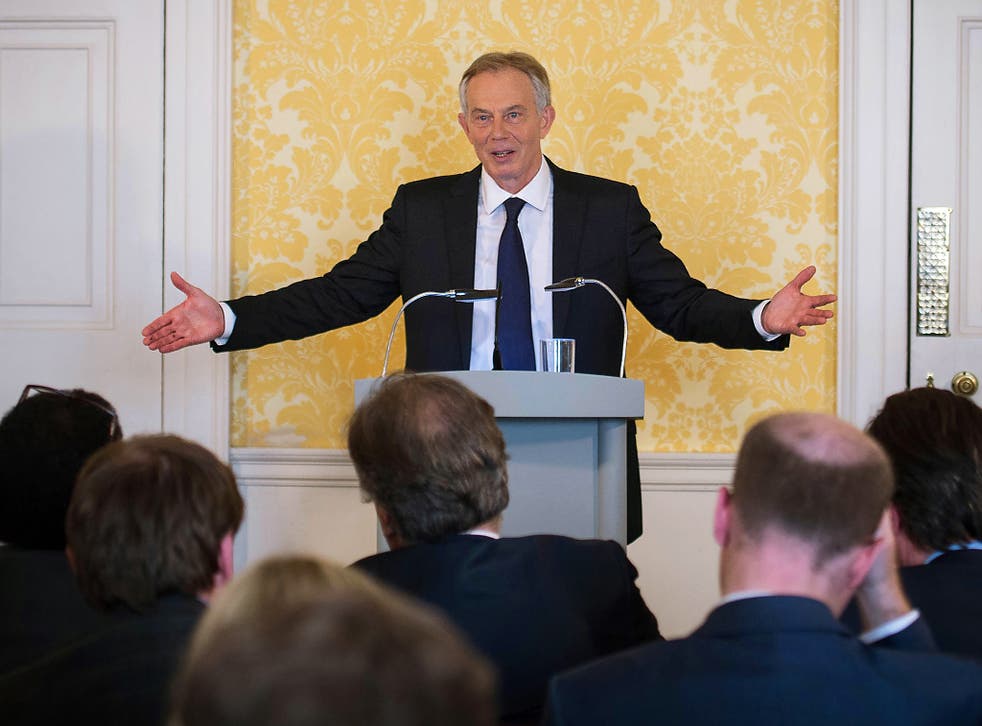 The Supreme Court Brexit ruling may affect attempts to take legal action against Tony Blair and other "state officials" over their role in the Iraq War, it has emerged.
Bereaved families of soldiers who died in Iraq are now appealing for funds to pay for an expert constitutional lawyer to examine exactly how January's controversial Brexit judgement may help or hinder any case against those who took Britain to war.
By Tuesday afternoon, the families had raised £14,800 of their £22,000 target in little over 24 hours, with the comments of those donating including "for the sake of justice, this has to go forward", and "Blair should have to account for his actions. It's a disgrace that it has to be privately funded."
The Iraq War Families Campaign Group started exploring the possibility of taking action against Mr Blair and others after July's Chilcot report delivered a damning verdict on how Britain went to war in 2003.
After an emotional press conference in which the grieving sister of one of the 179 British servicepeople killed in Iraq described Mr Blair as "the world's worst terrorist", the families rapidly raised £159,000 to explore the possibility of a legal case.
The money was used to employ lawyers to go through Sir John Chilcot's 5,000-page, 2.6m-word report with a fine tooth comb to see whether legal action was possible.
Chilcot report: Key points from the Iraq inquiry in 90 seconds
The lawyers came back with the opinion that the evidence supported the case that "certain state officials" might have acted unlawfully and might be liable for a claim for "misfeasance in public office", under legal precedents about abuse of power that stretch back to 1703.
Representatives of the families have refused to confirm or deny any names, but it is widely believed that Tony Blair – who has steadfastly denied wrongdoing - is one of the state officials who may face action.
Now, however, an unexpected constitutional complication has been thrown up by a series of rulings, of which January's Supreme Court Brexit judgement is the most prominent.
In pictures: Families of Iraq War victims react to Chilcot report

Show all 10
At its simplest, the Brexit ruling said that Theresa May's Government had to put the triggering of Article 50 to a Parliamentary vote and could not simply use the so-called Royal prerogative to force the measure through.
But the Iraq families are concerned that the Supreme Court's full, 98-page judgement could help them but may also throw up constitutional issues that may affect how their case can or cannot proceed.
Previously, it had been understood that the Blair government could have used Royal prerogative to go to war, but chose instead to put the issue to a controversial Parliamentary vote that many said was manipulated.
The Chilcot report subsequently ruled that when MPs gave authority for military action by a 263 majority on March 18 2003, "diplomatic options had not been exhausted."
The families say they need a constitutional lawyer to untangle how the Brexit ruling and other recent judgments may affect the way the law can now be interpreted in relation to the actions of the Blair government in the run-up to war.
The call for more help to fund their case was issued in a joint statement by Reg Keys, whose son Lance Corporal Tom Keys, a Royal Military Policeman, was murdered by an Iraqi mob in 2003, and Roger Bacon, whose son Matthew, an Intelligence Corps major, was killed in a roadside bomb in 2005.
In their statement, Mr Keys and Mr Bacon referred to "An issue of great constitutional importance that must be fully and carefully resolved before we can issue any proceedings."
The statement added: "This issue is all the more significant because, as you will be aware, in 2016 the UK experienced major changes. In the past few months there have been significant court judgments, including the Supreme Court's Article 50 decision, that must inevitably inform our legal team's approach.
"All this has to be taken into account and our legal arguments finalised to ensure we are able to take the next step."
The statement also said that the bereaved families had no other option but to try to fund their own private legal action – despite the "state officials" being likely to have any legal costs paid for by the state.
Mr Keys and Mr Bacon said: "It has already been reported that those we may prosecute will have their legal costs automatically paid for by the state. If we are to succeed, we will need to be equally resourced.
"There is no prospect of the case being referred to the International Criminal Court. As time passes, it is increasingly unlikely that the state will carry out any arrests or prosecutions. Parliament has voted not to take any action, such as impeachment.
"Our only hope is for the Families to bring private legal action. It is down to us."
The two bereaved fathers added: "If, for any reason, we determine we cannot proceed, we will be able to rest in the knowledge that we have left no stone unturned and taken our campaign for justice on behalf of our loved ones as far as possible.
"On behalf of Matthew, Tom, and the 177 others killed in Iraq – we truly thank you for your support."
Register for free to continue reading
Registration is a free and easy way to support our truly independent journalism
By registering, you will also enjoy limited access to Premium articles, exclusive newsletters, commenting, and virtual events with our leading journalists
Already have an account? sign in
Register for free to continue reading
Registration is a free and easy way to support our truly independent journalism
By registering, you will also enjoy limited access to Premium articles, exclusive newsletters, commenting, and virtual events with our leading journalists
Already have an account? sign in
Join our new commenting forum
Join thought-provoking conversations, follow other Independent readers and see their replies