Tax credits: Some of Britain's most prominent millionaires among peers supporting cuts in House of Lords
Andrew Lloyd Webber, Karren Brady and Michelle Mone attempted to vote down amendments delaying the reforms
Lizzie Dearden
Wednesday 28 October 2015 10:33 Comments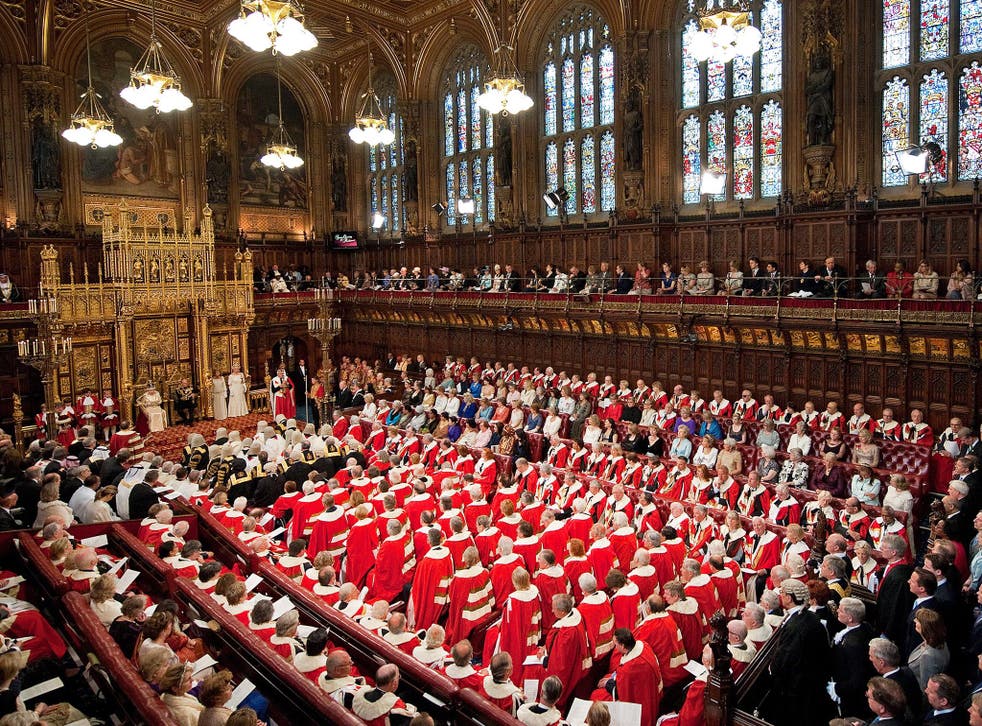 George Osborne will address Conservative MPs today following the humiliating delay of his plans to cut tax credits as work starts on a review to restrict the Lords' powers to block the Government.
David Cameron is also likely to be challenged at Prime Minister's Questions after Labour accused him of attempting to "bully" the upper chamber.
Peers backed two motions on Monday which delay the £4.4 billion cuts, despite usually not overruling the Commons on matters relating to national finances.
But some of Britain's most prominent business figures were among those voting in support of the controversial cuts.
A tight vote with a margin of just 17 peers saw an amendment by Lady Hollis, a Labour peer, approved to give affected tax credits claimants a three-year reprieve.
Another narrow result saw the House of Lords vote to wait to implement the reforms until their impact was fully investigated and "mitigating action" considered.
Here are some of the most prominent millionaires who tried to vote Lady Hollis' amendment down.
Andrew Lloyd Webber
The composer, worth an estimated £650 million, flew from New York to London on Monday in time for the vote.
Ennobled as a life peer in 1997, he had last voted in 2013 for the same sex marriage bill, but a spokesperson said he attended the tax credits debate because it was "important for democracy".
A spokesperson for Lloyd Webber said the peer had travelled to London "at his own expense to attend the opening night of Cats" and had never claimed expenses from the House of Lords.
"He voted last night because he feels that it is important for democracy that the House of Lords should not override decisions made by the elected House of Commons," the spokesperson added.
"While there are important constitutional issues concerning the House of Lords, Andrew is pleased that the Chancellor, George Osborne, is reviewing the tax credits situation."
Michelle Mone
Lady Mone, who was made a Conservative life peer in August and was introduced to the House of Lords earlier this month, made her fortune as the founder of the Ultimo lingerie company.
She was a millionaire by the age of 28 and went on to be appointed an OBE in 2010 for her contribution to business, having school in Glasgow aged 15 with no qualifications.
Faced with a slew of online abuse for using her first vote in the Lords to support the Government's proposed tax credit cuts, Lady Mone tweeted an excerpt on the role of the upper house.
"Please read so you understand," she wrote. The statement said that under a "long-standing Parliamentary convention, the House of Lords does not block any government measure concerning the nation's finances…because peers are unelected and have no right to reject measures to do with tax and spending which have the support of MPs chosen by the public".
Karren Brady
Lady Brady, known for her appearances on The Apprentice and position as vice-chairman of West Ham, is also the Government's small business ambassador.
She also sits on the boards of Syco Entertainment and multinational retail conglomerate the Arcadia Group.
In 2013, she was made a CBE or services to women in business, and was made a Conservative life peer last year.
Karan Bilimoria
Lord Bilimoria said he was opposed to tax credit cuts and supported Baroness Meacher's motion for an Institute for Fiscal Studies investigation, but did not support the proposal by Baroness Hollis to delay the reforms for three years as he felt the Government had already been forced to reconsider.
"The Upper House has an important role to play as a check and balance on Government policy, however to countermand Government business, especially on a financial matter, sets a precedent with serious constitutional implications," he added.
"The Chancellor was wrong to rush these tax credit changes without thinking through carefully the impact of these cuts on the poorest in society, and without considering phasing them in over a period of time to lessen their impact."
Effects of the cuts to Tax Credits

Show all 6
Ennobled in 2006, the crossbench peer is the founder of the Cobra beer brand, a qualified accountant and Cambridge law graduate.
He is also the chairman and president of the UK India Business Council and several partnership and business groups, and the former chancellor of the University of West London.
Simon Wolfson
The CEO of fashion chain Next owns approximately £100 million of company shares and is paid £4 million a year, according to the Evening Standard.
Lord Wolfson was ennobled as a Conservative life peer in 2010 – following his father into the House of Lords – and is the husband of George Osborne's economic advisor, Eleanor Shawcross.
He is a prominent Tory supporter and was one of the signatories to a letter urging the Chancellor to press ahead with the Coalition's deficit reduction programme in 2010.
Following the tax credits vote in the House of Lords, his Wikipedia biography page was changed to call him a "SCUMBAG".
Jonathan Marland
A peer since 2006, Lord Marland was a founding director of multinational insurers Jardine Lloyd Thompson Group and acquired Hunter Wellington Boots among other well-known firms.
The entrepreneur is the chairman of the Commonwealth Enterprise and Investment Council and served as an environment minister in the Coalition government, as well as a minister for intellectual property and David Cameron's trade envoy.
Lord Marland's other prominent roles include Conservative Party treasurer, House of Lords whip and on Boris Johnson's mayoral campaign team.
Anthony Bamford
Lord Bamford is best known for his position at JCB, which he has been chairman of since 1975 after inheriting it from his father, seeing the company increase its turnover t £2.7 billion.
He was ennobled in 2013 and had been knighted in 1990, becoming a prolific donor to the Conservative Party in recent years.
Stephen Green
Lord Green is the former group chairman of HSBC and has had a lengthy political career after starting as a civil servant in the ministry of overseas development in the 1970s.
He moved to banking 10 years later with the Hong Kong and Shanghai Banking Corporation and was appointed to the HSBC board in 1998.
Making headlines in the early 2000s, he cancelled executive bonuses and later told The Guardian that "plenty of people" working below him earnt more, adding: "I can hardly be described as lowly paid."
Stanley Fink
The hedge fund manager served as the co-treasurer of the Conservative Party admitted avoiding tax after being named by Ed Miliband earlier this year.
Lord Fink, ennobled in 2011, has been a guest for the Prime Minister at Chequers and is reportedly among the largest Tory donors after giving £2.62 million.
The 58-year-old has appeared on a business reality show and is the chairman of International Standard Management, as well as being known for his philanthropy.
Graham Kirkham
Lord Kirkham is the founder and former chairman of sofa retailer DFS and reportedly one of the richest men in South Yorkshire.
The 70-year-old made Forbes' list of 2015 billionaires, with the magazine describing his rise from working at a local furniture store to making and selling his own pieces and growing the firm from scratch, which he has since sold.
He was also involved in the recent takeover of Iceland food group and investigated in a fish and chip shop chain.
Forbes calls him a "strong financial supporter of the Conservative Party".
Lady Hollis' amendment to implement a three-year transition period for people currently receiving tax credits was supported by 289 peers and opposed by 272.
For the full list of who voted, view the Hansard record here.
Register for free to continue reading
Registration is a free and easy way to support our truly independent journalism
By registering, you will also enjoy limited access to Premium articles, exclusive newsletters, commenting, and virtual events with our leading journalists
Already have an account? sign in
Join our new commenting forum
Join thought-provoking conversations, follow other Independent readers and see their replies