Theresa May steals Labour policy by vowing to tackle spiraling energy prices
Prime Minister echoes Ed Miliband by admitting 'the market is not working as it should' – hinting at a cap to be announced soon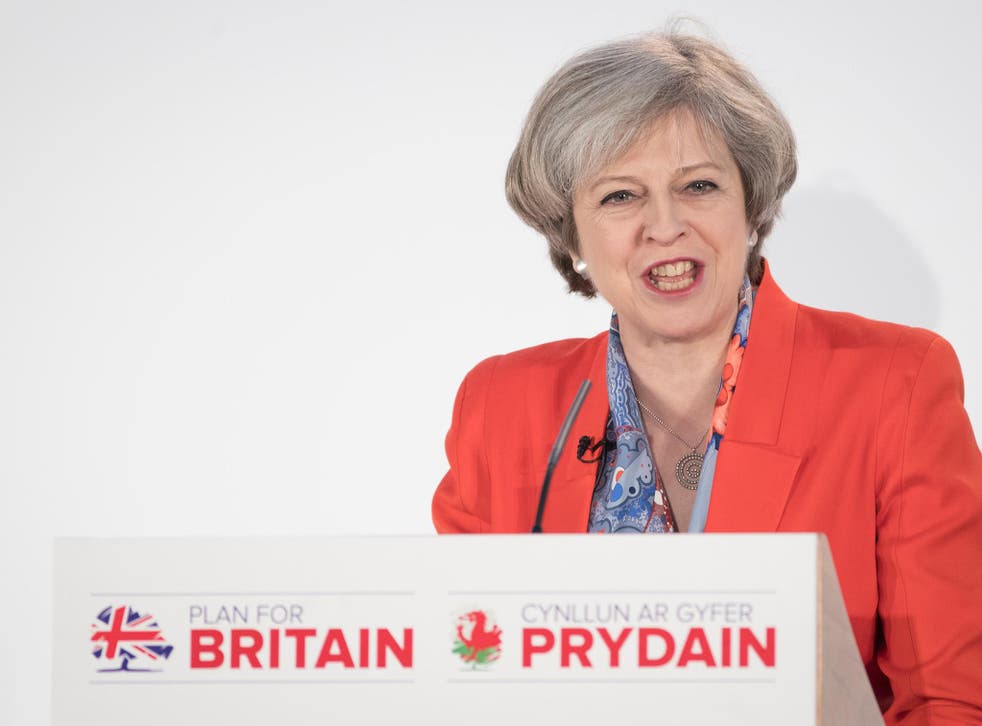 Theresa May has stolen Labour clothes by vowing to act on sky-high energy prices, saying: "It is clear to me – and to anyone who looks at it – that the market is not working as it should."
In a speech to the party faithful in Cardiff, the Prime Minister said prices had soared by 158 per cent over the last 15 years, with the poorest hit by the highest tariffs.
"Our party did not end the unjust and inefficient monopolies of the old nationalised energy corporations only to replace them with a system that traps the poorest customers on the worst deals," she said.
Ms May did not set out how her crackdown would work, but the pledge revived memories of Ed Miliband's plans to intervene in the energy market – condemned by the Tories at the time.
Addressing the Conservative Spring Forum, the Prime Minister also sharpened her attack on the SNP's determination to stage a second Scottish independence referendum.
"Three years ago they campaigned for a result that would have taken Scotland out of the EU altogether," she said.
"They are happy to see power rest in Brussels. But if those powers come back to London, they want them given to Edinburgh – so that they can try to give them back to Brussels.
"And now they apparently say that an independent Scotland would no longer seek to become a member of the EU after a vote for separation. It is muddle on muddle."
There was no mention of George Osborne's surprise appointment as editor of the London Evening Standard, announced just moments before the speech.
And neither the Prime Minister, nor Education Secretary Justine Greening earlier, referred to the school funding row which has sparked a fresh Tory backbench revolt – and a likely retreat.
Tory pressure on the Prime Minister to get tough with the Big Six energy suppliers has grown, with some backbenchers joining a cross-party call for action.
One suggestion is for a cap on the price difference between the cheapest tariffs and those paid by long-standing customers – perhaps at six per cent.
Ms May appeared to hint at help for loyal customers, saying: "The vast majority of consumers, especially those with the lowest incomes, are on the most expensive tariffs.
"Relying on switching alone to keep prices down is clearly not working.
"So we are looking very closely at how we can address this problem, and ensure a fairer deal for everyone. We will set out our plans very soon."
The Prime Minister also vowed to press ahead with new grammar schools, to "extend to the children of working class families the same opportunities enjoyed by the children of the well-off".
"These new schools will face rigorous requirements to ensure that as well as giving greater opportunities to their own students, they also support their neighbouring non-selective schools to do the best by theirs," she said.
On Brexit, she insisted her Government had been "clear about our negotiating objectives" – despite the admission that there has been no assessment of crashing out with no deal.
She hinted at parts of any agreement coming into force after the expected 2019 withdrawal date, with "a phased approach, delivering a smooth and orderly Brexit".
Join our new commenting forum
Join thought-provoking conversations, follow other Independent readers and see their replies