Theresa May clashes with Philip Hammond over public sector pay cap
It followed reports that Ms May is ready to consider changes to pay restraint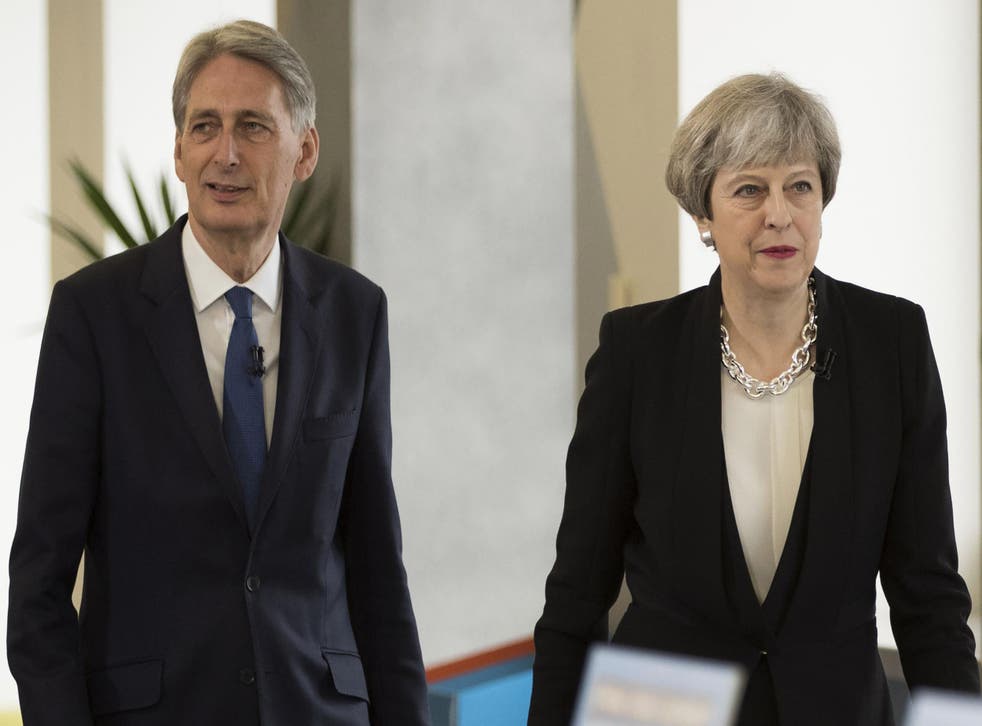 A clash at the top of government has seen Theresa May and Chancellor Philip Hammond lock horns over changes to the long-held Conservative policy of capping public sector pay.
Ms May's officials gave a strong signal on Wednesday that after years of backing pay restraint, she had "heard the message" of the election and was willing to consider changes.
But within hours, the Treasury is said to have strongly objected to reports that the pay cap could be dumped and demanded Downing Street clarify the position.
Ditching the cap would cost the Treasury some £5bn by 2020, by which time Mr Hammond will already have been forced to pay for other expensive policies to win political backing for Ms May's weakened premiership.
It is the latest clash between the pair, after Mr Hammond used his more powerful post-election position to push for changes in Ms May's approach to Brexit.
With pressure mounting on Ms May to ditch the pay cap, a Downing Street source said on Wednesday: "Ministers, including the Prime Minister and the Chancellor, have been clear that we are going to listen to the messages that were sent at the election.
"We understand that people are weary after years of hard work to rebuild the economy.
"Public sector pay restraint is one of the tough choices we've had to make to balance the books after Labour's crash and what was left behind. We are working through and looking at recommendations from pay bodies that are coming."
UK General Election 2017

Show all 47
He also pointed to "fiscal events" at which the policy could change, with Mr Hammond's autumn statement just months away.
A series of other ministers, including Defence Secretary Michael Fallon, Transport Secretary Chris Grayling and Health Secretary Jeremy Hunt, had also made comments indicating a review of the policy was afoot.
Media reports were then published heralding a major and costly potential U-turn on pay restraint, but individuals at the Treasury are said to have complained and demanded Number 10 stop the story getting out of control, sources said.
The intervention suggests Mr Hammond was unwilling to be bounced into a big new spending commitment, just days after committing large sums of money to maintain the 'pensions triple lock' and 'winter fuel payment', not to mention £1bn for other policies, as a price of securing Ms May the votes of ten DUP MPs in the House of Commons.
As a result, Theresa May's official spokesman gave a further briefing in the afternoon in which he repeatedly told reporters "the [pay-cap] policy has not changed", though he still failed to rule out changes in the future.
The confusion speaks to a new tension between Number 10 and Number 11 Downing Street, with Ms May's authority severely weakened since losing her party's majority at the election.
Recent days have seen Mr Hammond, a potential contender in any future Tory leadership contest, give two major speeches on Brexit, seeking to move the Government away from Ms May's tougher pre-election tone on the EU.
Philip Hammond: I am urging May to agree to transitional arrangement in the interests of business
On Tuesday he also mocked Foreign Secretary Boris Johnson in front of a German audience and himself was criticised by Brexit Secretary David Davis, another potential leadership contender, for making what were claimed to be inconsistent comments about EU withdrawal.
Nurses, teachers and police officers have seen their income strangled after two years of pay freezes and four years of annual caps since 2010.
The Conservatives announced four years of one per cent caps in the 2015 budget, leaving rises well below inflation which has climbed to 2.9 per cent.
Labour leader Jeremy Corbyn tabled an amendment to the Queen's Speech on Wednesday demanding the cap be scrapped to give emergency workers and others "a fair pay rise".
Philip Hammond refuses to answer question of how long Theresa May has got as PM
A senior Labour source said: "I think it is clear that one of the results of the election and the very sharply increased Labour vote and number of seats, and the fact that this is now a minority government, means that they have had to make a number of important concessions to the public."
Shadow Home Secretary Diane Abbott used a speech in the Commons to push the point home saying: "In times of national and personal crisis it is to public sector workers the country looks.
"We've all seen and read about the firefighters who ran towards danger and into the blaze in Grenfell Tower to save lives and some of us must have wondered whether we could have summoned that courage."
TUC general secretary Frances O'Grady said: "It's about time that hard-working public sector workers got the pay rise they've earned.
"If the cap is lifted, it will be a massive victory for trade union campaigning.
"But this can't be kicked into the long grass, it needs to happen now. Public sector workers have waited long enough."
Join our new commenting forum
Join thought-provoking conversations, follow other Independent readers and see their replies