Theresa May's ratings go negative for first time, ComRes poll shows
Exclusive: Poll for The Independent puts Conservative lead unchanged at 12 points
John Rentoul
Saturday 03 June 2017 19:46 Comments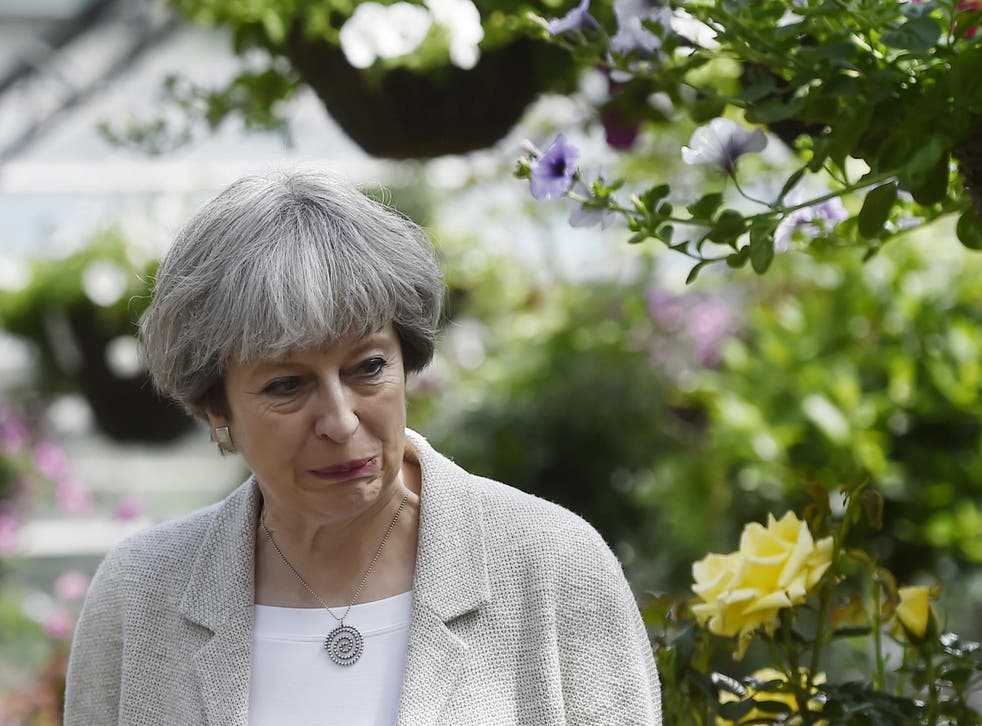 The Prime Minister's personal rating has turned negative for the first time in a ComRes poll – despite the Conservative Party's lead of 12 points remaining unchanged since last week.
While both Jeremy Corbyn and the Labour Party's rating have improved, the Conservatives are up one point on 47 per cent. Labour are also up one, on 35 per cent, with the Liberal Democrats unchanged on 8 per cent and Ukip, also unchanged, on 4 per cent. The Greens have been squeezed, losing one point to stand at just 1 per cent.
Theresa May is regarded favourably by 39 per cent, down two since the last time the Favourability Index was compiled in February, but now she is regarded unfavourably by 42 per cent, a rise of 10 points. The poll comes at the end of another week of an election campaign in which Ms May has been criticised for U-turns and for shying away from exposure. This week she refused to take part in a TV debate and pulled out of interviews, sending Amber Rudd and Justine Greening to take her place.
Ms May's net score of minus three compares with minus 15 for Mr Corbyn, who has seen an improvement of 18 points in his net score.
The poll finds that Mr Corbyn is also closing the gap as "best prime minister" – he is preferred by 34 per cent, up four from last week, against 49 per cent for Ms May, down two. But most people – 57 per cent – still expect Ms May to win the election, against 19 per cent who say Mr Corbyn will win and 24 per cent who don't know. If the ComRes voting intention figures were reflected in the election, the Conservatives would have a majority of 98 according to Electoral Calculus.
The recent narrowing of the polls, and the publication this week of YouGov's election model suggesting the Tories could lose seats, has prompted speculation about a hung parliament, but this outcome would not be welcomed by the voters. Most people, 59 per cent, say they "prefer a parliament in which one party has an overall majority" – twice as many as the 28 per cent who would "prefer a parliament in which parties have to work together in government".
ComRes also asked people to choose up to three from a set of eight statements which were the most important to them for the election. The NHS, named by 52 per cent, came top, closely followed by Brexit on 47 per cent and "keeping Britain secure from terrorism" on 42 per cent. Perhaps surprisingly, "protect people's assets as they need more social care later in life" came bottom of the list, named by only 14 per cent.
This week's poll shows a sharp rise from 70 to 77 per cent in the proportion of people who say they have definitely decided how to vote – a figure that includes those who have already voted by post. Meanwhile, 16 per cent say they haven't decided, and a further 7 per cent – they are always with us – say they don't know whether they have decided or not.
ComRes continues to produce one of the highest figures for the Conservative lead, as pollsters differ in the way they treat voters' own predictions of how likely they are to turn out on Thursday. Ipsos MORI and YouGov, which expect an increase in turnout among young people, have shown Tory leads of five and three points this week.
UK General Election 2017

Show all 47
ComRes, on the other hand, adjusts its figures to reflect how different age and social groups actually voted last time. However, it is possible that even ComRes is underestimating the Tory lead. The company has again run a second set of voting intention figures by adding undecideds who nevertheless say they will definitely vote, according to who they think would make the best prime minister. With this adjustment the Conservative lead stretches from 12 to 14 points.
ComRes interviewed 2,038 GB adults online 31 May to 2 June 2017. Data were weighted to be demographically representative of all GB adults. Data were also weighted by past vote recall. Voting intention figures are calculated using the ComRes Voter Turnout Model. ComRes is a member of the British Polling Council and abides by its rules. Full tables on the ComRes website
Register for free to continue reading
Registration is a free and easy way to support our truly independent journalism
By registering, you will also enjoy limited access to Premium articles, exclusive newsletters, commenting, and virtual events with our leading journalists
Already have an account? sign in
Join our new commenting forum
Join thought-provoking conversations, follow other Independent readers and see their replies