As it happened
ended
1468524494
Theresa May reshuffle live: Andrea Leadsom heads Defra as Jeremy Hunt remains Health Secretary - latest news
Follow all the latest updates live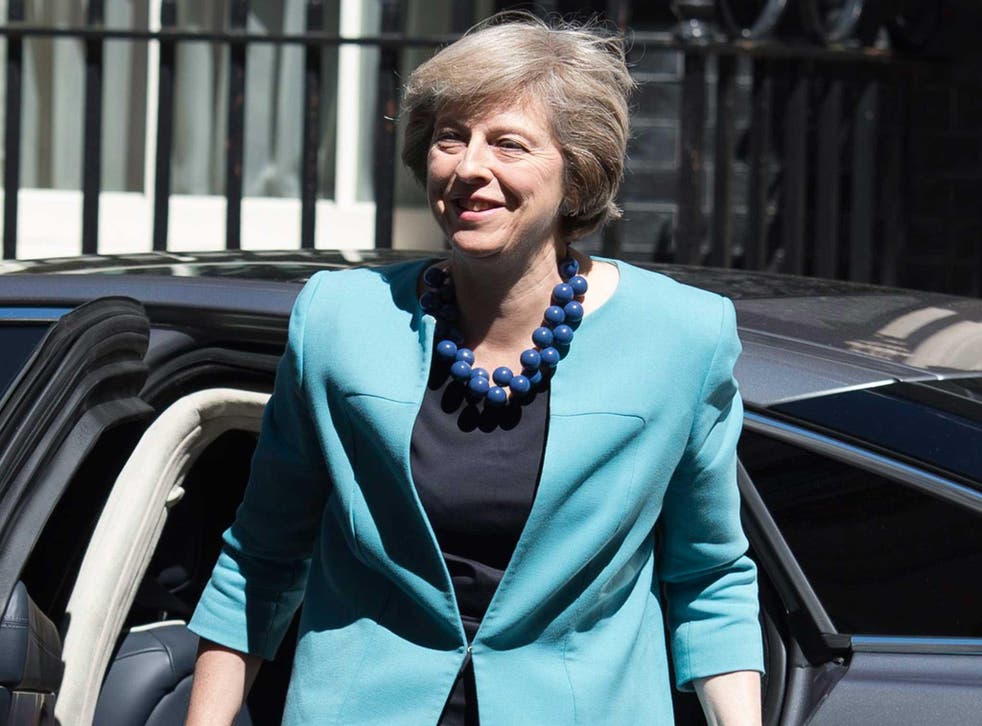 Theresa May is announcing her new Cabinet, having been appointed as Prime Minister on Wednesday.
The latest updates are:
• Who's in, who's out? New Cabinet in full​
• ​Michael Gove sacked from front bench
• Nicky Morgan out as Education Secretary
• Boris Johnson appointed as Foreign Secretary
• David Davis new Brexit minister, unaware of EU trade rules
• Philip Hammond is new Chancellor
• George Osborne sacked 
Please allow the live blog a moment to load
On Wednesday night Theresa May made her first round of appointments, including Boris Johnson as Foreign Secretary and Philip Hammond as the new Chancellor.
Key figures in the previous government including George Osborne, Oliver Letwin, and Michael Gove have been sacked.
The new PM has also created a new Secretary of State for Leaving the European Union post, which will be filled by David Davis.
It is becoming increasingly clear that Ms May intends to abolish the Department for Business, Innovation, and Skills – having distributed its responsibilities amongst a new Department for International Trade and the Department for Education.
Liam Fox, the former Defence Secretary, will head that department.
Other key appointments include Justine Greening as Education Secretary – the Conservative government's first not to attend private school. Liz Truss is the new Justice Secretary, replacing Mr Gove.
Conservative MP Gavin Williamson is to become the new Government Chief Whip – he was formerly David Cameron's PPS.
1468497276
In other news, Baroness Evans of Bowes Park has been appointed as the Conservatives' new Leader of the House of Lords.
She was only made a peer in 2014 and previously worked at Cameronite think-tank Policy Exchange.
The Conservatives' slim majority in the House of Commons means that her role is sure to be important in the coming months and years if the Government wants to pass any legislation.
Jon Stone
14 July 2016 12:54
1468502304
The UK's former ambassador to France, Sir Peter Ricketts - previously the top civil servant at the Foreign Office - said he believed politicians on the other side of the Channel saw Boris Johnson as a "warm, charismatic" person and enjoyed his sense of humour.
But he told BBC Radio 4's World At One: "They were surprised at the way he conducted the Leave campaign - the throwing around of statistics, the off-the-cuff comments and so on.
"I think now they will want to see that this big figure who's full of showmanship can adapt very rapidly to the much more disciplined style needed of a Foreign Secretary.
"In my experience they are a pretty pragmatic bunch and if he shows that he can knuckle down and channel that huge energy he has into helping to solve the world's problems, I think people will adapt to him very quickly."
Steve Anderson
14 July 2016 14:18
1468509948
 Labour's former leader Ed Miliband has called the abolition of the Energy department "plain stupid". 
Mr Miliband, who served as energy secretary in Gordon Brown's government, said that the lack of recognition of climate change suggested it was not a priority for Ms May's government.
Adam Withnall
14 July 2016 16:25
1468510417
 Sarah Brown, wife of Gordon, has wished Ms May's husband Philip luck after his wife's promotion - saying during her tenure she had a "constant feeling of being one step away from unwitting error".
Adam Withnall
14 July 2016 16:33
Join our new commenting forum
Join thought-provoking conversations, follow other Independent readers and see their replies