Tim Farron interview: Lib Dem leader on why he went against his party over Syrian air strikes
Exclusive: Mr Farron says his support for action had been viewed through the 'prism' of the 2003 Iraq war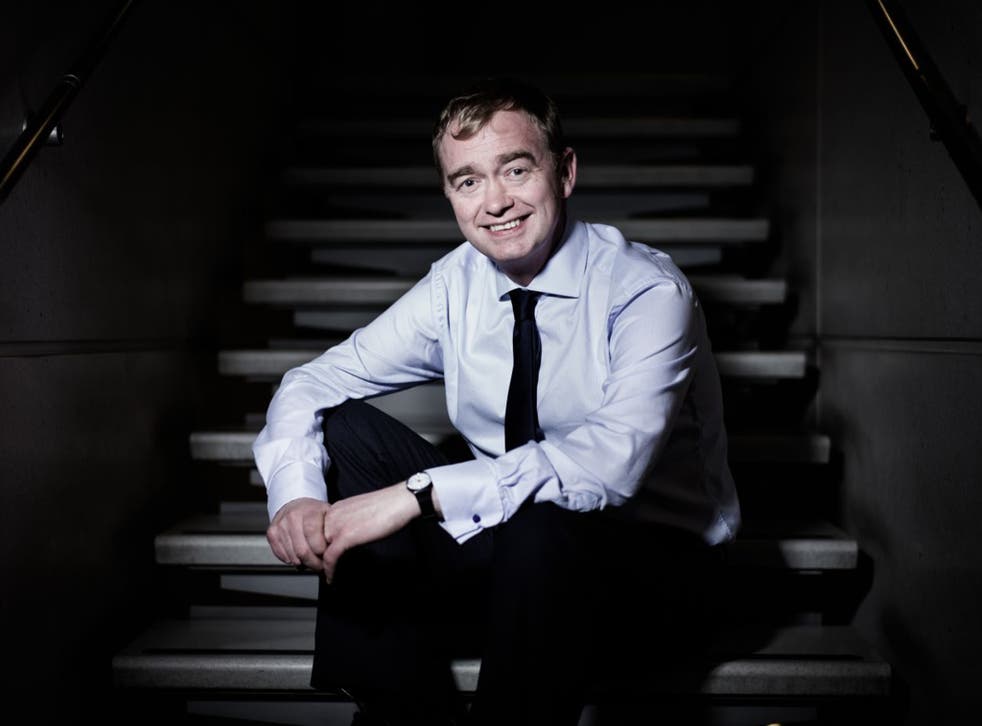 Tim Farron has argued that the Liberal Democrats are "not a pacifist party", following grassroots criticism of his decision to back Syrian air-strikes – a move opposed by two-thirds of members.
The Independent on Sunday can reveal that the Lib Dem leader was rebuked at a meeting of a senior party committee this month for failing to consult properly on the controversial vote. Six of the eight Lib Dem MPs backed the Government: only Norman Lamb, the former health minister who was Mr Farron's sole challenger for the leadership this summer, and Ceredigion MP Mark Williams, voted against attacking Isis in Syria.
In a wide-ranging interview, Mr Farron also:
Claimed Labour under Jeremy Corbyn was "the worst opposition in history";
Made an open pitch to disaffected Labour moderates to join the Lib Dems;
Criticised spending cuts that he thinks will increase the risk of floods which have caused £500m of damage in Cumbria this month;
Pushed for the Lib Dems stance on soft drugs to be debated at the party's spring conference.
Mr Farron said his support for air strikes had been viewed through the "prism" of the 2003 Iraq war, which the then leader, Charles Kennedy, opposed, to his party's electoral benefit. A poll for Liberal Democrat Voice last month showed that 67 per cent of party members were against joining air strikes.
But he argued that the late Mr Kennedy's predecessor, Paddy Ashdown, had led calls for intervention in the Balkans crisis of the 1990s, adding that the Iraq war had "polluted British and Western foreign policies for more than a decade".
He said: "The 2003 Iraq War was an illegal and counterproductive war. That wasn't just Liberal Democrat nerdy concern about the legalities: it was about what that meant for the image of the United Kingdom overseas, the stoking of terrorism, the stoking of mistrust and, much worse, hatred of the West.
"I am very, very proud and support Charles Kennedy in his opposition to the Iraq war in 2003. But I'm equally proud of Paddy Ashdown in leading us in calling for the intervention in Bosnia in the mid-90s, because we're not a pacifist party, we're an internationalist party and we believe in the rule of international law.
David Cameron responds to Tim Farron's question on refugees
Mr Farron rejected criticisms that he had not consulted widely enough before making his decision. He publicly set five tests to be met before he voted, including legality – the air strikes were given cover through a UN resolution – and a plan for post-Isis Syria and Iraq.
Gareth Epps, a member of the federal policy committee who has threatened to quit over the issue, tabled a "motion of regret" about Mr Farron's actions at a meeting of the body this month. This was backed, even though Mr Farron chairs the committee. Sources said he "took it on the chin".
There will be more formalised consultations over major decisions in the future, such as video conferences with the committee and a regular review of whether the air strikes still meet the tests. Mr Farron admitted the Government would not have received "10 out of 10" on all of the tests, but had successfully made its case, which was persuasive because of France's plea for support following the Paris atrocities.
"I'm sure there's loads of people who are unhappy with the decision I took, but there's loads more who wrote in and said, 'that was really brave, we're proud that you did that'," Mr Farron said.
"I argue that we won more support with the position we took than lost. The reality is it was a tough decision, but I think we were right to make it. I think the easiest political thing for me to have done would have been to troop behind Corbyn, so I'd have had fewer emails and no one would have batted an eyelid."
Mr Farron said Mr Corbyn's opposition to air strikes was just as "knee-jerk" as the Conservative right's "gung-ho jingoism". He also criticised Mr Corbyn's stewardship of the Opposition, which has included a U-turn over backing George Osborne's fiscal charter.
British jets prepare for air strikes in Syria

Show all 10
Mr Farron believes Labour moderates, such as the former shadow cabinet members Yvette Cooper and Chuka Umunna, "have yet to come to terms with the fact that they have lost the party – the party has rejected them".
"I see them sort of locked out by a Labour administration that, let's be perfectly honest … are just the worst opposition in memory, in history," he said. "There are good progressives, people who are internationalists, who are green, who are liberal, who believe in economic competence and social justice. And if they believe in those things, there is only one party that has all of those things to their credit, and that's us."
Mr Farron noted that the departments of energy and climate change, environment and local government were all subject to drastic spending cuts at the Comprehensive Spending Review last month. The MP, who was caught in the floods that devastated his Westmorland and Lonsdale constituency, argued that those departments needed protecting to fight climate change, build flood defences, and lead clean-up operations.
He added: "The three departments that counties like Cumbria desperately need for the long term, the medium term and right now are absolutely denuded and it's pretty horrific."
The party has also set up an independent panel, led by the former government drugs adviser Professor David Nutt, looking into how a legalised cannabis market could work in the UK. The results of this review should be ready before the party's spring conference in March, when Mr Farron hopes its recommendations, which are expected to include a regulated market similar to the one that started in Colorado three years ago, will be debated.
He said: "The real problem with drugs policy is it's heavily politicised; people make wrong decisions, and the Government's current position I think is wrong-headed because it's not based on any evidence.
"It's pretty clear there's very, very strong case for a change in the legal approach."
Join our new commenting forum
Join thought-provoking conversations, follow other Independent readers and see their replies