Tory-DUP deal: Arlene Foster reveals how talks with Theresa May have been 'slow'
The unionist leader said she believed a deal was close with the Conservatives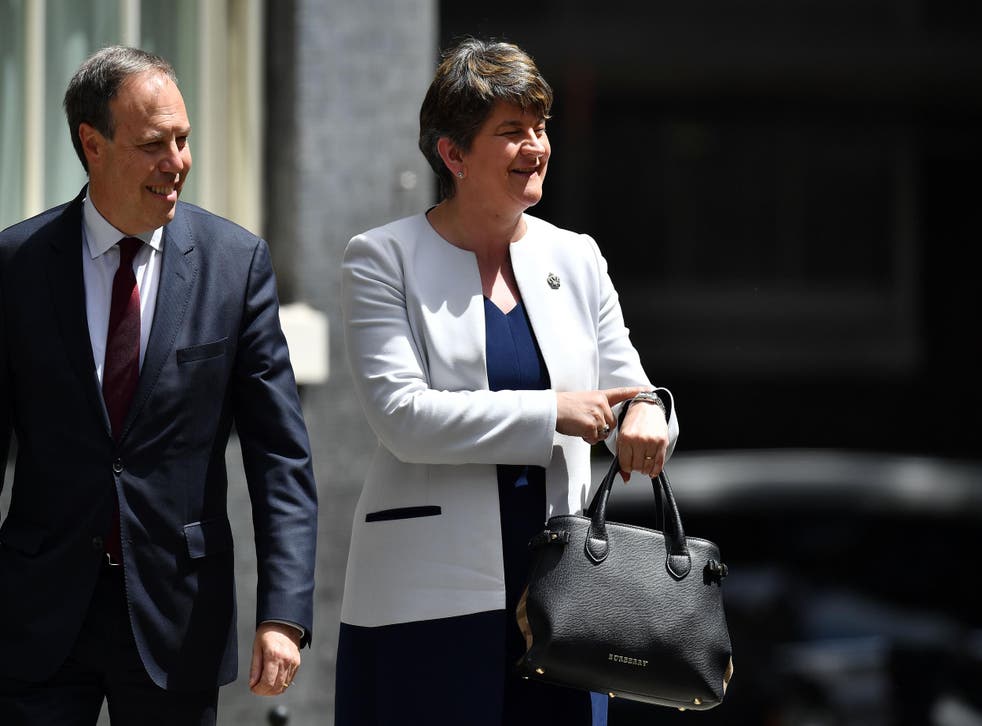 The leader of the Northern Irish DUP has revealed how talks with the Conservatives to give Theresa May a working majority in the Commons have been "slow".
Arlene Foster said that while negotiations had been difficult, she believed the two parties are now close to sealing a deal as she prepared for further meetings on Monday.
The Prime Minister is keen to lock in the DUP's support ahead of a key vote to approve her legislative agenda later this week, but it follows claims that the deal will prove too expensive and that the Government has negotiated poorly.
Writing in the Belfast Telegraph today, Ms Foster said: "Since the general election, we have been engaged with the Prime Minister and her team to explore how we can work together.
"Progress has been slow at times but we continue to work through the issues.
"I believe we are close to concluding an appropriate agreement with the Conservative Party to support a minority government on a confidence and supply basis."
The DUP has made it clear it will only agree a deal if it delivers tangible benefits for Northern Ireland in terms of jobs and investment in health and education.
Theresa May responds to John Major criticism over DUP deal
Some reports have suggested the DUP is demanding the Government pay up to £50m to Northern Ireland for each vote they want passed, others have highlighted demands for a £2bn cash injection. Sources within the DUP have expressed surprise at the low level of experience among the Tory negotiators.
Tory grandee Chris Patten said on Sunday that the Conservative Party risked becoming the "nasty party" again if it "bribed" the DUP into a confidence and supply deal.
He said: "The DUP is a toxic brand.
"There is a danger of us looking like a nasty party again. Their values are not ours."
Lord Patten went on: "They want to sell their votes at every opportunity. They hold a bizarre assumption that Northern Ireland has been disadvantaged by public spending over the years. That is ridiculous. Just look at how much is devolved and they want more now. Every vote will cost you.
"Every vote will have to be paid for - and then we will have to tell that to the Scots and Welsh, who will be asking for equal treatment."
Labour has insisted that any financial sweeteners offered to Northern Ireland as part of an agreement must be made fully public.
Join our new commenting forum
Join thought-provoking conversations, follow other Independent readers and see their replies