UKIP could block leadership candidate who called Islam a 'killing machine'
Anne Marie Waters was banned from being a candidate for the Eurosceptic party during their disastrous general election campaign after former leader Paul Nuttall said her views go 'above and beyond party policy'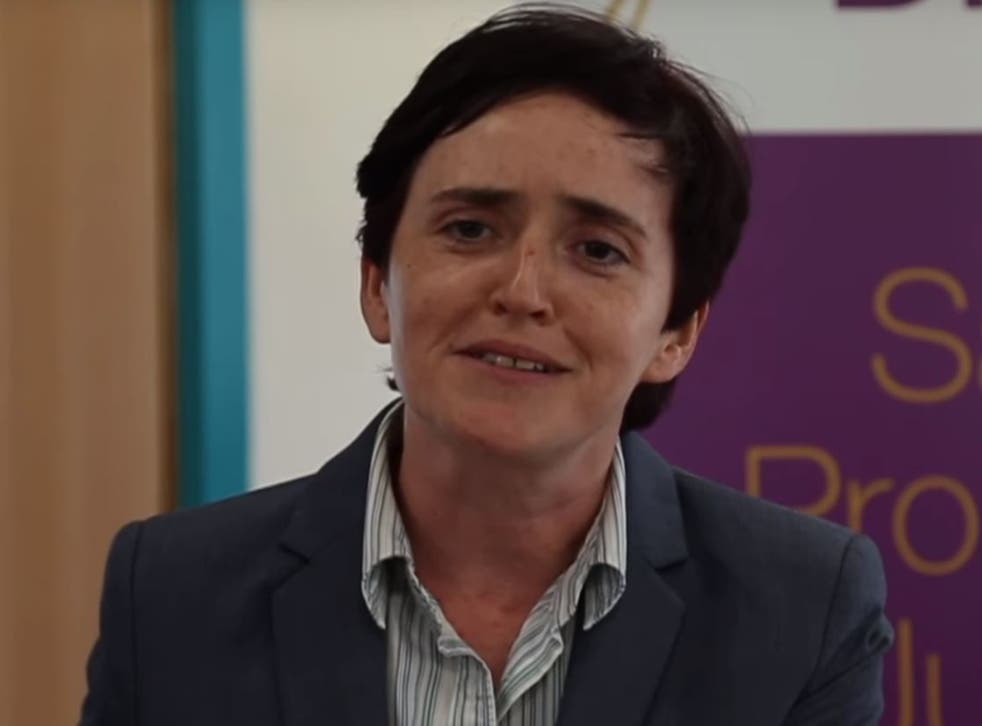 An anti-Islam campaigner's Ukip leadership bid could be blocked by officials worried that her views will bring them into disrepute, according to party sources.
Anne Marie Waters was banned from being a candidate for the Eurosceptic party during their disastrous general election campaign after calling Islam "evil" and arguing that "Islamic culture does not fit with ours".
Undeterred, the Sharia Watch UK founder announced her intention to stand in Ukip's leadership election following Paul Nuttall's resignation in June.
But the ambitious former Labour Party activist, who also launched the anti-Islam group Pegida UK with Tommy Robinson last year, could be excluded from the ballot by members of Ukip's National Executive Committee (NEC).
They will put all candidates through a vetting process to determine whether they meet the standards of the party's code of conduct.
Two Ukip sources told Buzzfeed officials will consider blocking Ms Waters' leadership bid due to fears she will alienate voters by driving the party further to the right.
The activist has said she realises the party will "try to stop me", but has hit back at detractors by insisting she is "not a racist or a neo-fascist".
When Ms Waters launched her leadership campaign in June, she told a cheering crowd in Manchester: "Islam is a killing machine."
Ukip treasurer John Bickley didn't comment on her, but told Buzzfeed: "The NEC has to ensure, for the sake of the party, that whoever's on the ballot paper is not going to come back and bite us in short order.
"We've had an interesting 12 months in regards to leaders, and we'd like to make sure that this time people on the ballot paper are not going to be a problem for us.
Ukip leader Paul Nuttall quits after election drubbing
"We have to ensure there are no elephant traps after we elect a new leader."
Ukip has struggled to maintain relevance since Brexit was triggered, and former leader Nigel Farage warned that the party will be "finished" if it concentrates on anti-Islam policies.
During the general election campaign, Mr Nuttall was ridiculed for pledging to ban burqas, claiming the policy would boost vitamin D levels in Muslim women.
His party's future is uncertain after they won just 500,000 votes in June and lost all but one of the council seat's they contested this year.
On Friday Ukip confirmed that so far 11 candidates wish to stand in their leadership election, including Jane Collins MEP, who was ordered to pay £358,000 in damages and costs after libelling three Labour MPs she claimed knew about child sex abuse in Rotheram.
Also in contention is John Rees-Evans, a former soldier who once claimed that a gay donkey tried to rape his horse, and revealed his plans to build an underground bunker in Bulgaria in case there is a "global meltdown".
London Assembly member David Kurten has vowed to stand against "militant transgender activism" in his bid to become Ukip's first ethnic minority leader, telling Buzzfeed: "People don't want their children to be confused by this kind of thing."
Around 15,000 Ukip members voted in the last leadership election, and the party's first-past-the-post system means the winner may only need a few thousand supporters.
Register for free to continue reading
Registration is a free and easy way to support our truly independent journalism
By registering, you will also enjoy limited access to Premium articles, exclusive newsletters, commenting, and virtual events with our leading journalists
Already have an account? sign in
Register for free to continue reading
Registration is a free and easy way to support our truly independent journalism
By registering, you will also enjoy limited access to Premium articles, exclusive newsletters, commenting, and virtual events with our leading journalists
Already have an account? sign in
Join our new commenting forum
Join thought-provoking conversations, follow other Independent readers and see their replies