Russian oligarchs' UK homes could be seized and used to house Ukrainian refugees, Raab says
Deputy prime minister says government was looking to seize UK property belonging to Kremlin-linked elite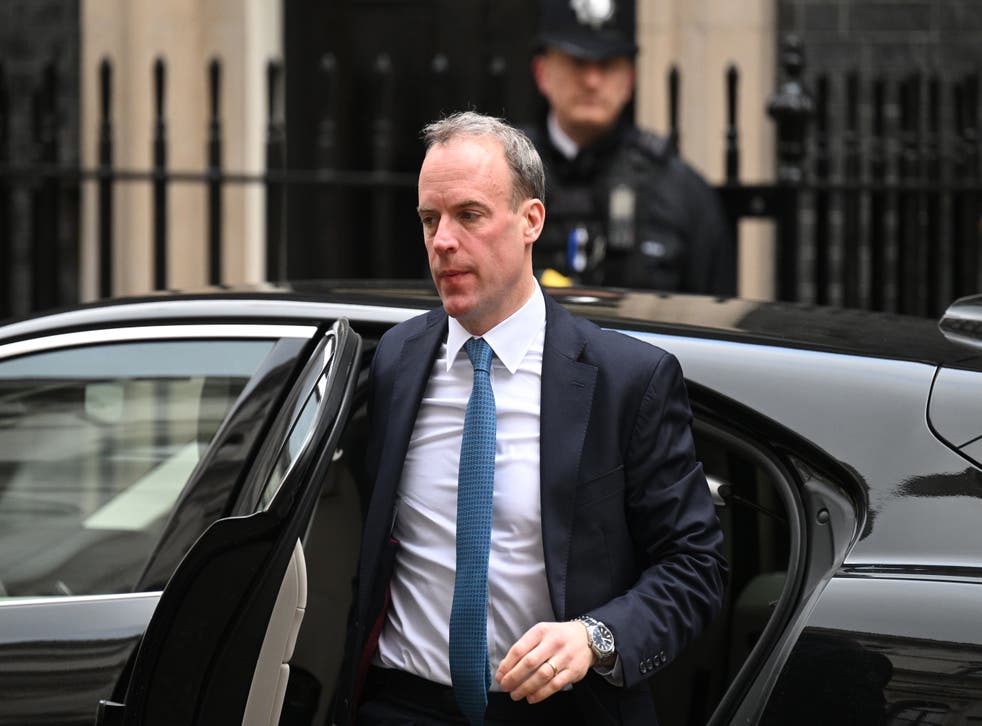 The London properties of Russian elites could be confiscated and used to house Ukrainian refugees, the deputy prime minister has said.
Dominic Raab was asked whether the British government could confiscate property owned by oligarchs with Kremlin links as part of the sanctions process against Russia.
Mr Raab told LCB radio: "Yeah, if we've got the evidence and the legal basis, then we'll do it."
Further pressed on whether those properties could be used to house house Ukrainian refugees, he said: "Yes, absolutely.
"We are looking at everything in the round, it is a team effort across government, from the foreign and defence secretary through to Michael Gove and, of course, the Prime Minister is driving this very hard."
The move has been pushed for by opposition party the Liberal Democrats and reportedly argued for in the Cabinet by housing secretary Michael Gove.
The UK government has however faced criticism for being slower and weaker on sanctions against Kremlin-linked Russians in light of the invasion of Ukraine.
But Mr Raab rejected the criticism and claimed Britain was "at the vanguard" of the crackdown.
Asked during interviews with broadcasters why the European Union had sanctioned more individual Russian elites than Britain, Mr Raab replied:
"There has been a running commentary that the UK has somehow been slow - we've not been slow.
"We've been at the vanguard of taking action and, of course, what is really important is we act in concert with our allies, European, American and other Nato allies.
"For example, we have sanctioned more Russian banks than the EU, including Sberbank, which is the biggest Russian bank. We've made it clear and introduced measures so that three million Russian companies cannot raise loans or get listed on the UK stock market.
UK news in pictures

Show all 50
"These measures - and each country has slightly different sanctions regimes - are all aimed at tightening the noose, if you like, and starving off the finance that is going into Putin's war machine."
The UK overnight sanctioned two more Russian oligarchs, Alisher Usmanov and Igor Shuvalov. Under the restrictions, the pair's assets have been frozen and they will be banned from travelling to Britain, while UK citizens and businesses will not be allowed to deal with them.
Announcing the measures, Boris Johnson said he wanted to "inflict maximum economic pain on Putin and his war machine".
But Labour chair Anneliese Dodds said the UK government had to stop "dragging" its feet on the sanctions process.
"I certainly would say that we have been far too soft, especially over the last 10 years, on those funds that have come from Putin-linked oligarchs and business people," she told Sky News.
"I have got to say that, for many, many years, Labour has been calling on the Conservatives to, for example, force transparency around property ownership, especially in London where we know that many of these Putin-linked oligarchs have been stashing their funds in property.
"We see, even with the new measures that finally have been extracted from the Government now that they say they will announce on Monday, an 18-month window before they will come into action - that's just not good enough."
The Labour chair called for "immediate action now", adding: "We can put those registers of foreign-owned property into place in 28 days, we believe we could get those running and force that transparency.
"We should have had it many years ago but, above all, we need it right now. We have got to act right now and we have got to stop dragging our feet as the Conservative Government has been doing."
Register for free to continue reading
Registration is a free and easy way to support our truly independent journalism
By registering, you will also enjoy limited access to Premium articles, exclusive newsletters, commenting, and virtual events with our leading journalists
Already have an account? sign in
Register for free to continue reading
Registration is a free and easy way to support our truly independent journalism
By registering, you will also enjoy limited access to Premium articles, exclusive newsletters, commenting, and virtual events with our leading journalists
Already have an account? sign in
Join our new commenting forum
Join thought-provoking conversations, follow other Independent readers and see their replies