John McDonnell: I will win the argument to give every citizen in the UK a basic income
Exclusive: Shadow Chancellor says radical policy could tackle issues related to poverty and simplify the welfare state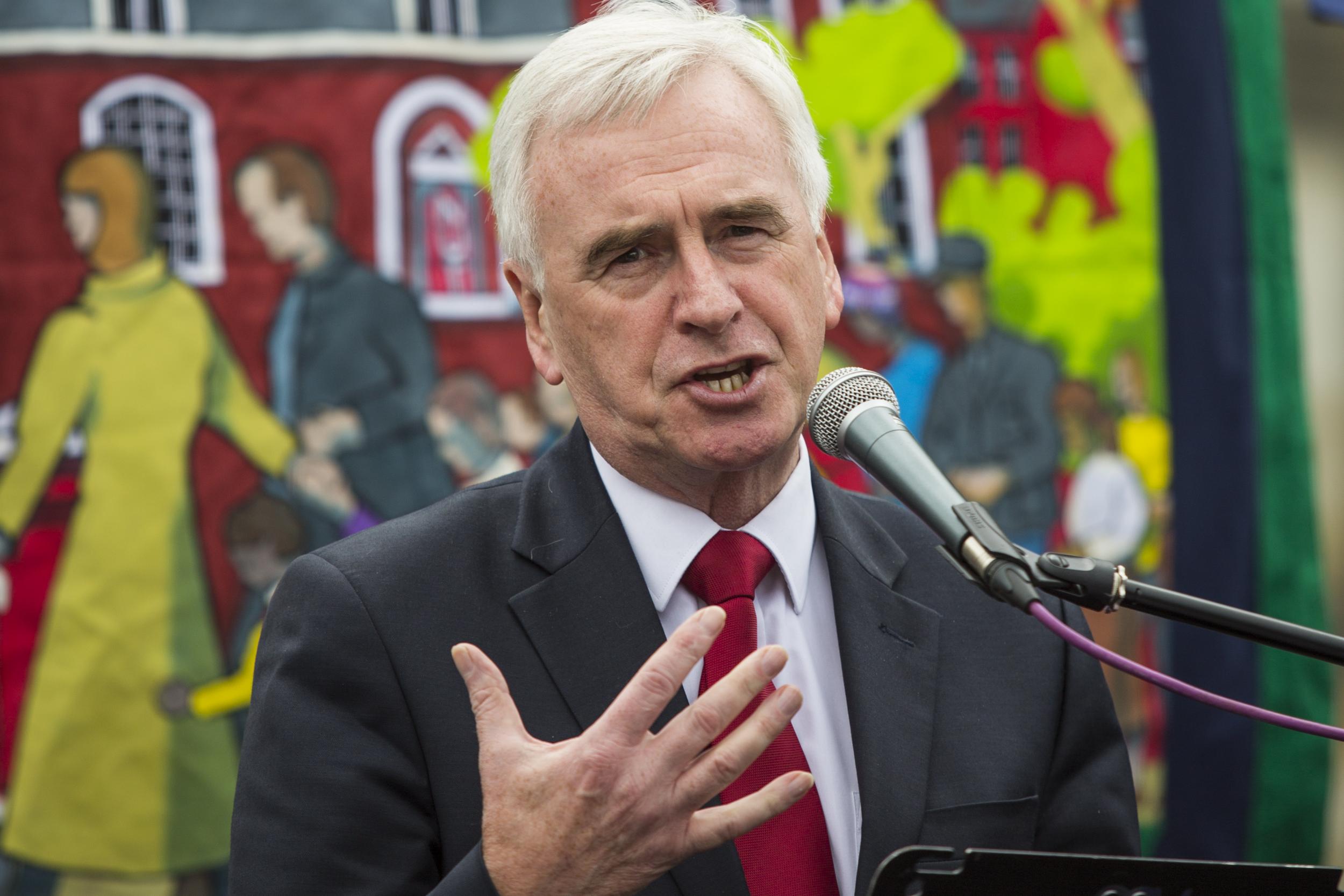 Shadow chancellor John McDonnell has insisted he can "win the argument" on universal basic income – a radical idea to transform the welfare state – within the Labour party.
In an interview with The Independent, following a rally at Ealing Town Hall, the Hayes and Harlington MP said the policy could tackle issues related to poverty and simplify the welfare state.
Universal basic income would involve ditching means-tested benefits in favour of an unconditional flat-rate payment to all citizens, whether they are in work or out of work.
When asked whether he would fight the next general election on a platform that advocates the radical policy, Mr McDonnell, who is also chairing Jeremy Corbyn's campaign to remain Labour leader, responded: "I think we've got a long way to go in developing the proposal and the argument but I think we can win the argument on it."
Mr McDonnell added that he would "make sure we take into account the experiments that are going on at the moment, developing the ideas that the Fabian society have put forward", before campaigning on the issue.
"What people are anxious about at the moment is around levels of poverty increasing, levels of inequality and at the same time people not being able to get some of the basics in life and that's why there are large numbers of people turning up at foodbanks," he added.
"The Fabian society has just introduced a report today which is looking at reforms to the welfare state and it's recommending a form of initial basic income for us to explore so we're going to take that into account. When we look at the experiments that are taking place across Europe at the moment we'll review those then consider what are options are.
"The reason I'm interested in it goes back a long way. I was at the TUC when we were campaigning with Child Poverty Action group to bring in child benefit… child benefit is a form of basic income. So I think there are opportunities there that it could simplify the welfare system but in addition it could tackle the issues around poverty."
Earlier this year, Switzerland voted by an overwhelming majority to reject proposals for a universal basic income.
Had it passed, anyone legally residing in Switzerland would have received a suggested basic income of 2,500SFr (£1,913) every month whether they worked or not.
Other experiments, however, are currently being carried out around the world. In the Canadian province of Ontario, plans to trial the concept are underway after a budget statement declared: "As Ontario's economy grows, the government remains committed to leaving no one behind."
Speaking backstage after the rally in west London, Mr McDonnell also attempted to alleviate tensions at the top of the party's ranks.
Asked whether Tom Watson's position as deputy leader would be tenable should Mr Corbyn win the election later this month, he responded: "Tom is deputy leader, he's directly elected and he'll make a major contribution to the party in the future – we've worked together in the past and we'll work together in the future".
Labour leadership contest: Jeremy Corbyn vs Owen Smith
Show all 8
"We've had differences of views in terms of whether there'll be a leadership election or not but that will be overcome. Once the leadership decision is made, we'll unite".
The shadow chancellor also said Theresa May's 14-point lead in the polls was "inevitable... after what we've gone through the last few weeks".
He added: "We were matching the Tories in the polls – remember when Jeremy got elected, in a number of polls we were 10 points behind.
"We then, in six months, had matched the Tories in the opinion polls – some of them we were overtaking. But what we've been through in the last few weeks, it's understandable that people are losing confidence because they won't vote for a disunited party.
"But once the leadership election is decided. we'll unite behind the leader and as a result of that we'll pick up in the polls again. Theresa May is going through the traditional upsurge honeymoon of any new leader."
Join our commenting forum
Join thought-provoking conversations, follow other Independent readers and see their replies