Vince Cable to join anti-Brexit protest outside Tory party conference this weekend
'It would be a healthy exercise in democracy to participate in a peaceful, dignified protest,' Sir Vince told The Independent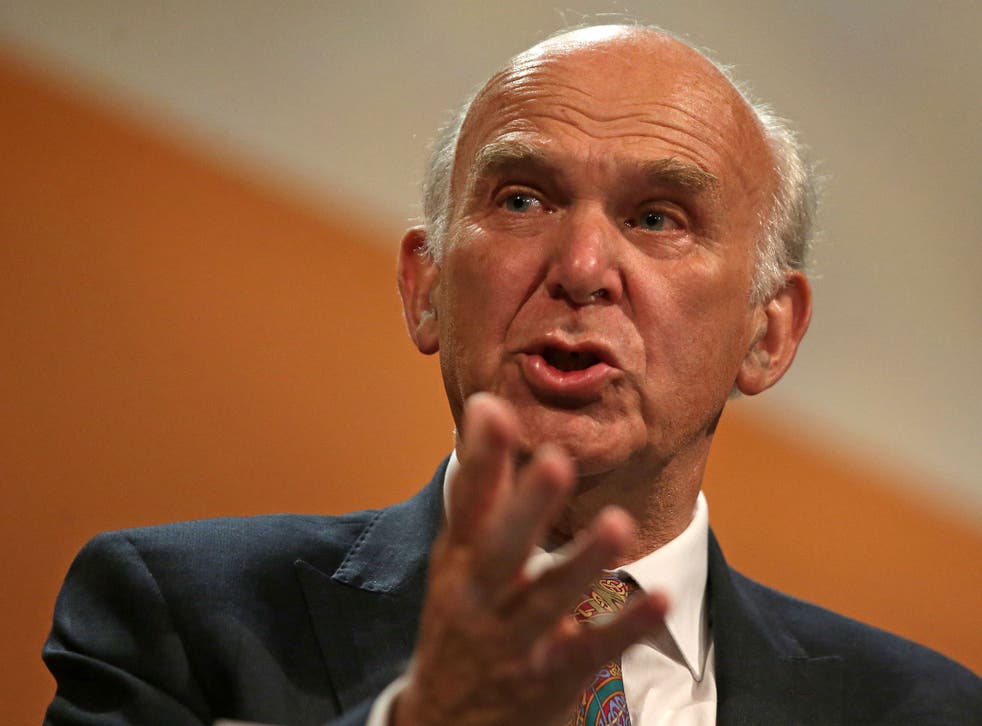 Liberal Democrat leader Vince Cable is to join a protest with anti-Brexit marchers outside the Tory conference in Manchester this weekend.
Writing exclusively for The Independent, he said the issue of Brexit is too big not to get involved with demonstrators pushing for the Government to take a different approach.
It comes hours after European Commission President Jean Claude Juncker said it would take a "miracle" for the UK to achieve "sufficient progress" in Brexit talks by next month in order for discussions to move on to future trade.
The Conservatives begin their conference beset with divisions over Brexit, following weeks in which Boris Johnson has challenged Ms May's version of Brexit.
Sir Vince said: "I believe it would be a healthy exercise in democracy to participate in a peaceful, dignified protest on the big issue of the day by marching.
"And the issues don't come any bigger than Brexit – which is why I will addressing marchers protesting at the Conservative conference in Manchester this weekend.
"Brexit changes most things, not least the quaint notion that governments always seek to increase the prosperity and opportunities of its citizens. It is vital ministers in the hall hear thousands of British people demanding an exit from their disastrous Brexit."
Supporters of Britain's membership of the European Union are to stage a protest march outside the next Conservative Party conference – with the stated aim of stopping Brexit.
Brexit: the deciders

Show all 8
The Manchester march will probably coincide with other mass protests against the conference – which have been a fixture of the party's gatherings in recent years.
The protest, organised by Stop Brexit, will take place a month after another march on Parliament, staged by the People's March for Europe group. Pro-EU activists have pledged an "autumn of discontent" against Brexit.
The Manchester march will begin on 1 October, the first day of the conference, and gather at Platt Fields. Speakers at the march's rallies are expected to include former Lib Dem leader Nick Clegg and former Labour adviser Alastair Campbell.
In her speech in Florence, Ms May committed to a Brexit transition period of at least two years, in which the UK would stay in the single market and customs union, abiding by its rules and structures, including free movement.
Jean-Claude Juncker: Britain needs a 'miracle' to meet deadline for Brexit deal
Ministers had hoped the move would open up the way for negotiations to move on to discussing a potential future trade deal, but both chief EU negotiator Michel Barnier and Mr Juncker have indicated "sufficient progress" is yet to be met.
Mr Barnier did acknowledge that the speech in Florence had created a "new dynamic" in negotiations with talks moving forward on certain issues.
But there is expected to be little movement until the end of Tory conference, where the party faithful will expect her to take a tough line on negotiations with the EU.
Reports emerged on Friday that the UK may be willing to give more clarity around its offer on settling financial obligations after the conference is finished.
Register for free to continue reading
Registration is a free and easy way to support our truly independent journalism
By registering, you will also enjoy limited access to Premium articles, exclusive newsletters, commenting, and virtual events with our leading journalists
Already have an account? sign in
Register for free to continue reading
Registration is a free and easy way to support our truly independent journalism
By registering, you will also enjoy limited access to Premium articles, exclusive newsletters, commenting, and virtual events with our leading journalists
Already have an account? sign in
Join our new commenting forum
Join thought-provoking conversations, follow other Independent readers and see their replies