Vote Leave accused of 'disenfranchising' people trying to register to vote with misleading website
The campaign's website suggests it will register people to vote but in fact does not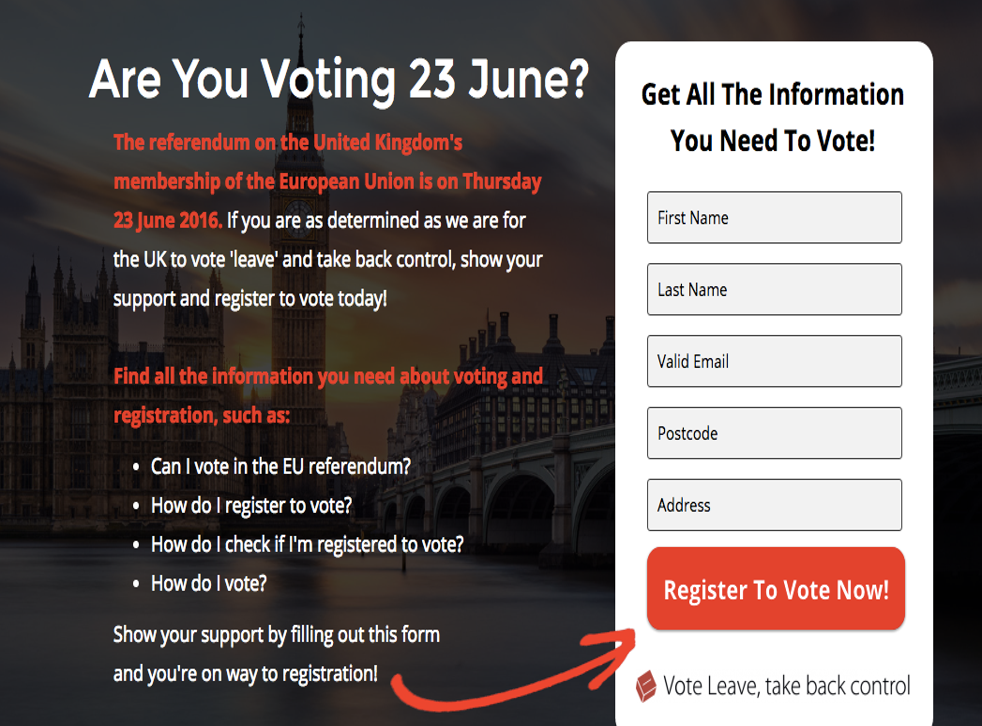 Vote Leave has been reported to the elections regulator for potentially "misleading" people who are trying to register to vote.
The campaign to leave the EU appears to have purchased an advert on the Google search engine that places its website at the top of UK search results for "register to vote".
When a person looking register clicks on the "have you registered to vote?" link, the website takes users to a webpage with a form that says "Register To Vote Now".
Filling in the form however does not register the person to vote: instead it sends their details directly to Vote Leave.
Education Secretary Nicky Morgan, who is campaigning for Remain, has written to the Electoral Commission warning Vote Leave could be using "underhand tactics".
The episode comes on the final day before the voter registration deadline – with young people particularly underrepresented on registers and engaged in a last-minute rush to sign up online.
EU referendum - key dates
Polls suggest young people are most likely to vote Remain rather than Leave. Vote Leave might gain from their exclusion from registers.
The revelation comes just a week after Vote Leave was accused of setting up a "con" competition with a one in several billion chance of a full winner. That competition harvested the details of everyone who signed up to it, with a promised multi-million pound prize.
The most scaremongering arguments for Brexit

Show all 7
Collecting voter contact data could give Vote Leave an advantage on election day because it would allow the campaign to contact people they know are likely to vote.
Vote Leave has not commented on the allegations.
The Electoral Commission says it does not regulate the content of campaign websites.
After this story was first reported the campaign modified the data collection website so that it also directed users to a generic website with information about how to register, including a link to the voter registration page.
Ms Morgan and Labour MP Stella Creasy wrote in their joint letter to the Electoral Commission:
"It has come to our attention that Vote Leave appear to have paid for online advertising to ensure that their campaign website regarding registration is promoted ahead of the government website that directly enables citizens to register to vote.
"This website does not enable people to register, and therefore could easily mislead people in to thinking that they have secured their ballot paper.
"By securing a ranking for this site higher than the official registration site, Vote Leave's underhand tactics could disenfranchise citizens without their knowledge who have in good faith used this site to try to register."
A step-by-step guide on how to register, what to expect and how to vote in the EU referendum:
Am I eligible to vote?
You can vote in the referendum if you're registered and are 18 or over on the day of the vote. Other requirements include:
A British citizen living in the UK, or 
A Commonwealth citizen living in the UK who has leave to remain in the UK or who does not require leave to remain in the UK
A British citizen living overseas who has been registered to vote in the UK in the last 15 years
An Irish citizen living overseas who was born in Northern Ireland and who has been registered to vote in Northern Ireland in the last 15 years
If you're under 18 then you might be aware that the Conservatives blocked an amendment to allow 16 and 17 year-olds to vote in the referendum.
How do I register?
If you registered to vote in the May local and mayoral elections a few weeks ago then you will not need to re-register.
You have to register before midnight on 7 June to have your say in the referendum. You can do that here: gov.uk/register-to-vote
You will need your National Insurance number and your passport.
There is a caveat: If you've moved home in the last few weeks then you will need to re-register at your new property.
Still not convinced you're registered?
Every local authority holds the electoral register for their area. You can contact your local registration office and they will be able to let you know if you are registered.
To find the contact details of your local office, enter your postcode here on the Electoral Commission's website.
What will I be asked?
This question will appear on your ballot paper: "Should the United Kingdom remain a member of the European Union or leave the European Union?"
You'll be given the option to put a cross next to "Remain" or "Leave".
Where do I vote?
You can vote in the referendum in person at your local polling station – which you'll be able to find the location of on the Electoral Commission's website closer to voting day.
What happens if I'm at Glastonbury, for example, and can't vote in person?
Instead of voting in person, on the day, you can register for either a postal vote or a proxy vote.
For a postal vote: you will need to download this form and send it to your local registration office (mentioned above). This will need to arrive at the office by 5pm on 8 June 2016. Your local council will then send you a ballot paper by post, which will need to arrive back at the office by 10pm on 23 June.
The second option – a proxy vote – means allowing somebody you trust to vote on your behalf. Check here for the correct form to fire off.
The EU referendum debate has so far been characterised by bias, distortion and exaggeration. So until 23 June we we're running a series of question and answer features that explain the most important issues in a detailed, dispassionate way to help inform your decision.
What is Brexit and why are we having an EU referendum?
Will we gain or lose rights by leaving the European Union?
What will happen to immigration if there's Brexit?
Will Brexit make the UK more or less safe?
Will the UK benefit from being released from EU laws?
Will leaving the EU save taxpayers money and mean more money for the NHS?
What will Brexit do to UK trade?
How Brexit will affect British tourism
What will Brexit mean for British tourists booking holidays in the EU?
Will Brexit help or damage the environment?
Will Brexit mean that Europeans have to leave the UK?
Register for free to continue reading
Registration is a free and easy way to support our truly independent journalism
By registering, you will also enjoy limited access to Premium articles, exclusive newsletters, commenting, and virtual events with our leading journalists
Already have an account? sign in
Join our new commenting forum
Join thought-provoking conversations, follow other Independent readers and see their replies