Chef Tom Kerridge on reopening his Michelin-starred pub safely
Plus, a salon owner and pub landlords explain how they're adapting to the new normal
Friday 17 July 2020 17:02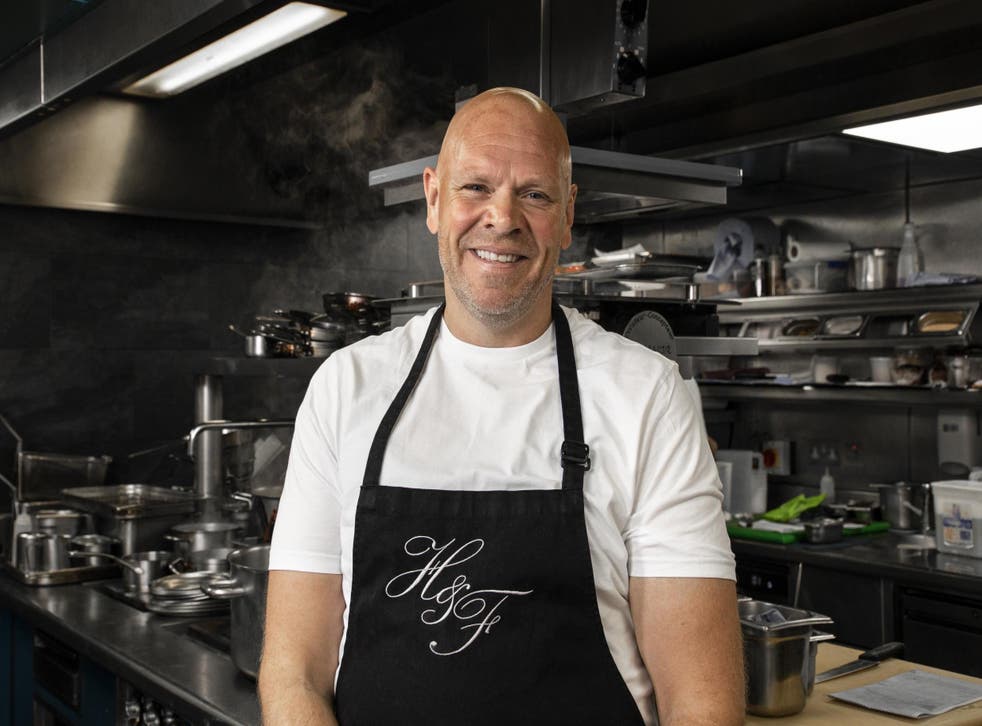 Last weekend, salons, bars and restaurants across the country reopened their doors to customers after more than three months of closure.
Though detailed UK Government guidelines and new safety measures may have altered the experience of a haircut or meal out, business owners have worked hard to implement rigorous safety measures while ensuring the public can start to feel a sense of normality once again.
Here, chef Tom Kerridge, pub owners Colin Steele and Jade Windsor, and salon owner Sarah Bentley explain how they're keeping staff and customers alike safe…
Tom Kerridge, chef owner at The Hand & Flowers
Tom Kerridge's passion for the beautiful town of Marlow, Buckinghamshire, is just as strong as ever. As well as two Michelin-starred pubs – The Hand & Flowers and The Coach – he also opened a traditional butcher and founded Pub in the Park, the biggest food and music festival tour in the UK.
During lockdown, staff from Kerridge's businesses were volunteering to help a new charity called Meals from Marlow which delivers free food to NHS staff, key workers and people in need. This started small in early April and with support from over 1,000 donors, it recently ended up serving its 75,000th meal.
From 4 July, both The Hand & Flowers and The Coach have reopened fully in Marlow to welcome back hungry diners.
The team have prepared a comprehensive Covid-19 policy document with a number of measures to protect the health and safety of guests and staff. Measures include daily staff temperature checks, hands-free antibacterial gel dispensers, one-way systems, private sole-use of bathrooms, cleaning touchpoints and toilets every 20 minutes, and even sanitising deliveries.
Kerridge is also working with a company that provides protection against a wide range of pathogens, including Covid-19, using a sanitising treatment applied through fogging machines to provide an even coat on all surfaces, followed by manual application to hot spots, such as door handles.
"Welcoming, safeguarding and taking care of others is at the very heart of what we do," says Kerridge. "The last few months have been such a challenging time and we have been eagerly waiting to establish a little normality back into everyone's lives, and get back to what we do best – providing great hospitality and food."
Kerridge's pubs have also been altered to make sure that spacing is as per UK Government guidelines. Partitions have been placed to ensure people have privacy and are able to enjoy their experience in the same way as before.
Following the success of Meals from Marlow, it has now become a permanent charity and is set to provide 30,000+ meals a year to local people. "I know the people of Marlow are a very generous group but I'm astonished by the speed and the level of kindness," says Kerridge. "Thank you, Marlow, I'm proud of you."
Colin Steele and Jade Windsor, pub landlords of the Falcon Inn
Colin Steele and Jade Windsor, pictured below, took over the Falcon Inn five months before lockdown, restoring the pub as a community hub at the heart of the village of Fawley, Hampshire. After coronavirus "threw a spanner in the works", they were eager to reopen last weekend.
"We have social distancing, hand sanitisers and a booking system, so our locals get a guaranteed spot," says Windsor.
The couple made the most of the lockdown by revamping the pub, painting the interiors and outside fencing, and putting up a pergola in the garden for some weather protection.
"Because of lockdown we had the time to give the garden the love and attention it really needed," says Steele. "Painting the fence outside has meant that we've been able to interact with the village as they walk past. We've been trying to bring that community spirit back."
To keep business going, they opened their car park for plant sales and teamed up with local company HMS Spirits to serve takeaway cocktails on Friday nights, which they will continue on weekends throughout the summer. "It kept us doing what we love," says Windsor, "and keeping in contact with our customers."
They also recruited a chef with the goal of making back some of the lost income from closure and the now-reduced capacity that allows for distancing. Where they once accommodated 150 inside, now they can host 40.
The team have ramped up hygiene measures: doors are wiped every half hour; screens at the bar and face shields protect staff. Additional outdoor seating means that everyone is seated, and a new app will enable customers to order food from their tables.
"We're a family-run business and everyone just wants us to succeed," says Steele.
Windsor adds: "I'm sure we will come across a few issues, it's something that no one's ever had to deal with before. I want my pub back the way it was more than anyone, but we've all got to deal with it together."
Sarah Bentley, owner of The Cutting Room unisex salon
As a small village salon that's been open for 16 years, it's little wonder that The Cutting Room's loyal clientele had been keenly anticipating its reopening after temporarily closing back in March.
"When the [UK] Government announced we could open, I had over 300 clients on my waiting list," explains Sarah Bentley, founder of the Welwyn-based business. "And they all wanted Saturday 4th [July] for an appointment."
A tight-knit team with great customer relationships, Bentley and her employees were excited to get back to a sense of normality. After a meeting last week, they felt reassured about the safety precautions put in place for their return. "It was a bit of relief coming back from staff training and just seeing everybody's face light up and looking forward to being back," she says. "We've had Zoom meetings discussing all the guidelines."
The salon may have been closed, but plenty was going on in the background to ensure that the premises and the team were as prepared as possible for a safe reopening.
For example, they worked hard to keep customers informed about changes to their haircutting experience: as well as the salon now being appointment-only, clients have been informed that they are not able to enter the premises before their appointment, as well being asked to wear a face covering.
"Because we are such a small salon, we have screens up between all our sections," Bentley explains, adding that their booking and payment system has been made completely contactless.
Though refreshments or magazines can no longer be provided, The Cutting Room has set up its outdoor space for clients to sit in a socially-distanced manner.
"We are lucky," Bentley says. "We've got a lovely, big back garden, so we've bought new tables and chairs. Weather depending, while their colour's developing, [clients] can sit outside in the fresh air, and [we're] able to have our front and our back door open for ventilation."
The Cutting Room's kit used has also changed: "We've got disposable gowns, towels – everybody's got all their completely own equipment; it's all labelled in their name – their own trollies," Bentley adds.
Ultimately, safety is The Cutting Room's number-one priority. "It's there to keep us and the clients and my staff safe – and if I felt that they weren't safe, I would shut the salon tomorrow," Bentley says. "Everybody's health comes first.
Keeping you safe: a selection of guidelines for UK businesses
All businesses are required to be Covid-19-secure in order to help protect their staff and customers. Here are some of the guidelines that salons, pubs and restaurants have been provided with:
All businesses will have conducted a risk assessment
Thorough and enhanced cleaning facilities will be available for staff and customers
Bookings will be limited to ensure social distancing and risk mitigation
Customers will be provided with guidance prior to their visit
Workers in continuous close contact to clients, such as hairdressers, will wear visors to promote safety
Staff will be split into teams or shift groups where possible to limit contact
Indoor and outdoor seating will be reconfigured to maintain social distancing guidelines
Staggering entry times and introducing one-way systems throughout venues
Contact between kitchen staff and front of house staff will be minimised
To find out more about business guidelines, visit gov.uk/guidance/working-safely-during-coronavirus-covid-19