Scottish independence referendum: A nation divided against itself
... Galloway told he's going to 'face a bullet'. Miliband sworn at. Alexander heckled. And there's still one more day to go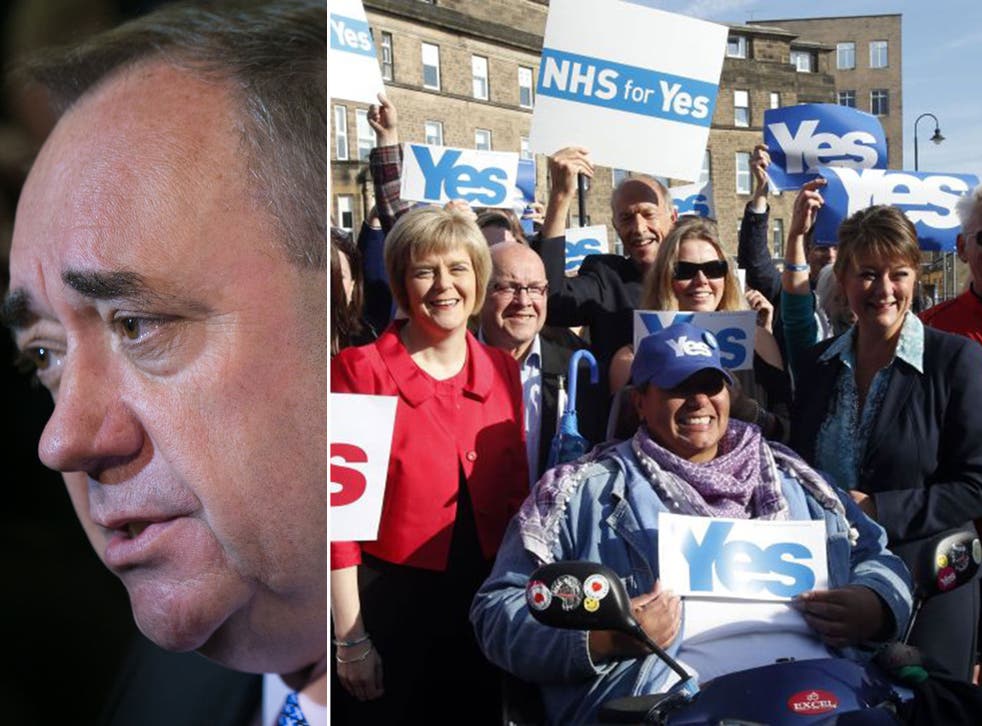 Scuffles broke out and insults were hurled on Tuesday as the battle for Scotland's future descended into its most acrimonious day of political fighting.
The Labour leader, Ed Miliband, said the campaign has had "an ugly side" after he was forced to cut short a visit in Edinburgh having been jostled and heckled, while George Galloway, the Respect MP, claimed he had been told he was going to "face a bullet" at a rally in Glasgow.
With emotions running high in the final hours before polling begins on Thursday in the referendum, nationalists were accused of waging a "campaign of lies" on the NHS, with the future of the health service set to be the crucial final battleground in the referendum race.
Claim and counterclaim intensified between the two camps, but on Wednesday the SNP leader, Alex Salmond, will issue an appeal to the people of Scotland, urging them to "wake up on Friday morning to the first day of a better country".
In an open letter, Mr Salmond will urge Scots to cast their vote with "a clear head and a clear conscience", describing the moment facing them in the polling booth as "the greatest, most empowering moment any of us will ever have".
His letter concludes with the rallying call: "Let's do this." He says: "For every scare tactic, there is a message of hope, opportunity and possibility."
But on Tuesday, leaders from the No campaign claimed to be the victims of heckling and harassment, with Mr Miliband called a "f****** liar" and Danny Alexander, the Liberal Democrat minister, saying he was shouted down at a rally in Glasgow. Mr Galloway said he was "threatened with a bullet" at the same event.
Scottish independence: What will happen to key British institutions?

Show all 7
A succession of senior Labour figures turned on Mr Salmond, accusing him and his party of repeatedly lying by suggesting that the NHS in Scotland would be vulnerable to privatisation in the event of a No vote.
They spoke out after leaked documents showed that Scotland's health service is facing a "funding shortfall" of up to £450m in 2015-16, suggesting that deep cuts are likely after the referendum.
The leaked NHS documents, which were presented to a meeting of health board chief executives and civil servants last month, say the closure of services in Scotland will have to be considered. "The status quo and preservation of existing models of care are no longer an option given the pressing challenges we face," they read.
Mr Salmond, Scotland's First Minister, said the suggestion that NHS funding would have to be cut in order to make the savings was "absolutely untrue".
His deputy, Nicola Sturgeon, said the leaked paper highlighted the pressure being placed on Scotland's NHS from Westminster.
Gordon Brown, the former Prime Minister, said Mr Salmond's "lies have been exposed, laid bare", adding: "It is the SNP who are perpetrating a lie about what the NHS can and cannot do in Scotland."
Margaret Curran, Labour's shadow Scotland Secretary, added: "We have got a campaign of lies from the SNP who are trying to tell us that the NHS is under threat when in fact it is under threat from the SNP."
Alex Neil, the Scottish Government's Health Secretary, said: "We have not been lying to people at all. We are not going to be cutting the NHS budget. We have passed a budget for this year and we have published a budget for next year and both of those show a substantial increase in spending for the NHS."
The drive for independence has led some MPs to demand that the Westminster anomaly allowing Scottish MPs to vote on England-only issues is urgently addressed. They were referring to the "West Lothian question", which was first raised in 1977 by Tam Dalyell, Labour MP for that Scottish constituency.
David Cameron hinted on Tuesday that a plan to deal with the problem was under consideration, but added that the Government was not "remotely near" creating an English Parliament.
Meanwhile, the National Institute for Economic and Social Research think-tank warned that Mr Salmond's threat to withhold Scotland's share of the UK national debt if no formal currency union is agreed after independence may backfire.
"International investors are likely to see walking away from debt as opportunistic and charge very high borrowing premiums or exclude Scotland from international capital markets," it said in a report. "This would imply an immediate return to a fiscal surplus and unprecedented austerity."
But John Swinney, Scotland's Finance Secretary, insisted that a currency union would be agreed after a Yes vote "because it's in the overwhelming financial interest of the rest of the UK as well as an independent Scotland".
Join our new commenting forum
Join thought-provoking conversations, follow other Independent readers and see their replies