Theresa May reveals plan to get one million more disabled people into work
A person's work life 'should not be dictated by their disability', says the Prime Minister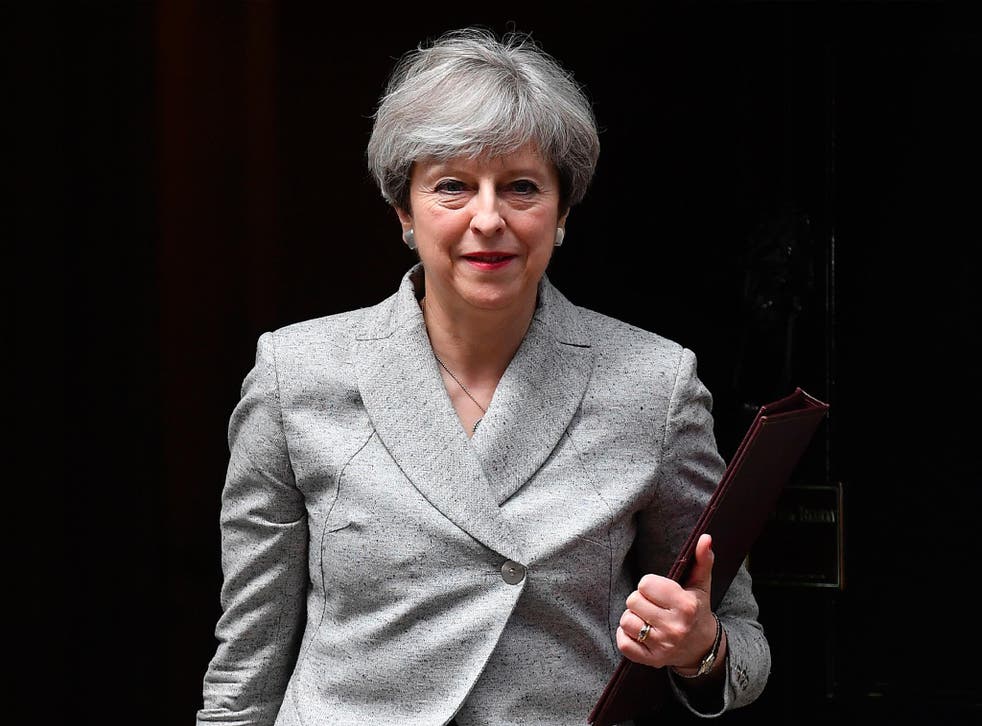 Theresa May has outlined a major new strategy to help get a million more disabled people into work over the next decade.
The Prime Minister has pledged to work with industry alongside improved mental health training for work coaches and enabling more health professionals to issue notes designed to help people return to employment.
The Government has also vowed to reform statutory sick pay in the wake of a major review of mental health and employers.
Ms May said: "The path a person takes in life and in work should not be dictated by their disability or health condition. Everyone deserves the chance to find a job that's right for them. I am committed to tackling the injustices facing disabled people who want to work, so that everyone can go as far as their talents will take them.
"We recognise the hugely positive impact that working can have on people's health and wellbeing, which is why we are determined to break down the barriers to employment facing disabled people. This strategy sets out how Government, employers and the health service will work together to get more disabled people into employment, and help shift the attitude of business and society to disability."
The 10-year plan builds on a green paper published last year which pledged to halve the so-called disability employment gap - the difference between the employment rates of disabled and non-disabled people - which last year stood at 32 percentage points.
It also looked at reforms to work capability assessments, which people must go through to claim Employment and Support Allowance and have been dubbed "fit for work" tests.
The Government has said it will expand fit note certification, which details how a condition affects someone's ability to work, so staff and their employers can consider ways to help them return to their job.
UK news in pictures

Show all 50
The scheme will be extended beyond GPs to a wider group of healthcare professionals, including physiotherapists, psychiatrists and senior nurses.
The Government will also introduce an enhanced training programme for Jobcentre work coaches to help them work with benefit claimants with mental health issues, which is being developed with a national charity.
Ministers have also responded in full to the 40 recommendations of the Stevenson/Farmer Review of mental health and employers, including reforming statutory sick pay, improving advice and support for employers and encouraging transparency.
Other announcements include major employment research pilots, a £39 million investment in an NHS programme treating people with depression and anxiety disorders, and encouraging more companies to join the Disability Confident scheme.
Some 600,000 more disabled people are now in work compared to four years ago.
Work and Pensions Secretary David Gauke said: "We've set out an ambitious 10-year strategy to end this injustice once and for all. By bringing employers, the welfare system and health services together we're taking significant steps to ensure everyone can reach their potential."
Health Secretary Jeremy Hunt added: "This strategy will help shape the future for hundreds of thousands of people with disabilities and mental health issues as we continue to tackle the stigma that so many people face when trying to get into and progress in work."
For Labour, shadow work and pensions secretary Debbie Abrahams warned that the plan appeared to be a recipe for further cuts.
"The Tories' cuts to social security support are pushing more and more disabled people into poverty," she said. "The Tories have already hit disabled people who are not fit for work but who may be in the future in the work related activity group.
"I hope they are not going to now target the most disabled people in the support group, as their green paper hinted at."
Mark Atkinson, chief executive of disability charity Scope, said: "For over a decade, the disability employment gap has remained static at 30 percentage points. Today, too many disabled people continue to face barriers to entering, staying and progressing in employment, unable to fulfil their potential and participate fully in the UK economy."
He added hat the pledge to get a million more disabled people into work was "an important gesture" but added that "swift action" was needed to make it a reality.
PA
Join our new commenting forum
Join thought-provoking conversations, follow other Independent readers and see their replies