Wife of former Putin minister buys game of tennis with David Cameron and Boris Johnson for £160,000
Lubov Chernukhin, the banker wife of Russia's former foreign minister Vladimir, won the lot at a glittering Tory fundraiser on Wednesday
Natasha Culzac
Friday 04 July 2014 17:01 Comments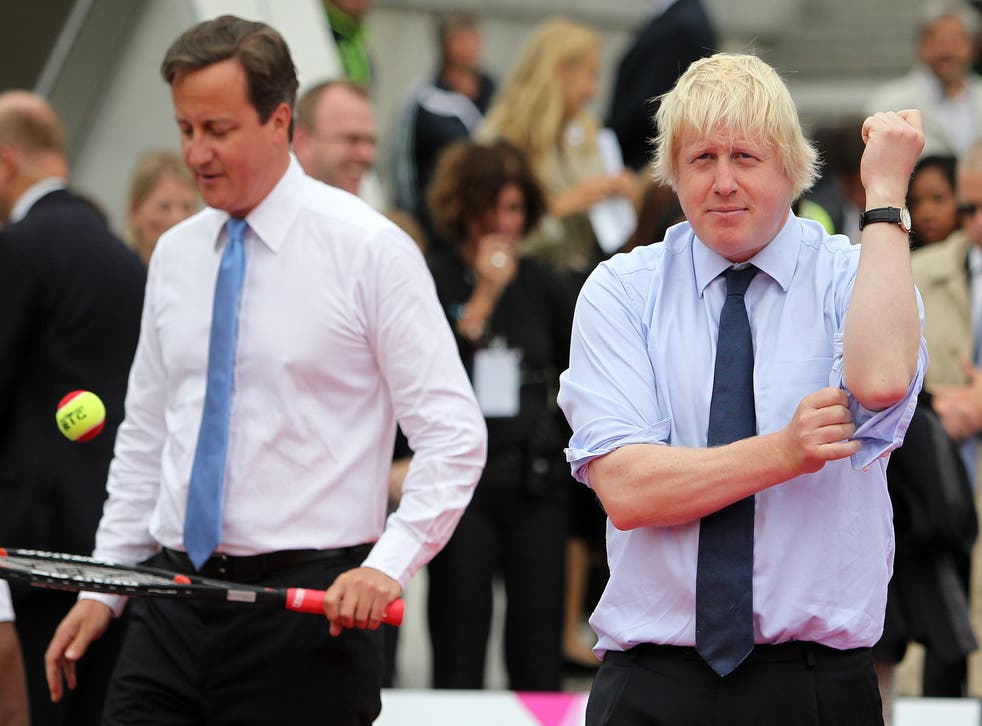 The wife of one of Putin's former ministers bought a game of tennis with the British Prime Minister and the London Mayor for £160,000 this week, amid concerns over the Tories' links with pro-Russia lobbysits.
Lubov Chernukhin, a banker and the wife of Vladimir Chernukhin, a former deputy finance minister in Russia, attended the Conservatives' latest fundraising ball on Wednesday.
The party's annual summer and winter events are attended by members of the top echelon of Tory-supporting society and include lobbyists, financiers and dignitaries across various business sectors.
The auction saw the game of tennis with David Cameron and Boris Johnson being offered with other lots, such as a bottle of champagne signed by Margaret Thatcher, which went for £45,000.
While the party moved to try and keep details of the event concealed, Ms Chernukhin's lawyers said in a statement to the Guardian: "Mr Chernukhin attended the Hurlingham Club event with his wife, Lubov Chernukhin," Carter Ruck said.
"Mrs Chernukin is a Conservative party member and supporter. Mrs Chernukhin bid on the lot to which you refer. Mrs Chernukhin's bid was successful."
Briton Ms Chernukhin has donated £5,500 to the Tories since 2012, after a £10,000 donation was 'deferred' when she was considered an 'impermissible donor,' according to Electoral Commission records.
It comes as David Cameron's party faces pressure to detail its links with a lobbying firm representing high-profile Russian clients that donated a quarter of its annual profits to help the Tories win the last election.
New Century Media is understood to have paid for cabinet ministers to attend its events, while representing organisations such as the foundation of Ukranian billionaire Dmitry Firtash.
Last year, it has as its guest at the Tories' summer ball MP John Whittingdale, who, a few months later, secured the foundation a reception in the Houses of Parliament.
Tables at this year's extravagant summer ball, at the Hurlingham Club in Fulham, went for as much as £12,000, where leading businesspeople sit among senior member of the Conservative party such as Home Secretary Theresa May and Defence Secretary Philip Hammond, both of whom attended last year.
This year's guestlist has been kept firmly under wraps despite calls for it – along with details of donations and the final price of lots auctioned – to be published.
"It is perfectly legitimate for parties to seek donations, but it must be transparent. These events have a corrosive effect on public trust because there is no transparency," former Chairman of the Committee on Standards in Public Life, Sir Alistair Graham, told the Daily Mail.
Other prizes reportedly included a pheasant shoot at the Oxfordshire estate of Syrian tycoon Wafic Said.
Register for free to continue reading
Registration is a free and easy way to support our truly independent journalism
By registering, you will also enjoy limited access to Premium articles, exclusive newsletters, commenting, and virtual events with our leading journalists
Already have an account? sign in
Join our new commenting forum
Join thought-provoking conversations, follow other Independent readers and see their replies