Lynched, kidnapped – or living it up: whatever happened to the Gaddafis?
As the mystery of the fallen dictator's son deepens, Kim Sengupta tracks down the rest of Libya's former ruling family
Kim Sengupta
Friday 01 January 2016 02:57 Comments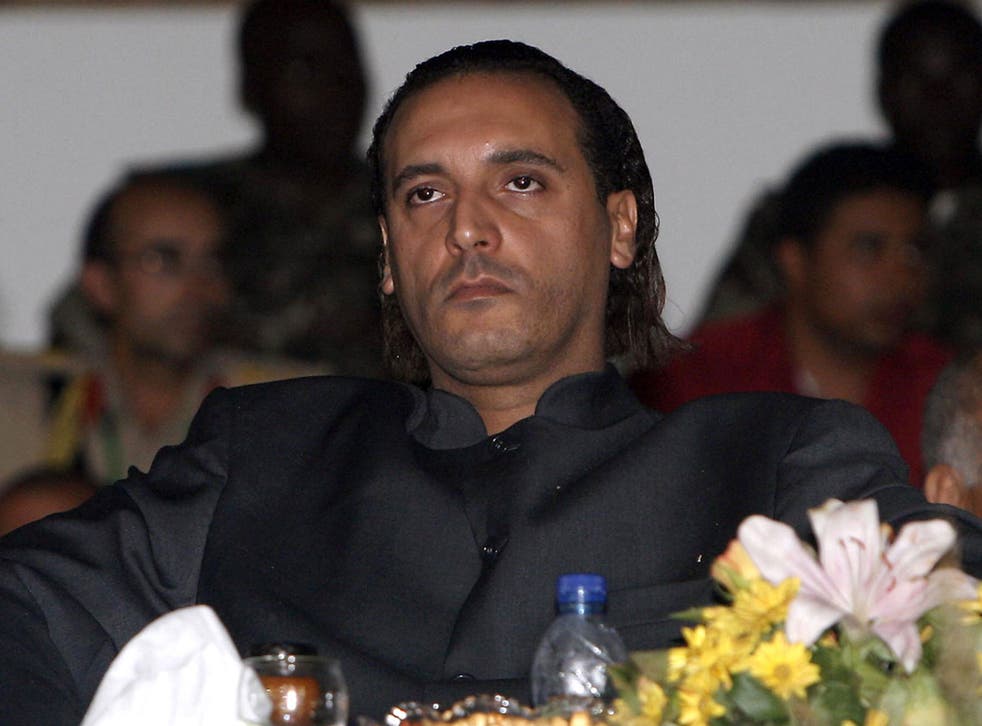 He is one of the most sought-after prisoners in the world. Since Hannibal Gaddafi was arrested in Lebanon's Bekaa Valley last month, Syria has demanded his return to Damascus; and this week one of the two rival governments in his own country, Libya, has requested his extradition.
Both demands were rebuffed by the Lebanese government, which has questions of its own that it wants answered – aside from those raised by the kidnapping, freeing and arrest of Colonel Gaddafi's fifth son.
Who was the woman, Fatima Assad, who lured him from Syria to Lebanon to be seized? What was he doing in Syria? Could he now reveal what really happened to the Shia cleric Musa al-Sadr, who disappeared 37 years ago during a visit to Libya – at the time under the control of Hannibal's father.
There has been speculation that Hannibal had left the safety of Oman, where he had been living after fleeing Libya, to seek political help in Syria, despite the dangers of its civil war. He had, it is claimed, met officials of Bashar al-Assad's regime, as well as Russians and Iranians. There is, however, no corroboration of this, or of what kind of help he was seeking.
More may be revealed about Hannibal's Syrian journey if he stands trial in Lebanon. Meanwhile, the dramatic episode has rekindled interest in what happened to Col Gaddafi's family after he was lynched and his regime of four decades fell.
Some of them are dead. The body of Mutassim Gaddafi was laid by his father's in a meat warehouse in Misrata, after both were captured and killed as they tried to flee the dictator's home town of Sirte. Another son, Khamis, who led a brigade named after himself in the conflict, was killed by a Nato air strike at the end of August 2011.
Saif al-Islam Gaddafi, the dictator's heir apparent, was also caught as he tried to flee Libya. He was sentenced to death by a court in Tripoli earlier this year. The International Criminal Court wants him to be tried in The Hague. Saif, however, remains in the custody of the city of Zintan, which shows no inclination to hand over its prisoner, a valuable bargaining chip in the power play between the country's competing militias and governments.
The same Tripoli court is trying Saif's brother Saadi, once a would-be professional footballer with his own football team in Libya who had tried unsuccessfully with clubs in Italy and Malta. He eluded capture during the war but was extradited from Niger, accused of crimes including the murder of a former footballer, Bashir Riani.
Mohammed, Col Gaddafi's son with his first wife, Fathia, the head of Libya's Olympic Committee, held the lucrative position of chairman of the company controlling Libya's mobile and telecommunications networks. He and Hannibal, who chaired a company which controlled the country's seaports and maritime trade, took their mother Safiya and sister Ayesha to Algeria as the rebels closed in.
Blair on Gaddafi relationship
Ayesha, a former UN goodwill ambassador and lawyer, once part of Saddam Hussein's defence team in Baghdad, gave birth to her fourth child, a daughter, in Algeria. Her husband, Ahmed al-Gaddafi al-Qahsi, an army colonel, had previously been killed in a Nato strike on Tripoli.
It was reported at the time that Ayesha, often referred to in the Arab press as the "Claudia Schiffer of North Africa" because of her dyed blonde hair, had set fire, more than once, to a villa near Algiers where they were being kept. As relations with the host government deteriorated, the Gaddafi siblings left for Oman and were granted political asylum in October 2012.
It is not known when Hannibal travelled onwards to Syria. His Lebanese wife, Aline Skaf, remains in Algeria with their children and the couple are now believed to be estranged. Hannibal, it is claimed, met the mysterious Fatima in Latakia, an enclave of the Alawite community, from where the Syrian elite are drawn, and travelled with her to Damascus before he disappeared.
He was taken across the border to the Bekaa Valley where he was abducted by gunmen from the Amal Movement, founded by al-Sadr. A video was posted of him, with bruises on his face, declaring that the truth about al-Sadr's fate must come out. "I am with people who fear God, people who have a cause," he said. Col Gaddafi has been long suspected of ordering the disappearance of the imam after becoming enraged during a theological debate.
A former Hezbollah MP, Hassan Yacoub, whose father Sheikh Muhammed went missing in Libya along with al-Sadr, was arrested in connection with Hannibal's kidnapping but has insisted he was not involved.
While Hannibal had supposedly been involved in political intrigue in Syria, there have been complaints in Tripoli that Saif has become too close to his Zintani captors. He has, more than once, stated that he would like his trial to take place in Zintan rather than Tripoli or The Hague. The head of the Zintan militia, Mukhtar al-Akhdar, a former colonel in the regime forces, has stressed that Saif is happy with his treatment in custody and gets on well with his guards.
After days of public display, Muammar Gaddafi's body was quietly buried in a secret desert location. With Libya in turmoil and many thinking nostalgically of pre-revolutionary stability, the question now being whispered is whether one of the dictator's sons may yet be in a position to revive the fortunes of the Gaddafi family.
Register for free to continue reading
Registration is a free and easy way to support our truly independent journalism
By registering, you will also enjoy limited access to Premium articles, exclusive newsletters, commenting, and virtual events with our leading journalists
Already have an account? sign in
Join our new commenting forum
Join thought-provoking conversations, follow other Independent readers and see their replies