Chibok schoolgirl rescued from Boko Haram with 10-month-old baby 'fathered by kidnapper'
A further 21 Nigerian schoolgirls were rescued in October, but nearly 200 remain captive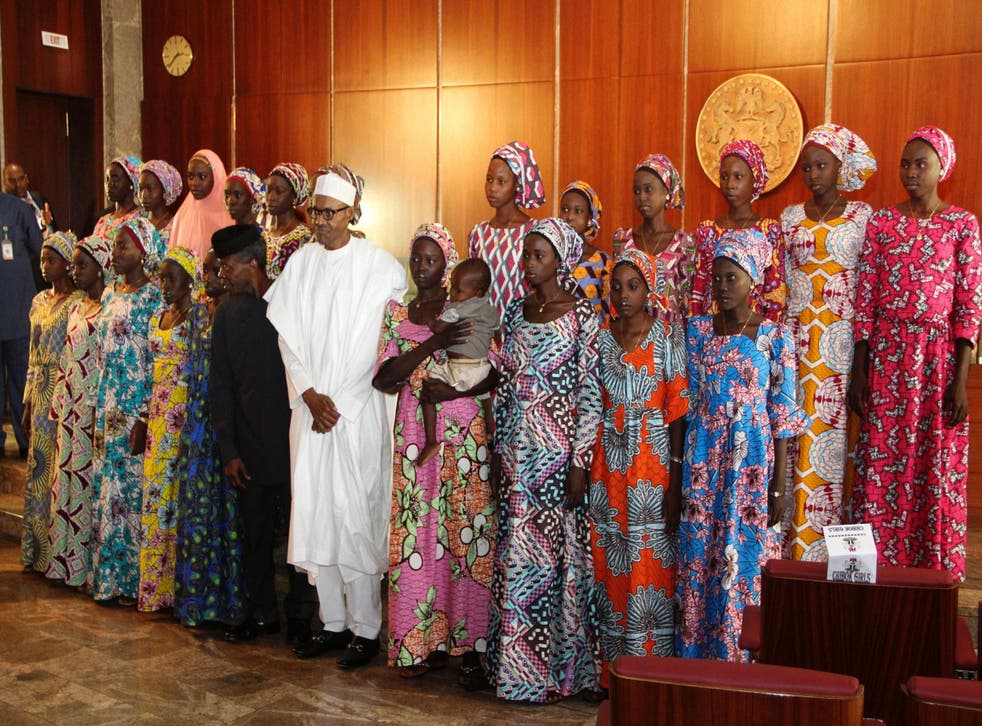 One of the Chibok schoolgirls kidnapped by Boko Haram in 2014 has been rescued along with a 10-month old baby said to be her son, according to the Nigerian army.
Troops discovered the girl, named Maryam Ali Maiyanga, while screening escapees from Boko Haram's base on Saturday morning in Gwoza, a local government area of Borno State, according to Nigerian army spokesman Sani Usman.
Mr Usman said the girl was found carrying her baby son, named Ali - reportedly born to a Boko Haram commander - and that she was now undergoing medical tests.
According to Reuters, Mr Usman said: "She was discovered to be carrying a 10-month-old son, named Ali. She has been taken to the unit's medical facility for proper medical check up."
The baby is thought to be fathered by a fighter from the Boko Haram, the islamist group that has killed 15,000 people and displaced more than two million over seven years, with the aim of creating an Islamic caliphate in north-east Nigeria.
In October, Boko Haram freed 21 Chibok schoolgirls after a deal was reportedly brokered between the group and the International Red Cross and Swiss government, which is said to have involved a "handsome ransom" of some millions of dollars being paid to the islamist group.
But President Muhammadu said he was not aware that any ransom had been paid and denied reports the government had swapped imprisoned Boko Haram fighters for the girls' release.
An estimated 270 schoolgirls were kidnapped from the northern Nigerian town of Chibok by the extremist group in April 2014. Dozens have since escaped but around 200 girls remain missing, causing global outrage.
The first returned Chibok girl, who was rescued in May when she was found pregnant in the forest where the girls had initially been taken, is reportedly still being held by the government to receive trauma counselling, at the reported dismay of her relatives.
The girl, named Amina Ali Nkeki, has said she still misses the man she was forced to marry during her captivity, who is suspected of being an Islamist militant, but who she says was also a victim of kidnapping and helped her escape.
The extremist group published a video in August apparently showing recent footage of dozens of the kidnapped girls, and said some had been killed in air strikes.
Beyond Chibok: Report shows alarming trends in countries affected by Boko Haram

Show all 16
President Buhari has vowed to secure the release of the nearly 200 schoolgirls who remain captive, but it has been reported that many of the girls are said to not want to leave their jihadist captors, either because they have been radicalised or because they are ashamed of their experience.
Nigeria's military has been carrying out a large-scale offensive in the vast woodland area and other parts of Borno state in the last few weeks, according to Reuters.
Since the beginning of 2015 Nigeria's army, aided by troops from neighbouring countries, has recaptured most of Boko Haram's territory, which was once equivalent to the size of Belgium.
Register for free to continue reading
Registration is a free and easy way to support our truly independent journalism
By registering, you will also enjoy limited access to Premium articles, exclusive newsletters, commenting, and virtual events with our leading journalists
Already have an account? sign in
Register for free to continue reading
Registration is a free and easy way to support our truly independent journalism
By registering, you will also enjoy limited access to Premium articles, exclusive newsletters, commenting, and virtual events with our leading journalists
Already have an account? sign in
Join our new commenting forum
Join thought-provoking conversations, follow other Independent readers and see their replies