Tunisia attack: Bodies of eight British victims arrive home amid fears 'dangerous terrorist' could get migrant boat to Europe
The victims were repatriated on an RAF plane that flew from Tunis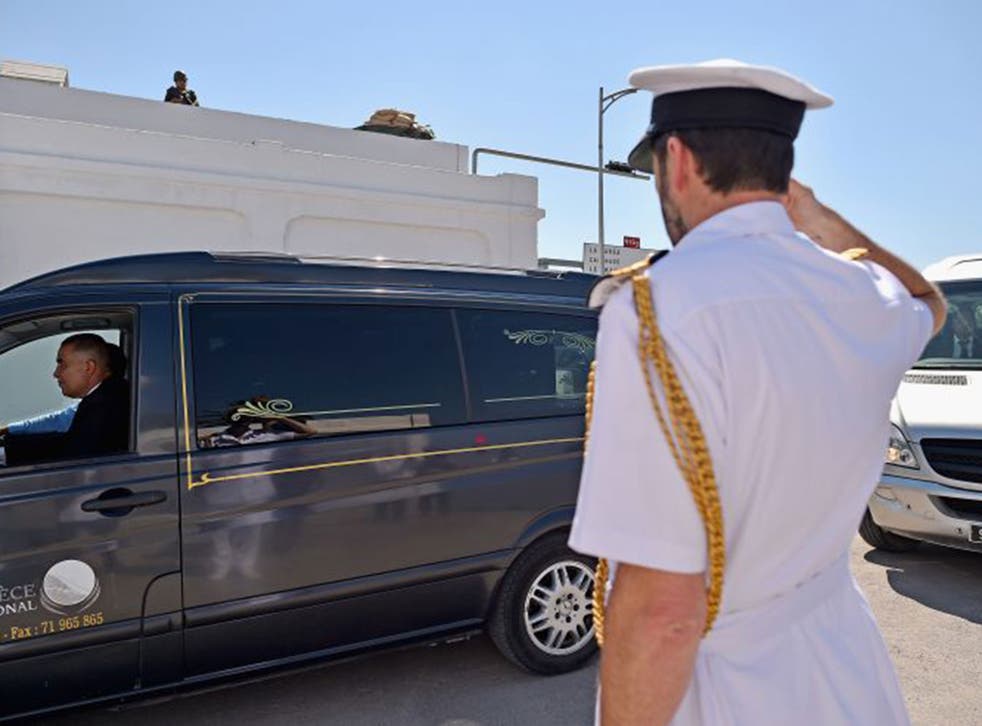 A "dangerous terrorist" being hunted by Tunisian authorities may be trying to cross the Mediterranean on a migrant boat, it has emerged as the bodies of British massacre victims start to arrive home.
Rafique Tayari is in Libya, where human smugglers have been taking advantage of widespread lawlessness to send hundreds of thousands of desperate people to Europe.
He was one of the two wanted men named by the interior ministry yesterday following the massacre in Sousse that killed 38 holidaymakers.
The bodies of eight British victims arrived back in the UK this afternoon on a military transport plane, which landed at Brize Norton in Oxfordshire.
Those brought home were Adrian Evans, Patrick Evans, Joel Richards, Carly Lovett, Stephen Mellor, John Stollery, and Denis and Elaine Thwaites.
They were among up to 30 British tourists shot dead by student Seifeddine Rezgui, 23, at the Imperial Marhaba Hotel on Friday.
Tunisian authorities said Tayari, 28, was wanted in connection with the slaughter, although the link between the pair was not clear.
He and fellow fugitive Bin Abdallah are not suspected of shooting tourists but officials previously said they believe the gunman was given weapons and "logical support" and have arrested seven people.
Tayari's family told The Telegraph that he left home in Tunis several months ago without warning and has since called several times saying he was in Libya and wanted to reach Italy to start a new life.
His father claimed his family had been "terrorised" by counter-terrorism police who raided their home and dismissed suggestions his son was connected to the beach massacre or could be fighting with jihadist groups.
Mohammad Najib Tayari told the Telegraph: "Any one of the youth who are going to Libya to go to Europe will never tell their parents because they think their parents will try to stop them.
"Maybe he has got scared and decided to stay. Maybe he has got work there, I really don't know."
At least 137,000 migrants have arrived in Europe by boat so far this year and almost 1,900 people died trying to make the treacherous crossing.
In pictures: Tunisia hotel attack

Show all 32
Many come via Libya, which has seen continued fighting between nationalist and Islamist militias since the 2011 Arab Spring and is in a state of lawlessness compounded by two competing governments.
Rezgui, a 23-year-old student, travelled there earlier this year to a terror training camp near Sabratha where he met the two men who would go on to massacre 22 people at the Bardo museum in March.
"It has been confirmed that the attacker trained in Libya with weapons at the same period as the Bardo attackers," said Rafik Chelli, the secretary of state for the Interior Ministry. "He crossed the borders secretly."
The so-called Islamic State, which holds territory in Libya and is trying to expand its network of affiliates in Tunisia, claimed responsibility for Rezgui's attack.
The group has been strengthening its foothold along part of the Libyan coast, where a propaganda video claimed to show militants murdering 30 Ethiopian Christians on a beach earlier this year.
Philip Hammond said the spread of Isis into the "ungoverned territory" helped sow the seeds for the atrocity that left up to 30 Britons dead in Sousse.
The Foreign Secretary insisted it was not a mistake for the UK to help overthrow Libyan dictator Muammar Gaddafi in 2011, calling him a "tyrant" who would have massacred civilians in Benghazi.
"We have been dealing with Isil (Isis) in Syria and Iraq, we have a significant military operation in Iraq where we are delivering the second largest number of air strikes against Isil targets," he added.
"But as Isil has spread across Libya in this ungoverned space it has posed a threat not just to us but to the neighbouring countries, which sadly we have seen realised in this attack in Tunisia."
Join our new commenting forum
Join thought-provoking conversations, follow other Independent readers and see their replies