Pain amid progress for Tunisia seven years after Jasmine Revolution as economy bites
High unemployment and financial hardship bring anger and violent protests, while others celebrate hard-won freedoms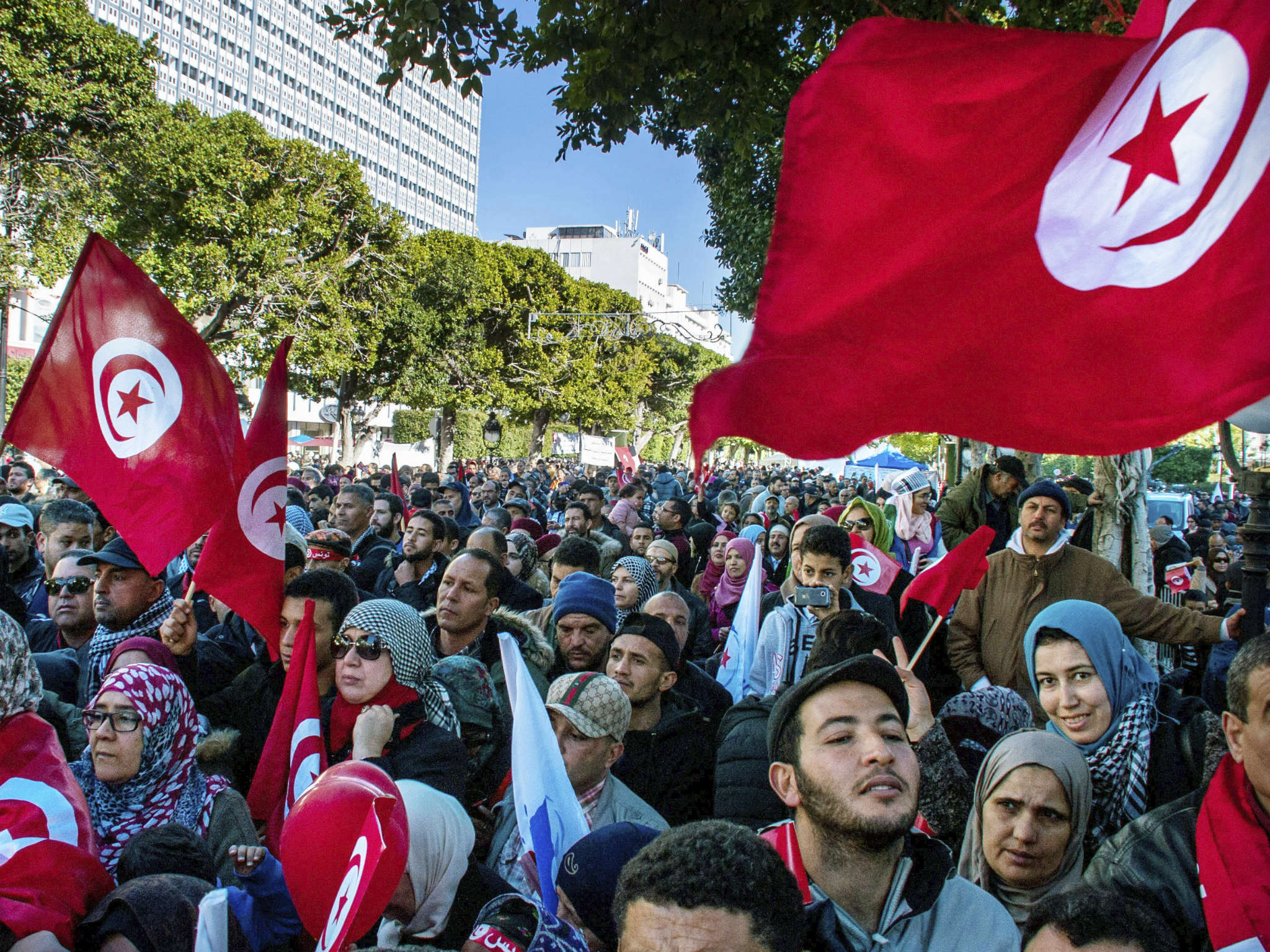 In December 2010, Mohamed Bouazizi, a street vendor beaten down by years of poverty and oppression, took his own life in the town of Sidi Bouzid by setting himself on fire. Weeks of protest followed across Tunisia leading to 23 years of authoritarian rule being swept away with President Zine el-Abidine Ben Ali fleeing the country.
The momentous events seven years ago turned out to be the beginning of the Arab Spring which would spread through the region, bringing down dictators and reshaping countries, but also start a cycle of strife which continues today.
The run up to the anniversary of Tunisia's Jasmine Revolution has been marked by violent demonstrations in which government buildings, police stations and cars have been burned, roads blocked, a protestor killed, hundreds, including 97 members of the security forces, injured and around 800 people arrested.
With the army deployed in the streets, the current leader, Beji Caid Essebsi, has visited poor neighbourhoods of Tunis, promising to address grievances. On Sunday, as a rally took place to mark Liberation Day, he attended the hastily brought forward opening of a youth club in Ettadhmen, an impoverished suburb. It was, he acknowledged, the first time any senior government official had been to the neighbourhood.
But there were renewed clashes as night fell with police firing tear gas in response to bricks and bottles thrown by a crowd of young men who dismissed government pledges to improve conditions. "The youth club has shiny new equipment, but that is not going to get us jobs, get us food with prices going up all the time," said Mehdi, a 22-year-old who has never had regular employment. "They keep on making promises with fine words, but you can't eat words".
Tunisia has experienced some lethal violence which came as the Arab Spring turned into Arab Winter, with the beach massacre at Sousse and the attack on the Bardo museum in the capital, carried out by jihadists, claiming 60 lives. Governments have been formed and fallen, with the current one the ninth in place since Ben Ali.
World news in pictures
Show all 50
Tunisia, nevertheless, is viewed by the West as the one state which had emerged from the upheavals with a democratic government and a functioning civic society. However, the deteriorating situation would be a cause of concern for the international community, with Libya next-door remaining a fragmented state ruled by militias, with a continuing Isis presence and the base for smugglers taking refugees into Europe across the Mediterranean.
The Interior Ministry in Tunis stated that 16 "Islamist extremists" have been among those arrested in the protests. Opposition parties charge that legitimate protests are being suppressed. Dhouha Bousetta, the leader of the left-wing Popular Front accused the government of "reproducing the methods of the oppressive Ben Ali regime. What they are trying to do is 'tame' us, to discourage us from supporting this popular movement."
Economic hardship and corruption fuelled anger against Ben Ali's regime. But the craving for political change was a key driving force. Freedom and reform would help solve other problems, I was repeatedly told by idealistic young men and women while covering the events at the time. But financial hardship continues for a large part of the population. Prices are rising at 10 per cent a year, the unemployment rate among young graduates stands at 30 per cent.
The state of the economy remains precarious. The IMF, which loaned Tunisia £2.2bn in 2015 to avert a severe breakdown, warned last month of the need to take "urgent action" and "decisive measures" to reduce the deficit. Proposed austerity measures and raising of taxes, due to make a range of goods from cooking gas, to coffee, phone calls and cars more expensive, have become sources of the current discontent.
The government has promised action to improved medical care, housing and benefits. Social Affairs Minister Mohammed Trabelsi said: "We are prepared to increase welfare payments to those in need by 170 million dinars (£50 million). This will help 250,000 families; it will help the poor as well as the middle classes". But opposition parties and unions say they are deeply sceptical of the government's ability to deliver meaningful improvement.
The near collapse of the tourist industry has been a huge blow. The foreign visitors at Sousse and the Bardo had been deliberately targeted by the terrorists with the aim of hitting the country's largest source of foreign income and destabilising the country. As well as prompting unrest it held the prospect of creating a recruiting pool of unemployed and disaffected young men.
Britain was among the first Western states to warn nationals not to visit Tunisia in the aftermath of the Sousse attack and continued with this travel advice despite the Tunisian government bringing in extensive security measures. The warning remained in place as Tunisia remained free of terrorist attacks while bombings and shootings, with mass casualties, took place in the UK, France and Germany.
Seifeddine Rezgui, the young student who carried out the Sousse murders, after being trained at an Isis camp across the border in Libya, lived with other members of his cell at the Islamic holy city of Kairouan. The imam at the Grand Mosque of Sidi Uqba, Taib al-Gazi, who had made a stand against radical clerics spoke to me about the dangers caused by the disappearing tourist trade.
"We were being infected by extremism, it was very dangerous, we managed to put a stop to that, but these people are reappearing, we know the extremists are here and they will try to spread their poison again," he warned. "Britain should help us get rid of them, not help them by taking away the livelihood of so many young people".
The UK government's travel warning has since been rescinded and some British and other Western tourists are slowly going back, but the industry will take time to recover. Nacer Belhouane, who saw his travel business in Tunis fold in the months following the Sousse attack, said: "It's depressing that a company my father had built up was forced to close. Lots of people suffered because Tunisia is so dependant on tourism. The government should have invested in other industries. They should have attracted foreign investors, but they haven't done that.
"The protests now are more about jobs and prices than political," he added. People are fed up. Surely it's in the interest of Europeans to invest in Tunisia, they would not want things to start getting bad again: all they have to do is look at Libya."
For those taking part in the anniversary march on Sunday, however, there were things to celebrate. "It's not perfect, but we now have democracy, we have freedoms we didn't have before, we shouldn't forget that" said Nadia Makhlouf, a 30-year-old teacher who had helped organise marches against the Ben Ali regime. But she warned: "The government has got to be careful, there will be lot more trouble if things don't get better. People are getting very disillusioned."
Disillusionment came early to Sidi Bouzid, the "cradle of the revolution". A year after the Tunisian uprising I went there while covering the Libyan civil war to find that the family of Mohamed Bouazizi had left town among acrimony with neighbours; a plaque put up to honour Mohamed had been torn down and graffiti praising him as a martyr painted over. A municipal official who had abused him had been freed from prison, all charges dropped, to cheers from a crowd gathered outside the courtroom
There is little to cheer in Sidi Bouzid at the anniversary of the revolution. A new statue was erected for Mohamed Bouzazi and various government projects to create jobs put forward after the town became briefly famous. But locals claim much of that has come to nothing: unemployment rate among young graduates is 15 per cent higher than nationally – 45 per cent.
There was a march of around 40 people last Saturday. It reached the statue of Bouazizi. There were chants calling on the government to resign, and then people dispersed.
"It was not much of a march. Sidi Bouzid is forgotten by those in power in Tunis, it is doing worse than other places, this is not a wealthy area and everyone is suffering," said Fethi Lajmi, whose degree in engineering has failed to get him a job. "I have sent my details for 24 jobs, but nothing. My friends are in the same position. We don't have hope here any longer, we just feel angry."
Join our commenting forum
Join thought-provoking conversations, follow other Independent readers and see their replies