Donald Trump's administration close to passing bill scrapping transgender student rights permanently
The education secretary showed resistance to signing the bill but buckled under pressure from the attorney general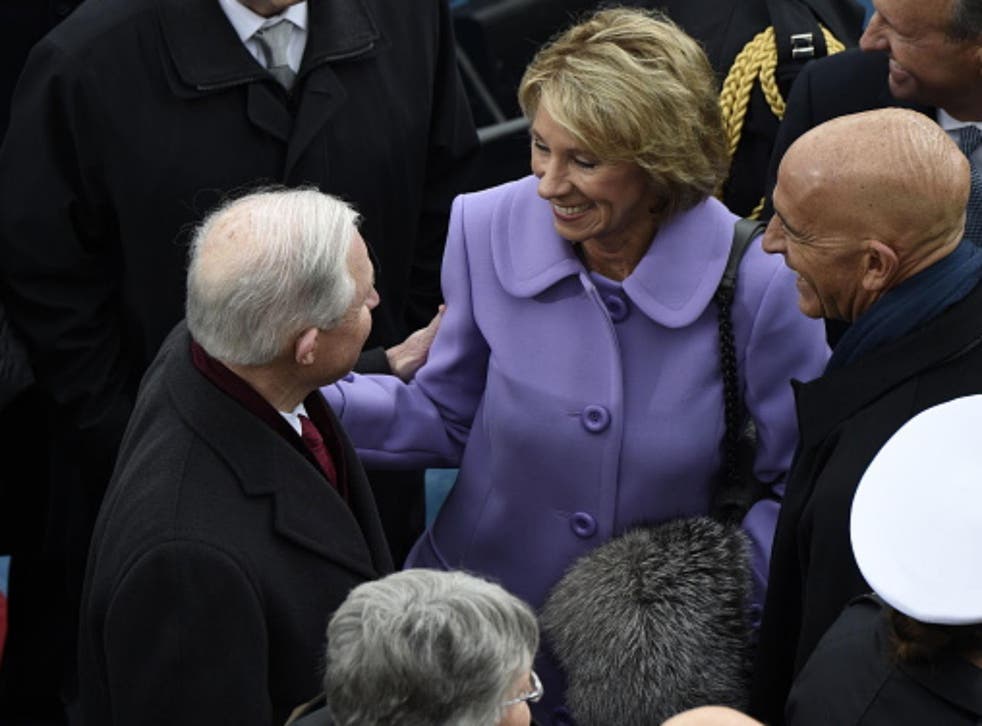 Donald Trump's government is close to passing a bill that would permanently scrap transgender student protections in schools.
Two top cabinet members have reportedly come to blows over the draft bill, however, which would roll back a key policy under former President Barack Obama.
Education secretary Betsy DeVos, despite being a billionaire anti-LGBT and anti-choice lobbyist, was hesitant to sign the bill, as reported by the New York Times, which would ask schools to no longer allow transgender students to use the bathrooms of their choice.
She buckled after facing opposition from attorney general Jeff Sessions, as permission for the bill to go forward was required by the education and justice departments.
Republican sources said President Donald Trump sided with Mr Sessions.
Ms DeVos has agreed to go along with the bill, but was reportedly still debating the final language of the bill with Mr Sessions this week. She has urged for a clause to remain which would prevent transgender students from being bullied.
White House Press Secretary Sean Spicer insisted Ms DeVos was "100 per cent" on board with the bill.
"[There were] some questions on the timing of the issuance and exact wording."
He added: "The conclusion, that's stuff everyone has agreed upon."
Two weeks ago Mr Sessions filed a short court submission to suspend the Obama-era petition indefinitely.
The draft bill, which aims to overwrite the former one, cites confusion over the Obama policy as a reason to scrap it.
Sean Spicer says President Trump sees transgender bathrooms is a states' rights issue
"School administrators, parents and students have expressed varying views on the legal issues arising in this setting," the draft reads.
"They have also struggled to understand and apply the statements of policy and guidance" in the former President's policy.
The bill provides a stark contrast to earlier comments throughout the campaign by Mr Trump, who promised as a candidate that he would stand with the LGBT community and declared that transgender people should be able to "use the bathroom they feel is appropriate".
He also said that Caitlyn Jenner would be allowed to use whichever bathroom she wanted at Trump Tower.
White House Press Secretary said after the election, however, that Mr Trump believes protections should be determined at a state level.
At the end of January, the White House said in a statement: "President Donald J Trump is determined to protect the rights of all Americans, including the LGBTQ community.
"President Trump continues to be respectful and supportive of LGBTQ rights, just as he was throughout the election."
It added he would support an order which protected transgender employees from discrimination in the workplace.
When a rumoured executive order was proposed which would have also scrapped the workplace protections, it was reportedly blocked thanks to help from the President's daughter and son-in-law, Ivanka Trump and Jared Kushner.
Join our new commenting forum
Join thought-provoking conversations, follow other Independent readers and see their replies