Canada PM Trudeau welcomes Syrian refugees as US Muslims warn against hate speech
Canada's prime minister helped new arrivals pick winter coats from donations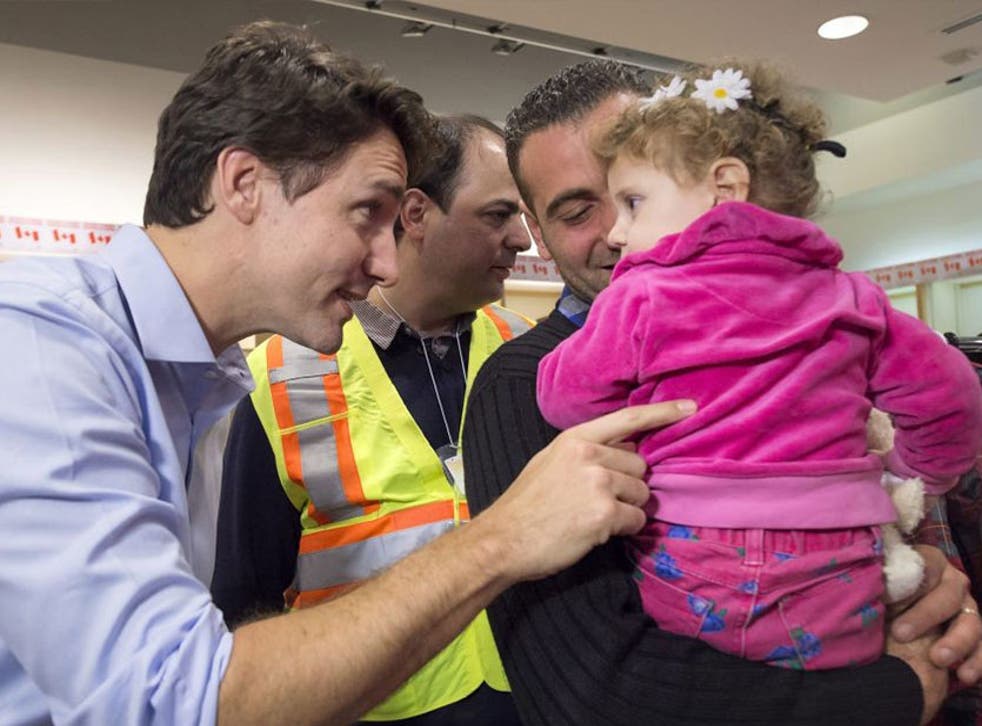 Canadian Prime Minister Justin Trudeau personally welcomed Syrian refugees at Toronto's Pearson International Airport this week. Meanwhile, south of the Canadian border, US Muslims warned against a rising tide of anti-Muslim rhetoric and hate crimes.
More than 160 Syrian refugees of a total 25,000 expected to arrive in Canada by March were greeted by Prime Minister Trudeau and Ontario Premier Kathleen Wynne late Thursday. The two helped the newcomers pick winter coats from donations, Canadian broadcaster CBC reported.
There has been enormous pushback against efforts to bring Syrian refugees to the US amid calls by Republican presidential ticket hopeful Donald Trump to bar all Muslims from entering the country. But Canada is not the US, one advocate for Syrian refugees in Toronto told The Independent.
"Canadians are very ready to tell you that they are not Americans," Mr Goodspeed said. His organization, launched in June, has already surpassed its goal of privately sponsoring 1,000 Syrian refugees in the Toronto area over the next two years, bringing in 1,400 newcomers.
Processing refugees was slower under the administration of Liberal Party Prime Minister Trudeau's Conservative Party predocessor, Stephen Harper, who left office on November 4, Mr Goodspeed said. "The previous government was a little slow in accepting refugees for the same reasons your seeing in raised in election politics in the United States," he added.
On Wednesday a judge halted Texas Attorney General Kenneth Paxton's bid to block Syrian refugees from resettling in his state. And earlier this month, local Nevada state media quoted state assemblywoman Michele Fiore as saying she wanted to shoot Syrian refugees. Assemblywoman Fiore did not respond to interview requests from The Independent.
A poll from US television network CBS on Friday revealed that a third of Americans, and more than half of the Republicans surveyed, "favour" banning Muslims from the country.
The poll follows Mr Trump's suggestion Monday that the US bar Muslims from entry in response to a deadly gun attack last week in San Bernardino, California that is believed to have been inspired by the Islamic State in Iraq and Syria (ISIS) armed group. Mr Trump's comment has prompted outrage from international media and governments but recent polling data shows that more Republicans support the prospective presidential nomineee than ever.
American Muslims, meanwhile, have drawn parallels between Mr Trump's comments and a rising Adolf Hitler. Akbar Ahmed, the chair of Islamic Studies at American University, wrote on Thursday that the US is on "the road to Kristallnacht … this time with Muslims instead of Jews."
American Muslim rights advocate and spokesman for the Council on American-Islamic Relations, Ibrahim Hooper, told The Independent, that the CBS poll is "fairly consistent with our research over the years — about a third of Americans are actively hostile to Islam."
"When you've got the leading Republican presidential candidate spewing bigotry and gain support because of it, you wonder if it's 1933, not 2015," Mr Hooper said, referring to the year that the Nazi Party registered unprecedented wins in the German federal election.
Join our new commenting forum
Join thought-provoking conversations, follow other Independent readers and see their replies